Touring Vietnam - Hanoi
July 13, 2007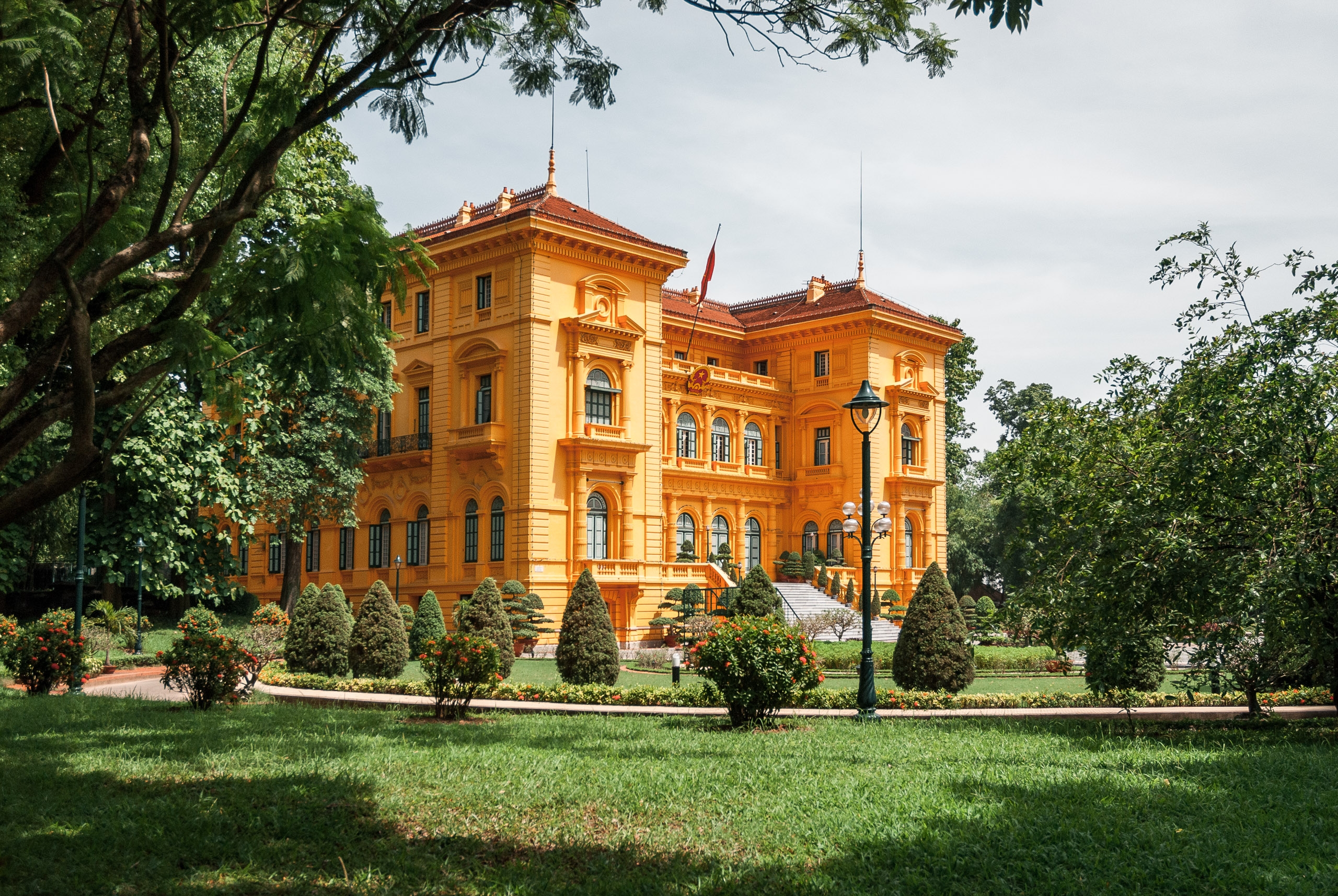 The presidential palace in Hanoi
The last stop on my tour of Southeast Asia is Hanoi, Vietnam, the capital. From Hanoi I fly to Bangkok, then to Tokyo then to San Francisco - about 17 hours all in. I'm actually in San Francisco as I write this, but its best if you use your imagination that I'm still traveling. Finding time to write is difficult when on the road, and the plane ride, though long, was not terribly conducive to organizing these posts. In addition, I have over 3,000 photos on this laptop and that will likely consume my time for the next few weeks. In the absence of anything better to do with my time, I guess that's ok.
Ha Noi is the capital of Vietnam and home to about 3,000,000 people. Recall that Vietnam once had two capitals, Hanoi in the North and Saigon in the South. After the reunification of Vietnam following the American War in 1975, Hanoi became the official capital city, while Ho Chi Minh city went on to become the larger industrial and commercial city it is today. Hanoi is one of the oldest cities in in Southeast Asia, with parts of the old city, called the Old Town, dating back over 2,000 years. Earlier I erroneously reported that Saigon was the former capital of French Indochina, but in fact that title belongs to Ha Noi. As such, the French quarter is remarkably Parisian in design and has many beautifully preserved colonial structures in use today. Nearly all the foreign embassies are housed in exquisitely restored colonial mansions lining the diplomatic section around the capital buildings. Its ironic to me that as much as the Vietnamese vehemently opposed the French and their occupation, they do love their buildings. Any structure of significance is still built in the French design even today. During the austere days of hardcore communism in the 1970's, it must have been tempting to many to demolish these structures and remove any remaining vestiges of the colonial era. Luckily, cooler heads prevailed and today Hanoi is, in my opinion, one of the most beautiful cities in all of Asia. I regret that I didn't get to spend more time there exploring, but it was also brutally hot.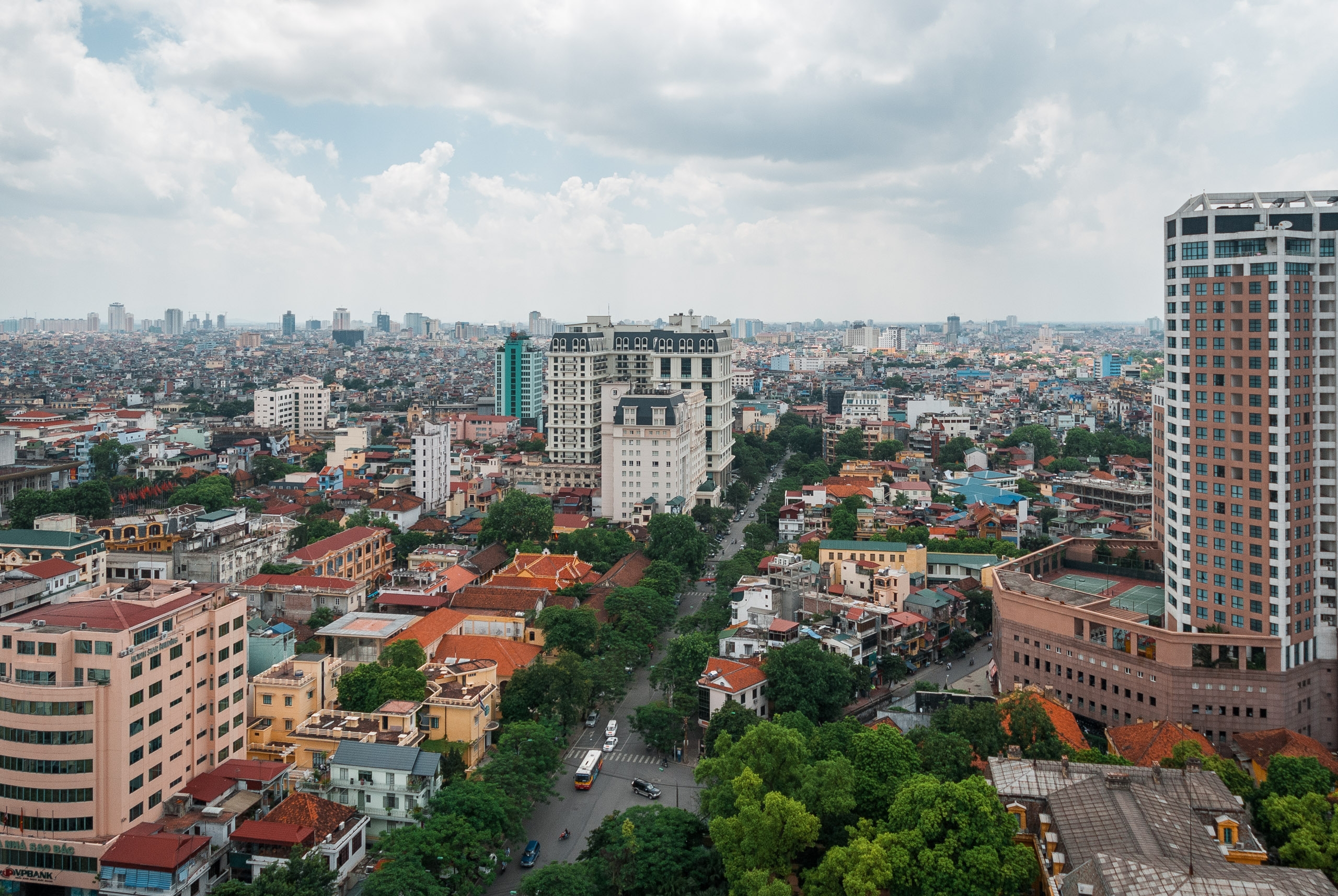 The skyline of Hanoi from the Melia hotel
If you visit Hanoi, stay in the French quarter to see most of the points of interest. There are a few very nice hotels catering to Western tourists, most notably the Sofitel Metropole, the beautifully restored Pullman hotel built in 1901. Another property of interest is the Hilton hotel. When Senator John McCain was interred as a POW in Vietnam, he stayed in the infamous Hanoi Hilton prison, sarcastically named for its decidedly sparse accommodations. Today there is a Hilton in Hanoi, but they take great pains to call it the Hilton Opera Hotel as not to draft on the fame of the notorious prison. (The original Hanoi Hilton does still exist, as it part of a museum of detention...I skipped that).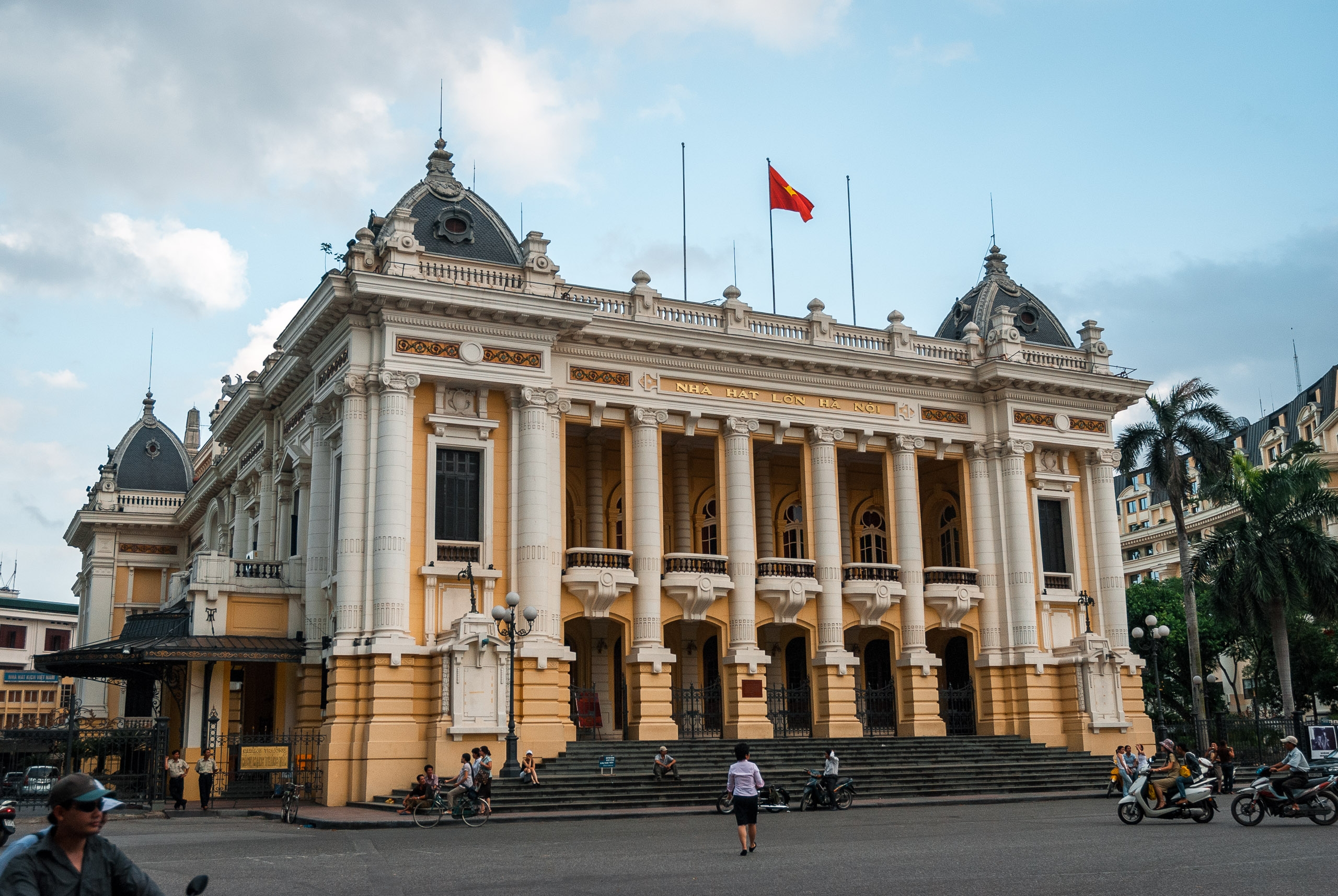 The Hanoi Opera house with the adjacent Hilton Opera nearby
The layout of Hanoi's Old Town and French Quarter is similar to that you would find in Europe. Dense, windy streets barely wide enough for vehicles or pedestrians. Add to this Vietnam's infamous traffic and driving habits and you have a real spectacle. It can take an hour to cross town during busiest times. Its really best to walk.
Central to the French Quarter is Hoan Kiem lake, a park-like setting lined with giant trees, sidewalks and a few notable temples. The French influence on the waterfront's design is readily apparent and the people in Hanoi are rightfully proud of this location's beauty. Hanoi is the true cultural capital of Vietnam and has much more to offer in terms of history, the arts and an elevated dining and bar scene likely to appeal to the many foreign dignitaries live or visit nearby. (The larger of Vietnam's two Louis Vuitton boutiques is in fact in Hanoi).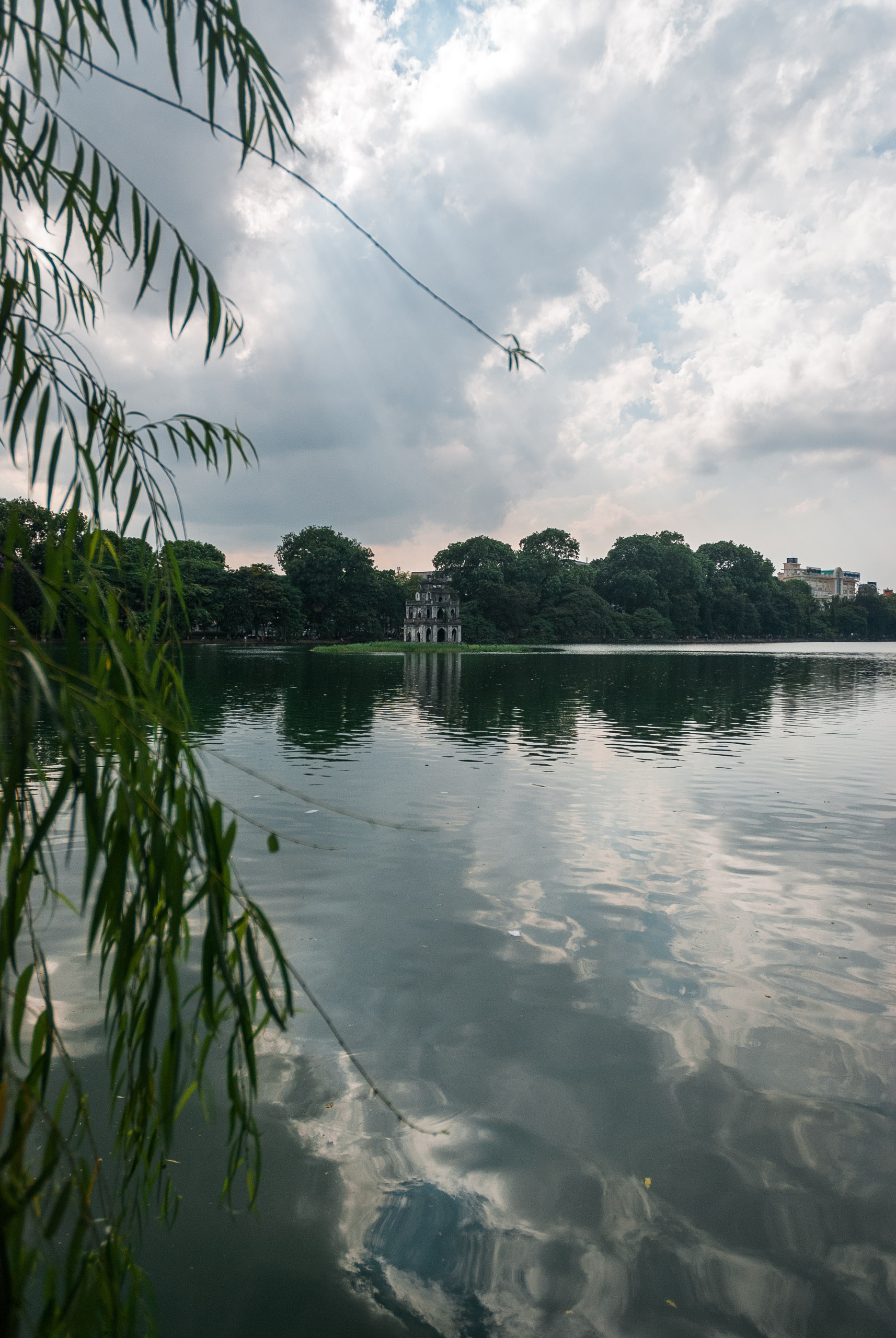 Hoan Kim Lake
Worth seeing near Hoan Kiem lake is the Thang Long Water Puppet show (Thang Long is the historic name of the capital city. Residents of San Francisco will note that there is a very good Vietnamese restaurant called Thang Long). Water Puppets are marionettes made of porcelain and wood. Rather than being controlled from above by strings, the performers manipulate the puppets by mechanical means from below, all of this concealed by about 4 feet of water. As such, much of stories portrayed take place in lakes and rivers. It was interesting to watch, unlike any show I have seen in the US or elsewhere. The program lasts about an hour and is quite an elaborate production with several performers, visual effects and a complete orchestra. A first class ticket costs 40,000 VND, or about $2.35USD. Best of all, the theater is air conditioned.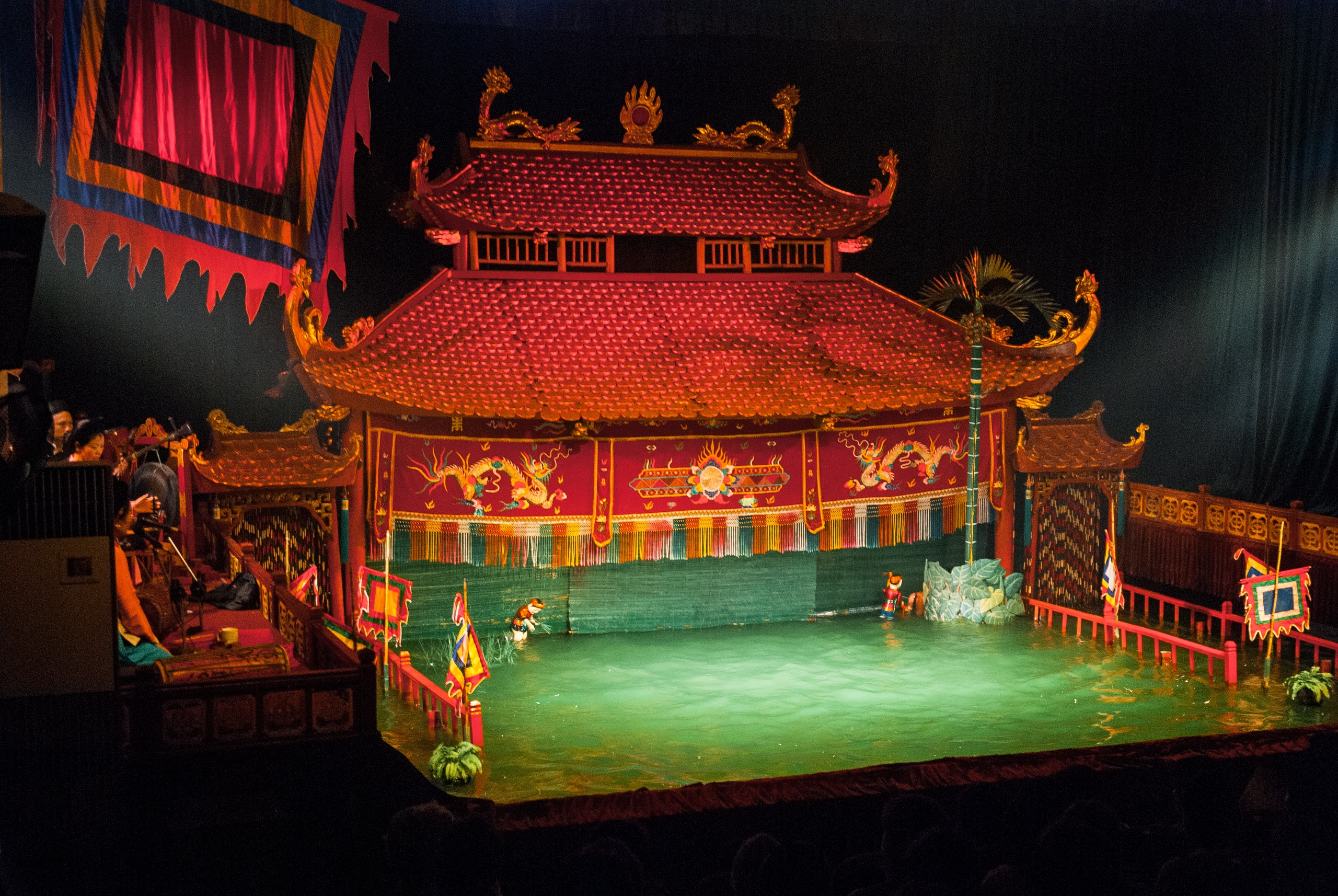 A scene from the water puppet show
Probably the biggest draw in Hanoi to the Vietnamese people is the large shrine to Ho Chi Minh. A devout Marxist, Ho Chi Minh lived simply in a modest house outside the working government buildings in Hanoi. His will stipulated two requirements upon his death: 1) No elaborate shrine was to be constructed in his honor. Rather such money should go toward Vietnam's schools and universities and 2) his body should be cremated and his ashes scattered over points in North, Central and Southern Vietnam in honor of his passion for unification. When Ho Chi Minh died, the Politburo promptly edited his will and did the exact opposite of his expressed wishes. Today there is sprawling complex in Hanoi with a Ho Chi Minh Museum, preserved buildings where he lived and worked, his collection of automobiles (devout Marxist?) and the Ho Chi Minh mausoleum. With the assistance of Soviet "experts", Ho Chi Minh's body was preserved and today sits under glass in the mausoleum for all to see. This I had to check out.
Visiting the mausoleum was an interesting experience. Many Vietnamese make the pilgrimage to Hanoi to pay their respects to Ho Chi Minh. As such, the event is a somber affair. A strict dresscode is enforced, and the security is tighter than what I experienced at the airport. The lines were single file and orderly, unheard of elsewhere in Vietnam. Cameras, phones, bags of all types were taken and held. If you don't agree to those terms, you get escorted off the grounds forcefully. I wasn't excited about turning over my $2,000 Nikon but the guy in the uniform didn't seemed inclined to discuss. The lines wind their way around the complex and slowly approach the giant mausoleum structure. This has to be the most unattractive building I saw in all my travels, a true hallmark of communist design. The architects later made some absurd claim that the building was designed to resemble a blooming lotus flower. Judge for yourself.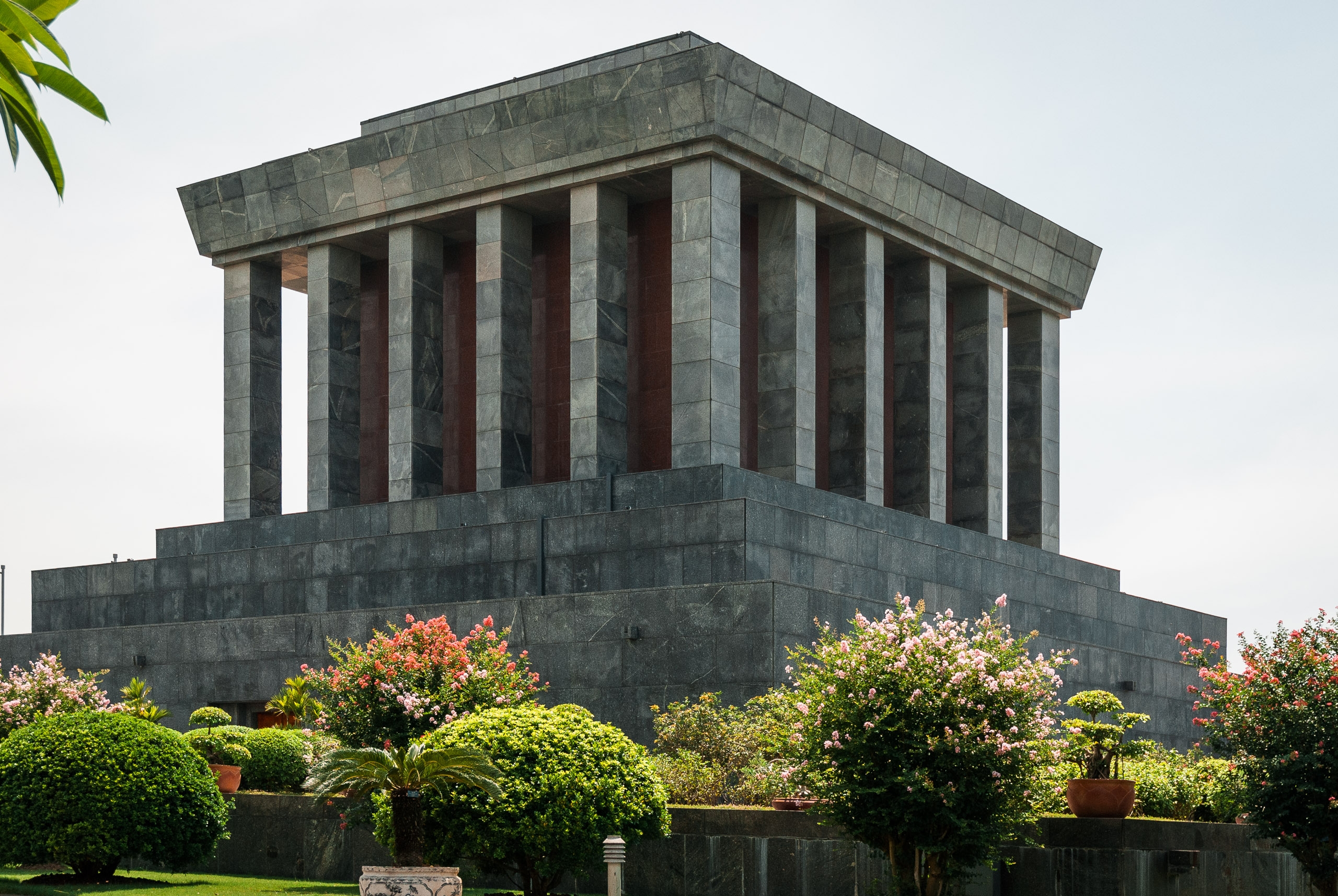 The Ho Chi Minh Mausoleum
As you enter the mausoleum itself, the tension starts to rise a bit as the guards increase both in number and armaments. This would be no place to attempt anything rash. Descending into the building it starts to get progressively colder and colder. At first its refreshing until you realize that this is not air conditioning, this is refrigeration. Under a giant hammer and sickle, in a glass box, lies the preserved corpse of Ho Chi Minh. He looked pretty good to me, considering he's been dead since 1969. Whether that's actually him is the source of some debate. It sure looked like the guy on the currency. The mausoleum is closed every October and November for "embalming maintenance." Without the help of Soviet "experts", I'm not sure who's in charge of keeping him looking his best. One theory claims that the October/November "maintenance" period is actually used to scour the countryside for some poor bastard, dead or alive, that resembles him enough to take his place in that glass box. Despite such rumors, visitors were in awe of the country's modern founder and hero.
The Vietnamese government is quite skilled at writing history in a way that suits them. The legacy of Ho Chi Minh as a liberator and unifier of Vietnam is trumpeted at all levels of society, and serves as a useful personality cult for the government (it reminded me of the reverence for Atta Turk in Turkey, the founder of the modern Turkish republic). Ho Chi Minh's other passion as a textbook Marxist, who's economic ideals have largely been abandoned today, is in question. There is a giant statue of Lenin near the Ho Chi Minh complex. I wouldn't be surprised to see it gone in a few years. The transformation of Vietnam is pretty evident everywhere you travel. Vietnam is a poor country at the moment, but I didn't see many vagrants, beggars or homeless. The only exception was in Hanoi. I saw a number of panhandlers surrounding the Ho Chi Minh memorial begging for spare change from passers by. Its ironic that the most visible destitution for visitors to Vietnam is outside the walls of a monument erected in honor of its most evangelical Marxist. Assuming that's not him in that box, the real Ho Chi Minh is probably spinning in some unmarked grave on the outskirts of town.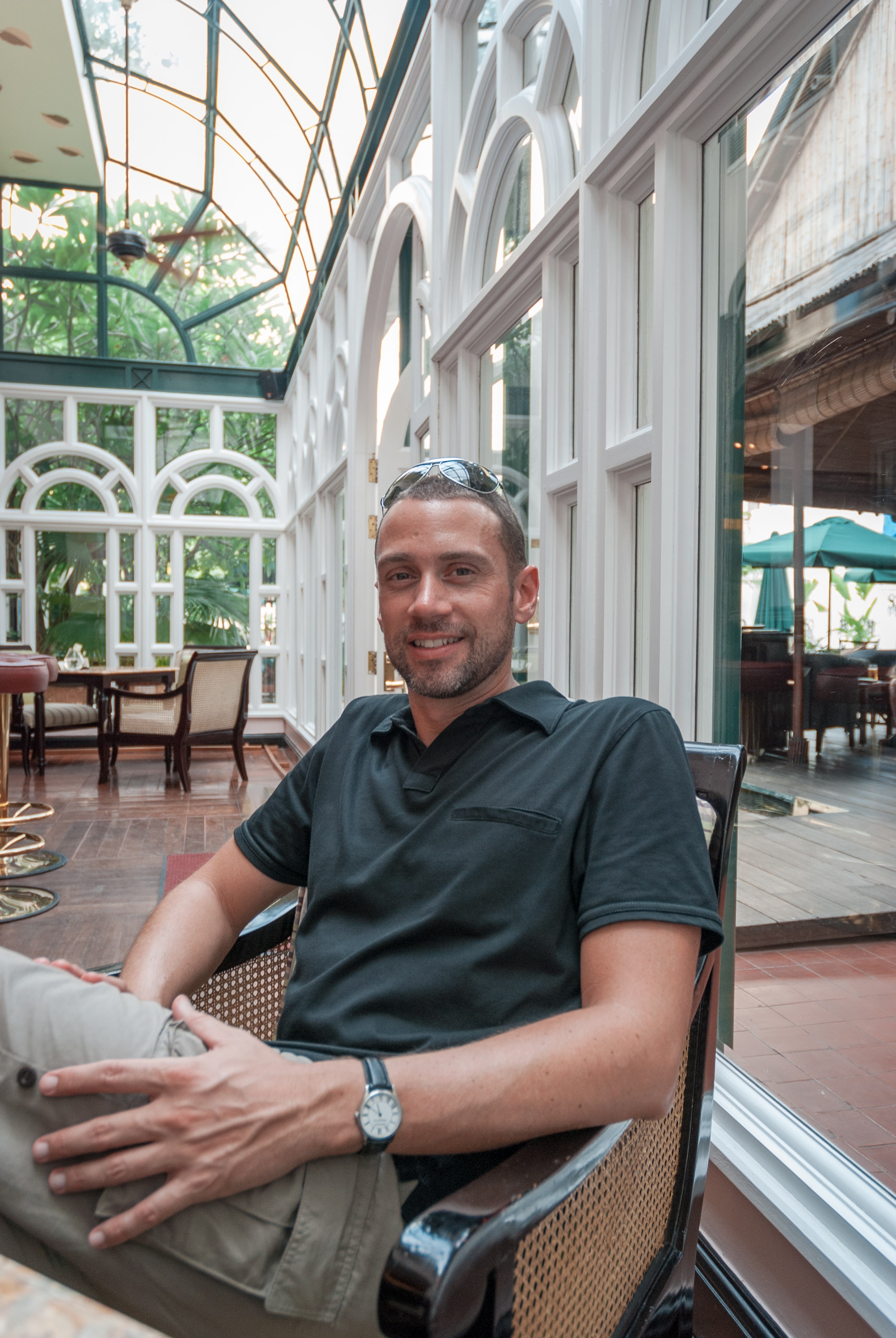 Enjoying a farewell cocktail at the Hotel Metropole in Hanoi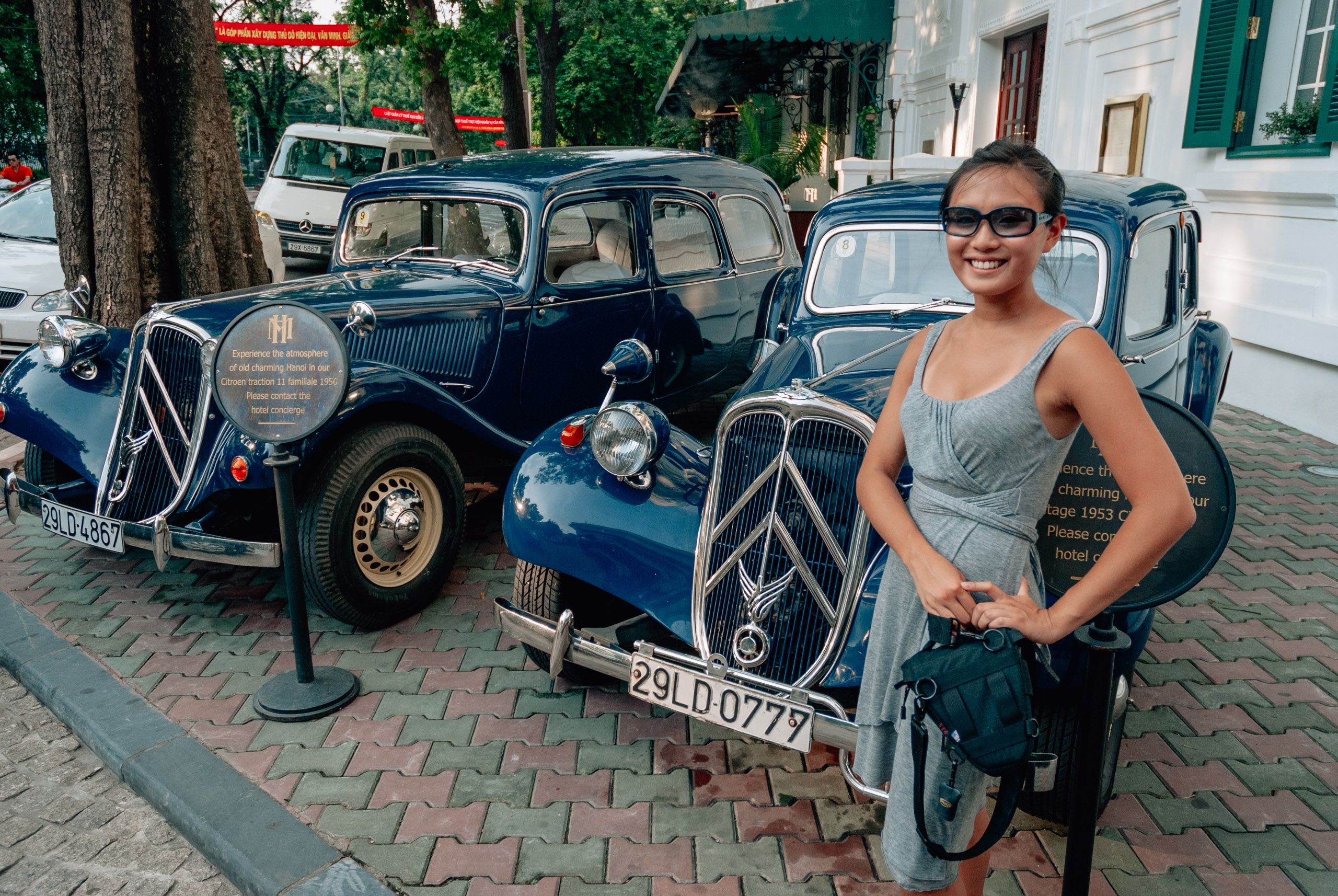 Not our ride(s)
Read more about the Thang Long Water Puppet Show