Touring Dublin - Days 2 & 3: Guinness, Jameson & Dvblinia
April 18, 2008
Our last two days in Dublin were spent doing the balance of things in our top 25 book, as well as some shopping looking around. By the time we left Dublin, we had literally done all 25 of the top 25 things to do, at least according to the good folks at Frommers. I think one more day would have been a bit much, unless you are really into singing Irish music in a pub, in which case you could continue to do that for several months and not hit the same place twice.
The highlights of day two were visits to the Guinness Brewery and the Jameson Distillery. Guinness has been brewed in Dublin since 1759, and it one of Ireland's biggest global exports. Fans of the "dark stuff" seem to love it (Jessica) or be indifferent (me). I like Guinness, but I'm not crazy about it.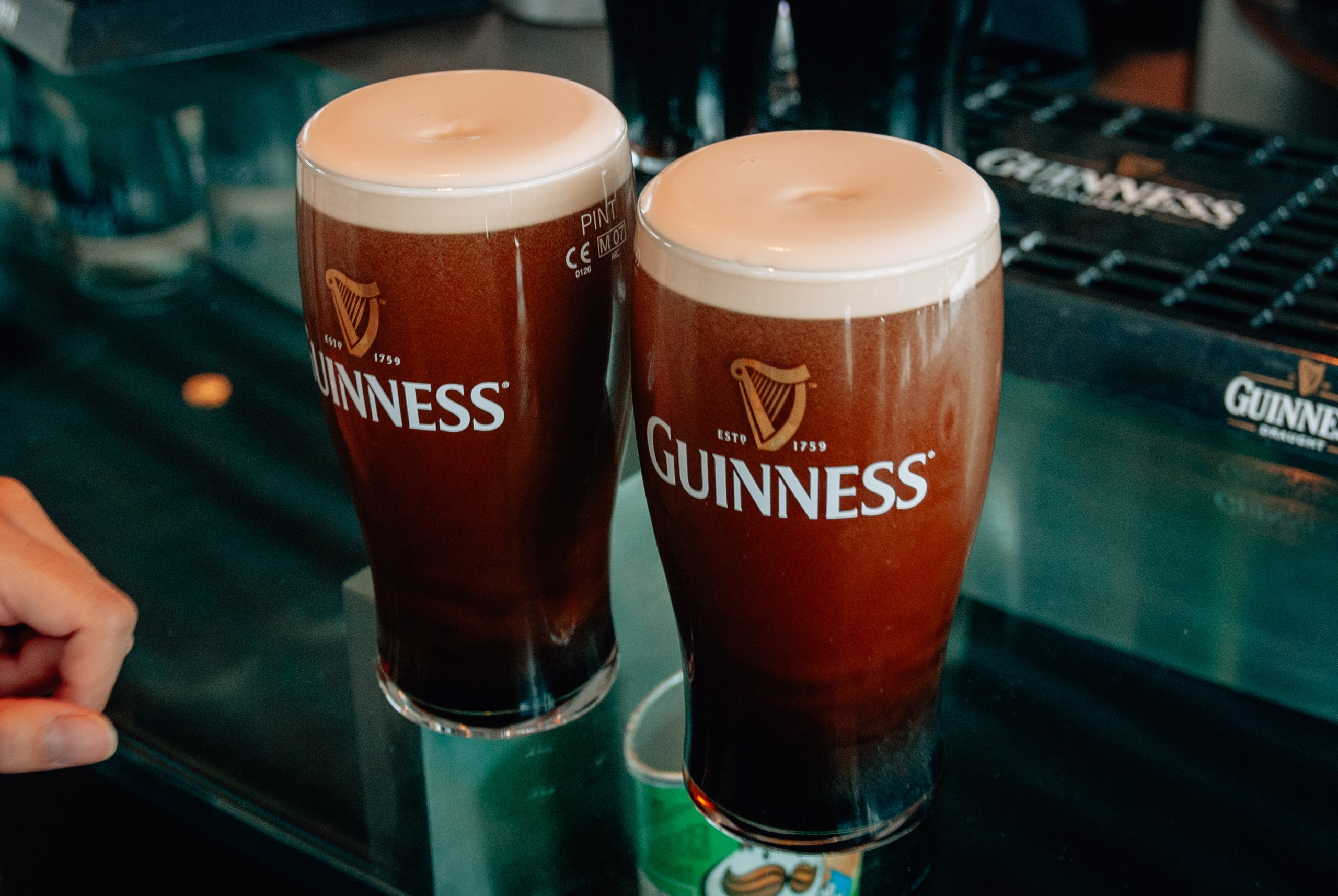 "Free" Guinness
Clearly the people who built the Guinness Storehouse, the multi-level interactive Guinness tour, are crazy about Guinness beer, the Guinness Brewery and Mr. Guinness himself. The cult of Guinness permeates, often bordering on strange, but the tour is informative and the exhibits are interesting. I worked in the beer business briefly about 10 years ago, so I sorta knew the process, but it was interesting to learn some new tidbits about this beer. Most fascinating to me was that when the brewery was established, Mr. Guinness signed a 9,000 year lease for the facilities at St. James' Gate. With whom or why 9,000 years is unclear, but I guess it goes to show that successful businesses always plan for the long haul.
The highlight of the tour is the trip to the 7th-floor, rooftop Gravity Bar where you're served your "complimentary" pint of Guinness, but the real treat are the 360 degree views of Dublin from one of the City's highest points. (The beer is a nice treat, too). It was a gloomy day, but we still got a nice view of the Dublin skyline.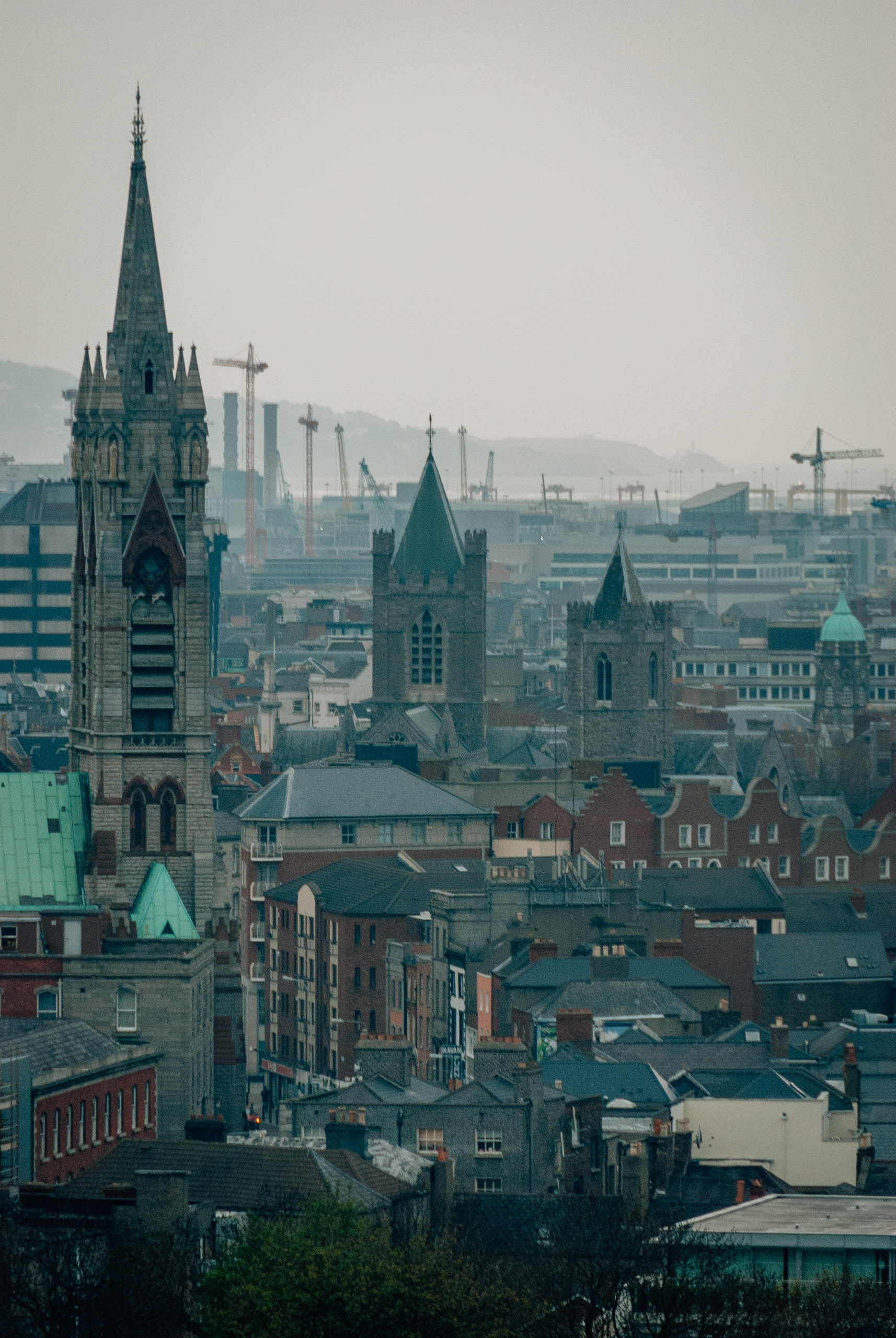 The Dublin Skyline
You'll notice a lot of cranes in the picture. Dublin, and most of Ireland, are still in boomtown mode. Ireland's is Europe's fastest growing economy largely due to massive American and European investment, largely in high tech fields. The sound chips for your Ipod are made in Ireland, and many US companies have service centers and off-shore data processing here. There is a young (50% of the Irish population is under 25), motivated and educated workforce with far fewer of the cultural and language problems found with outsourcing to places like India and South America. The strong Euro has leveled off growth, making sourcing here less attractive for dollar-based companies, and tourism has really taken a hit as well. Most Irish tourists come tracing family roots from the US.
Anyway, back to booze, also largely associated with Ireland. Our next stop was the Jameson Distillery, home of fine Irish whiskey. The Jameson distillery is about a 15 minute walk from the Guinness Storehouse and worth a look. (It should be noted that Guinness doesn't do tours of its brewery anymore due to too many visitors, but the actual brewery is about 5 minutes from the Jameson Distillery, which also no longer makes whiskey but is a visitor center while its whiskey is made outside of town).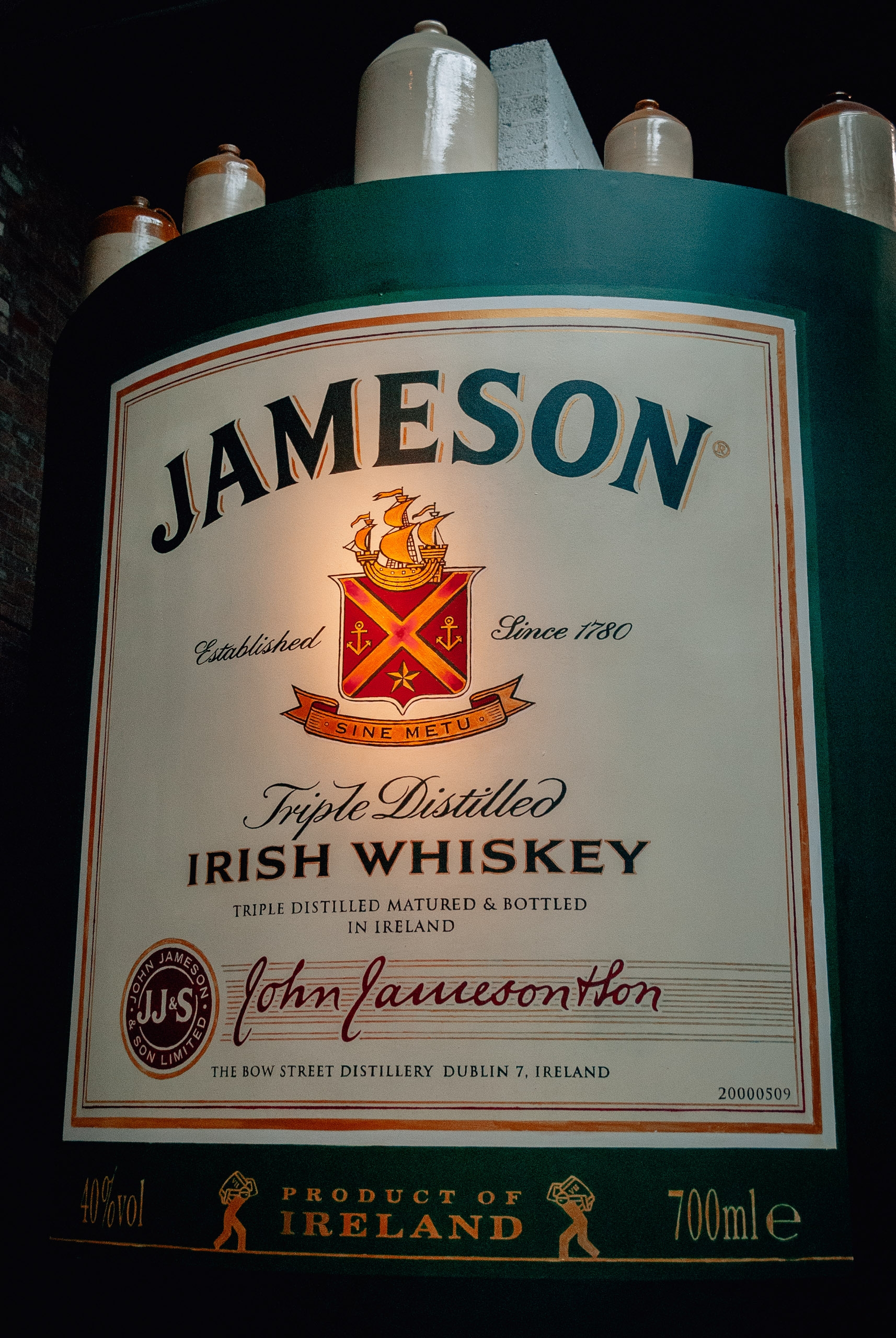 The Old Jameson Distillery
The Jameson tour is guide-led, and takes about 40 minutes. Like the Guinness tour, you get a sense of how Irish whiskey is made, and how it compares (and is better) than Scotch or American whiskey. Basically, Scotch whiskey is smoked by being heated with burning peat, while Irish whiskey is not. American whiskey was hardly discussed, despite Jack Daniels being the best selling in the world. At the end of the tour, you get to try a shot of whiskey straight or with a variety of mixers. I was one of 6 lucky souls who got to sit in a "whiskeys from around the world" tasting which included doing a taste test of three Irish, one Scotch and one American whiskey. The American one was definitely funkified. I've had a lot of Jack Daniels in my day, and it never tasted like this. Anyway, I got a nice buzz and a certificate as a certified Jameson whiskey taster.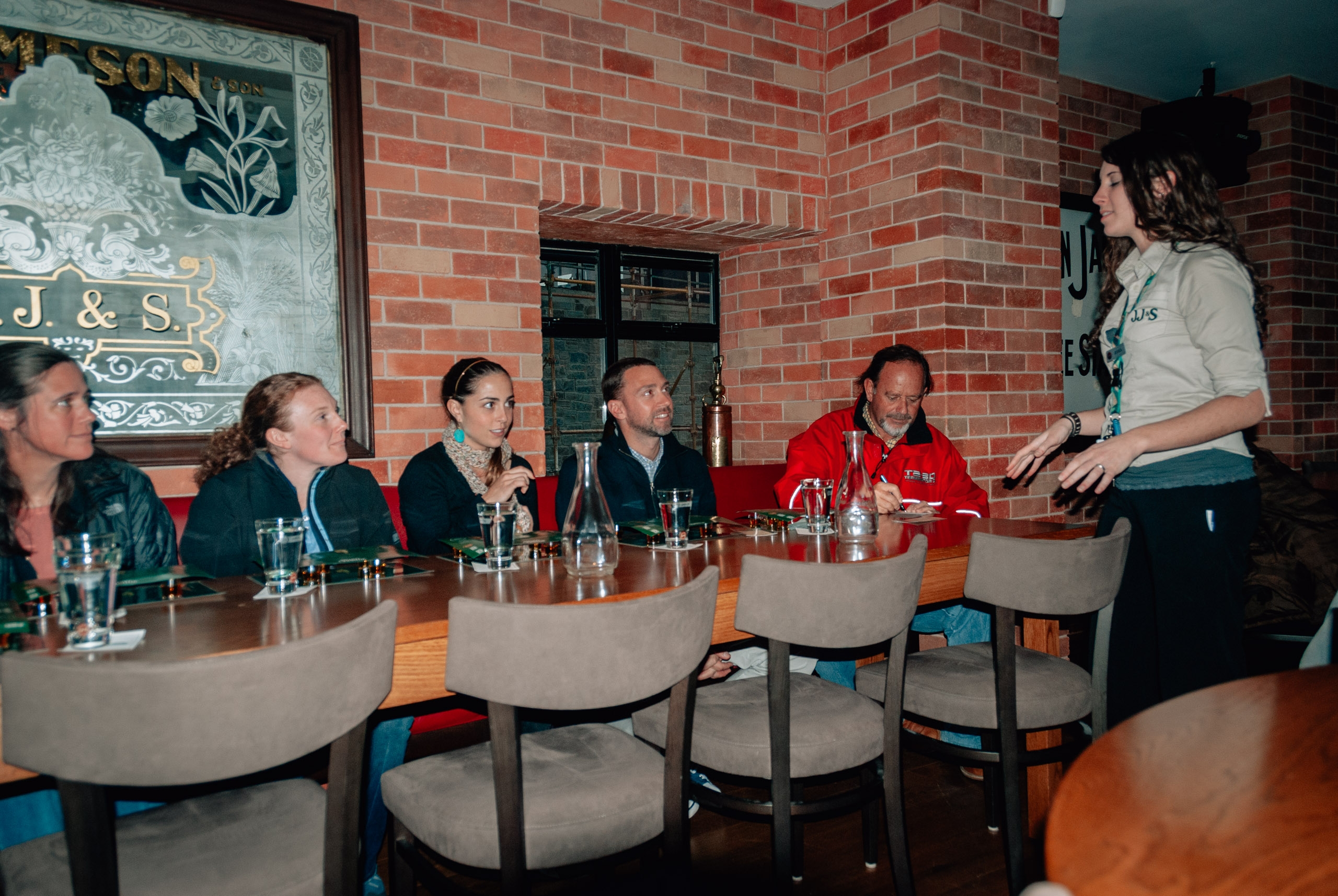 Me on the Esteemed Whiskey Panel
Afterward, we took a nice long walk home. Aside, Ireland is really cracking down on drunk driving. In fact, they are instituting a 0% policy meaning any blood alcohol over zero is a criminal offense. As a result, pubs are being sold and there's been a huge surge in "off license" stores, or those licensed to sell liquor to go.
That night we went for dinner and had traditional Irish food, which despite my earlier comments, was actually quite good. I had a potato boxty, which is sort of like a potato-based tortilla wrapped around roasted chicken and cream gravy. They also have terrific ice cream here.
The last day we did the city bus tour, one of those hop on, hop off deals that goes around town. It was at least convenient and cheap transportation, and at its best we learned new and interesting stuff about the town. We stopped at St. Patrick's cathedral, Christ's Church and Dvblinia, a sort of medieval Dublin themepark exhibit that showed what life was like here back in the day. It was all good fun, but very cold - about 45 and misty. No wonder there are so many Irish in San Francisco; same lousy weather only slightly better.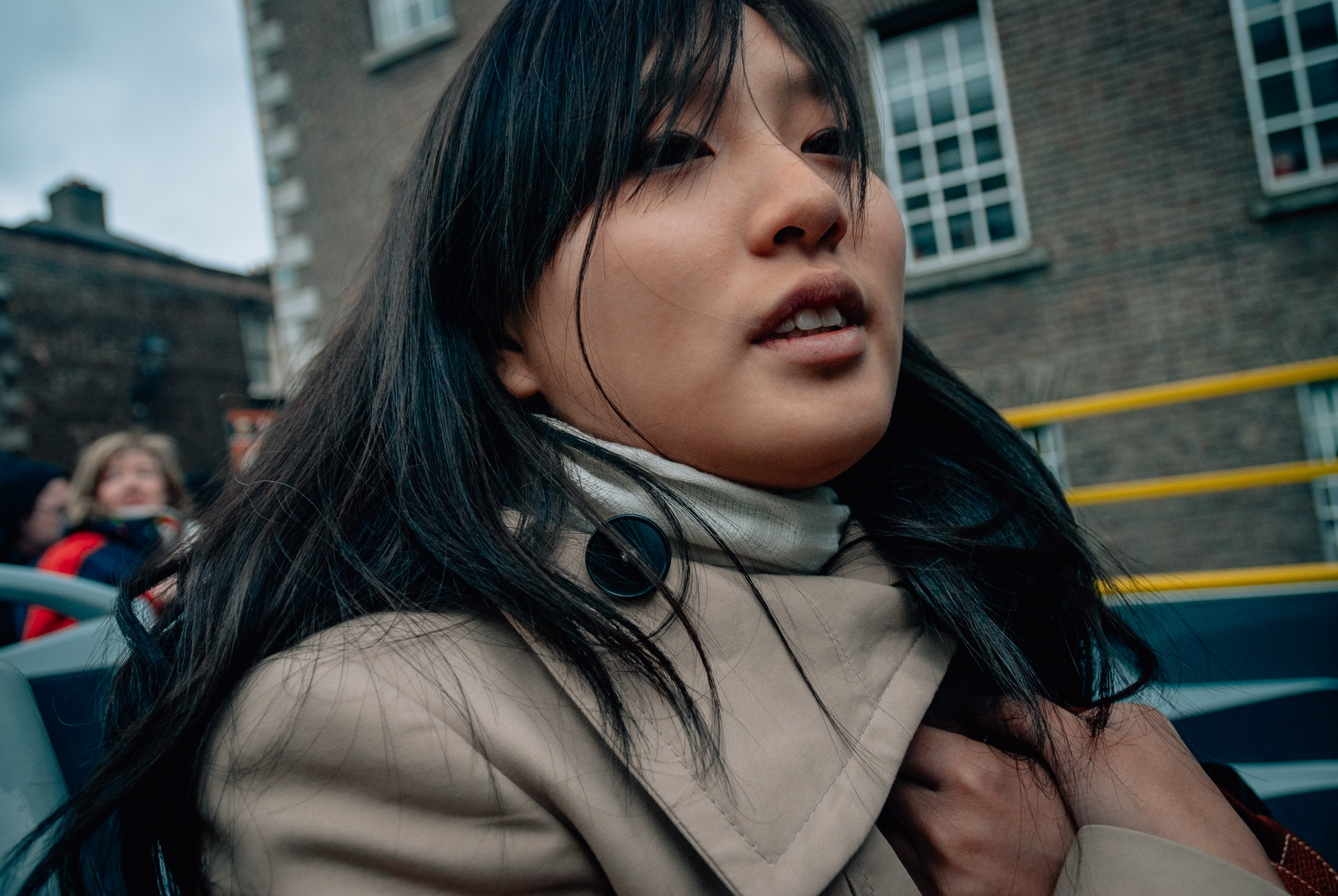 Enjoying the Lovely Weather from the open-top Bus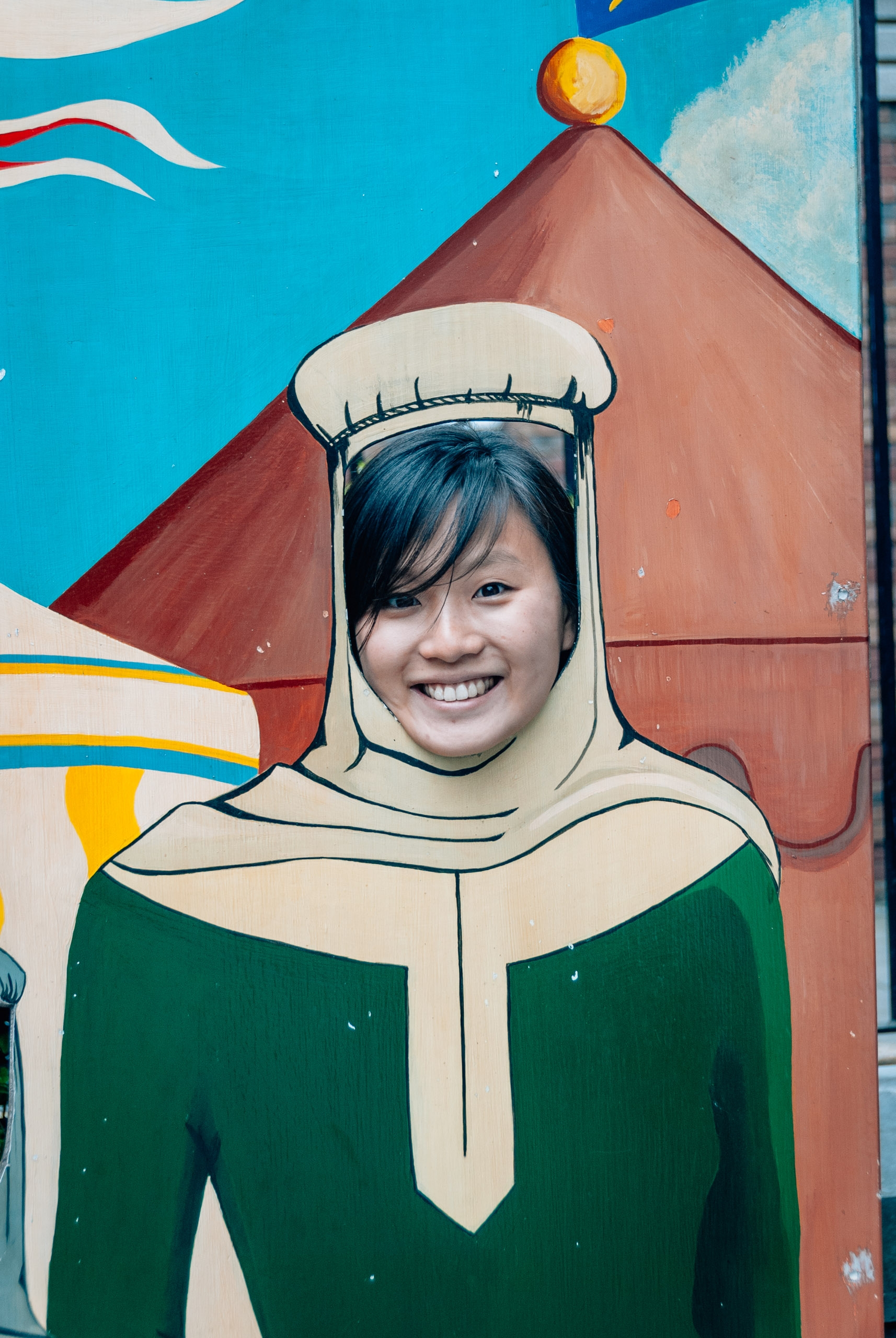 Good times at Dvblinia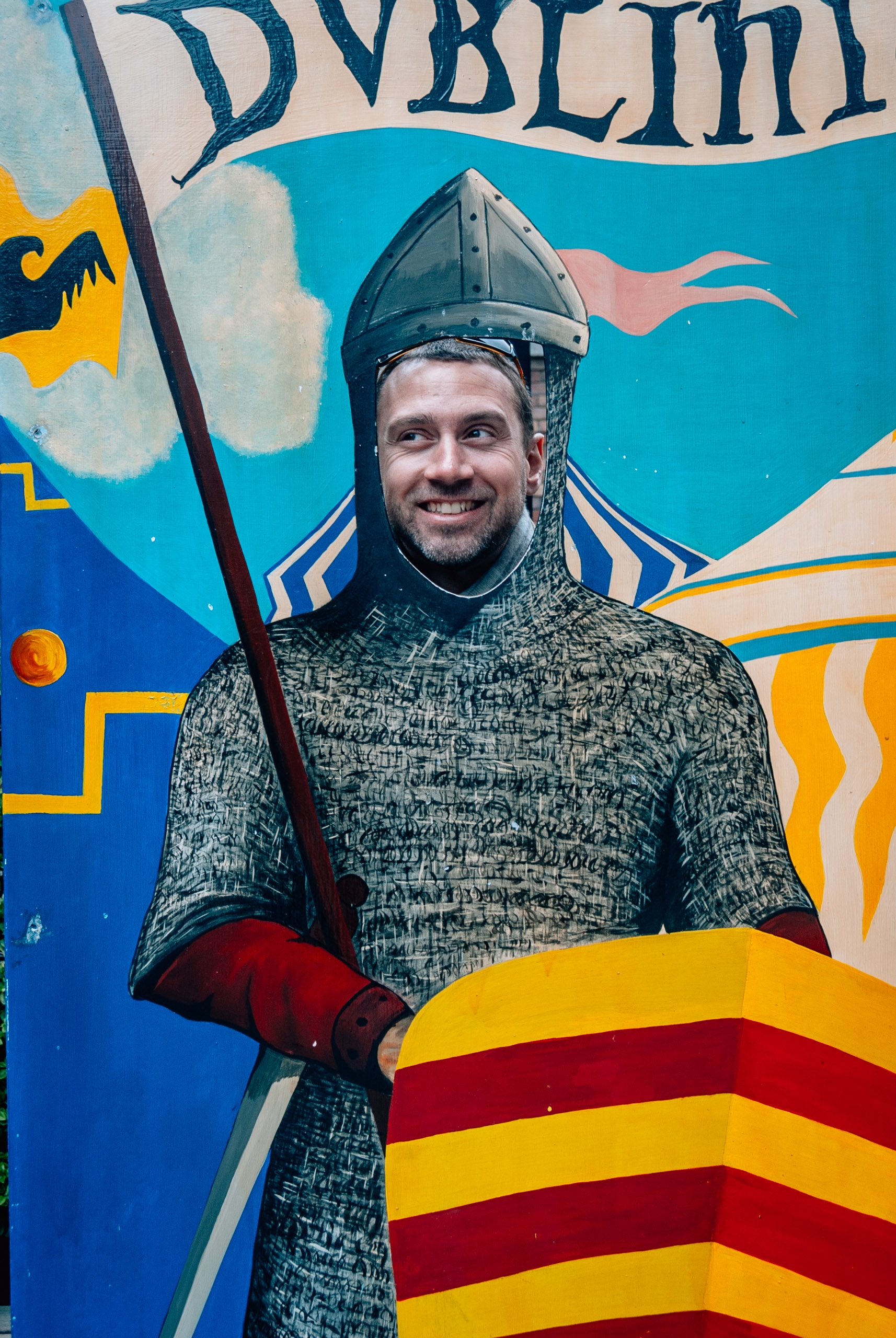 Good times at Dvblinia
The last night we hit some of the pubs after dinner, but had to pack for our early flight to Paris. We wandered into a brasserie by chance that had a somewhat unremarkable menu, but surely the best buffalo chicken wings I've had in years. They were amazing and worth a return to the Emerald Isle.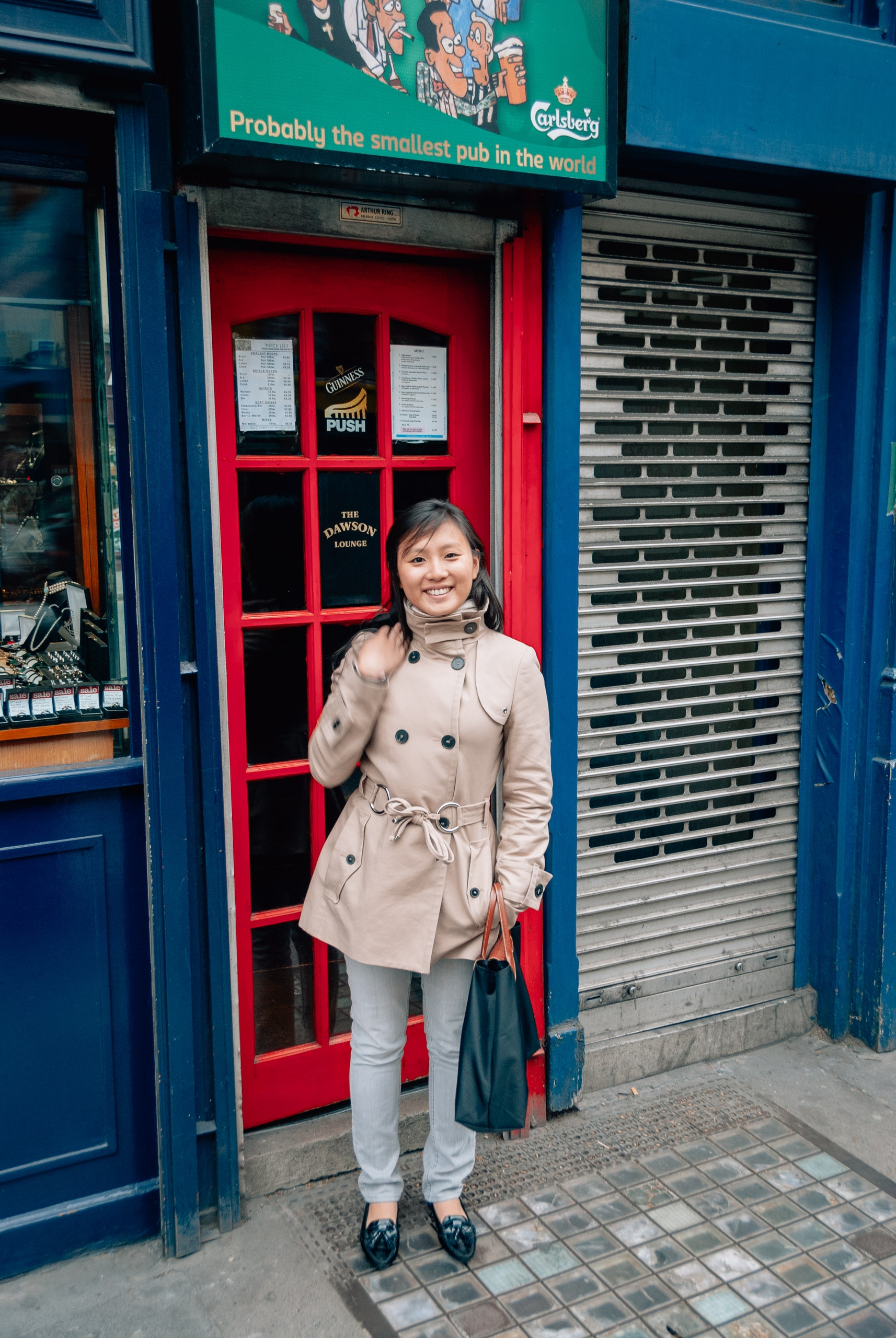 Supposedly the world's smallest pub (I've seen smaller)
Dublin was a fun yet short visit, just about right in length at three days. Being on the Euro, it was pricey but not as bad as London. It was fun to see the town and the pubs. If you're coming to hear the traditional Irish brogue, you might not have much luck, however. The labor shortage has brought lots of workers in from Eastern Europe and Russia. All of your hotel staff, waitstaff, porters, etc. will have distinctly slavic accents. Only the taxidrivers seem to be all Irish. Despite its small size and being easily walkable, take a taxi for this reason alone. Makes for an amusing and memorable trip to the airport.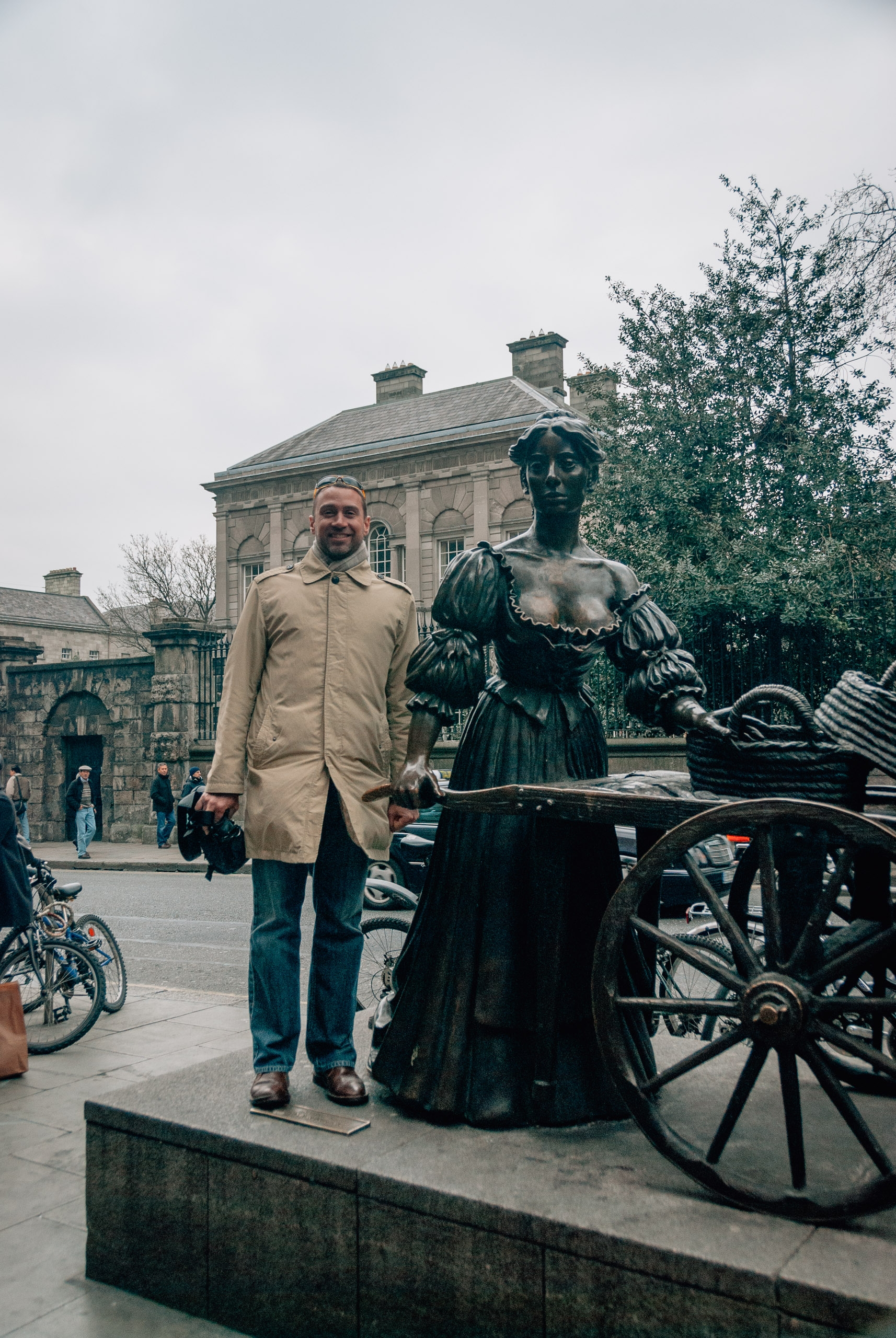 Me and the statue of Dublin's most famous prostitute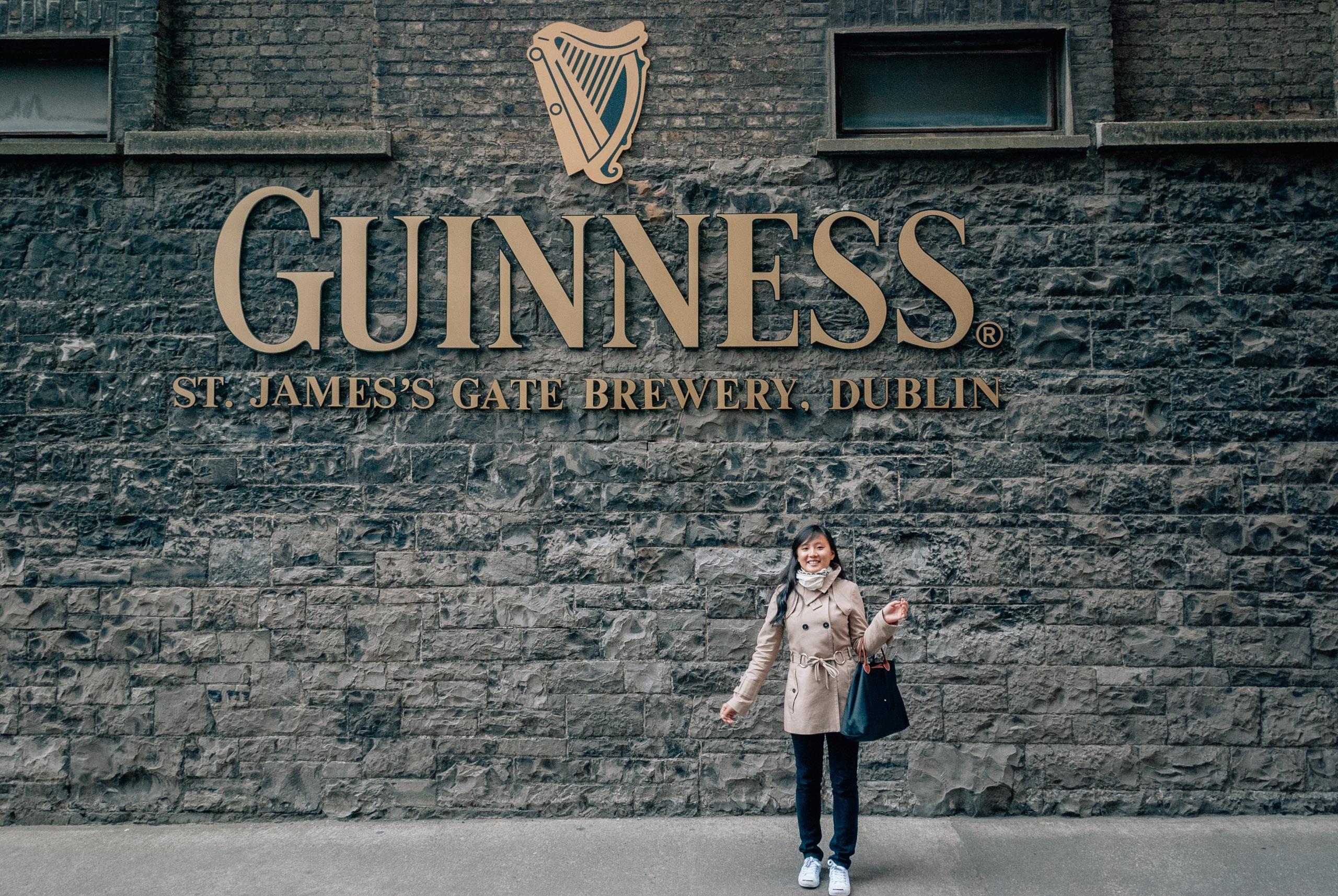 At the Guinness Brewery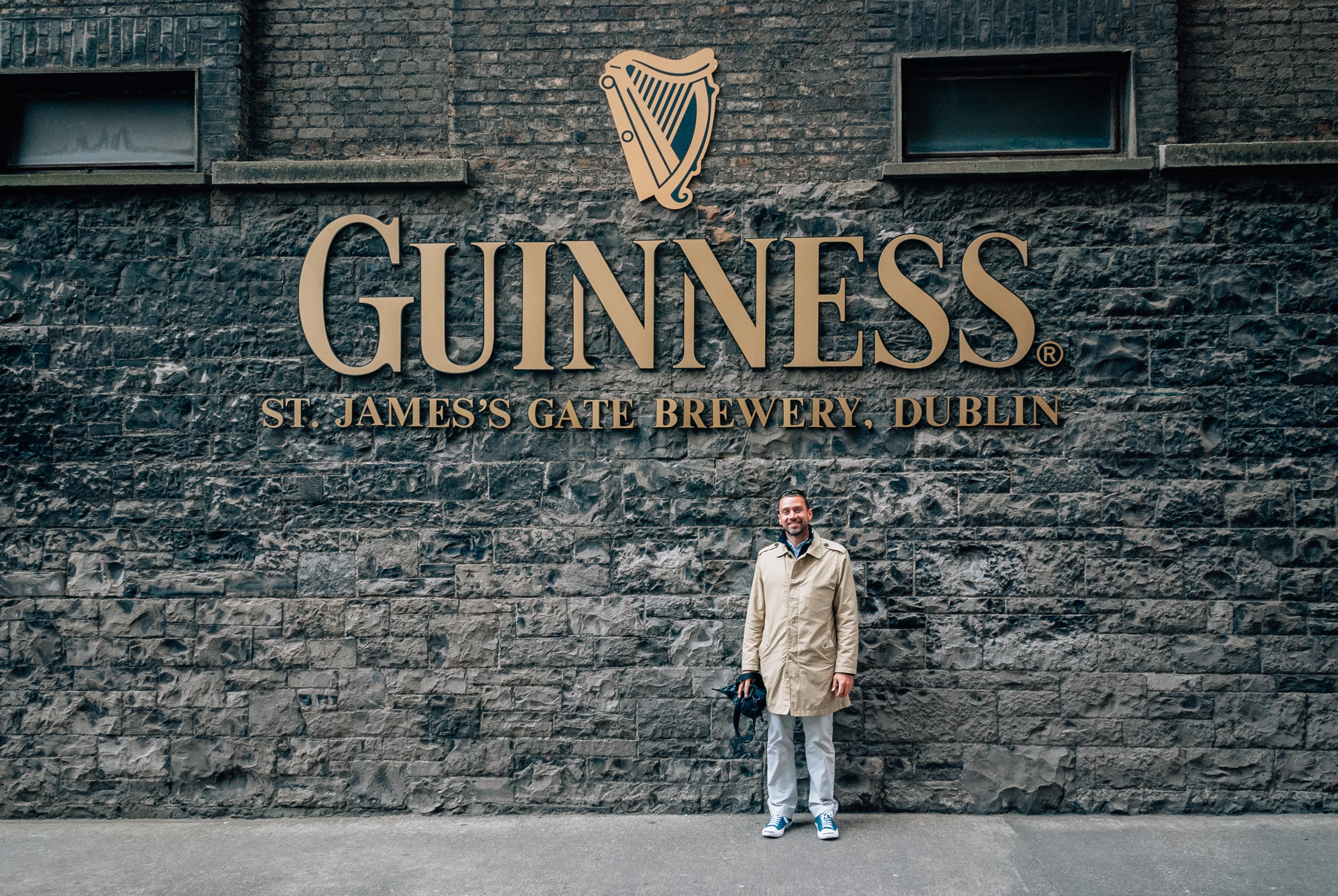 At the Guinness Brewery