Touring Morocco - Three Days in Marrakech
September 10, 2008
The day after the wedding, we departed Mijas to catch our flight from Malaga to Madrid, then Madrid to Marrakech, Morocco.  At least, that was the plan.  Our flight from Malaga left 2 hours late, and we missed our connection to Marrakech by about 10 minutes.  There's one flight a day from Madrid to Marrakech, so we were fearful that our plans might really be upset at this point.  Its tricky because you basically have to eat a night's stay in your hotel room, plus any other plans you might have for that day or the next morning.  We were able to charm our way onto a 10:00PM flight to Casablanca, then connecting on a 25 minute flight to Marrakech around midnight.   By the time we cleared customs and immigration, it was about 12:30AM, arriving at the hotel about 1:00.  We did miss out on a day of kicking around Marrakech, and spending 8 hours in the Madrid airport was certainly no fun. 
Its mind boggling to me that a brand new airport would have so few interesting things to do, and offer such bad choices in food.  Worse, there are designated smoking areas all over the airport which consist of glass-enclosed rooms with no ceiling.  I'm not sure what this was supposed to accomplish as the smoke simply rises above the 9 foot glass walls and into the terminal.  After only a few hours, our clothes reeked of smoke and you simply could not get away from it. Our stint at the airport concluded dramatically with a guy having an apparent psychotic episode being forcibly removed from our outbound airplane.  Six Spanish policemen were carrying this guy, who would scream at the top of his lungs.  He would appear to calm down and agree to cooperate, then take off sprinting with the police and military in pursuit.  They finally carried him outside, tazering him and beating him along the way, and into an awaiting police van.  With that resolved, we  boarded our flight for Morocco.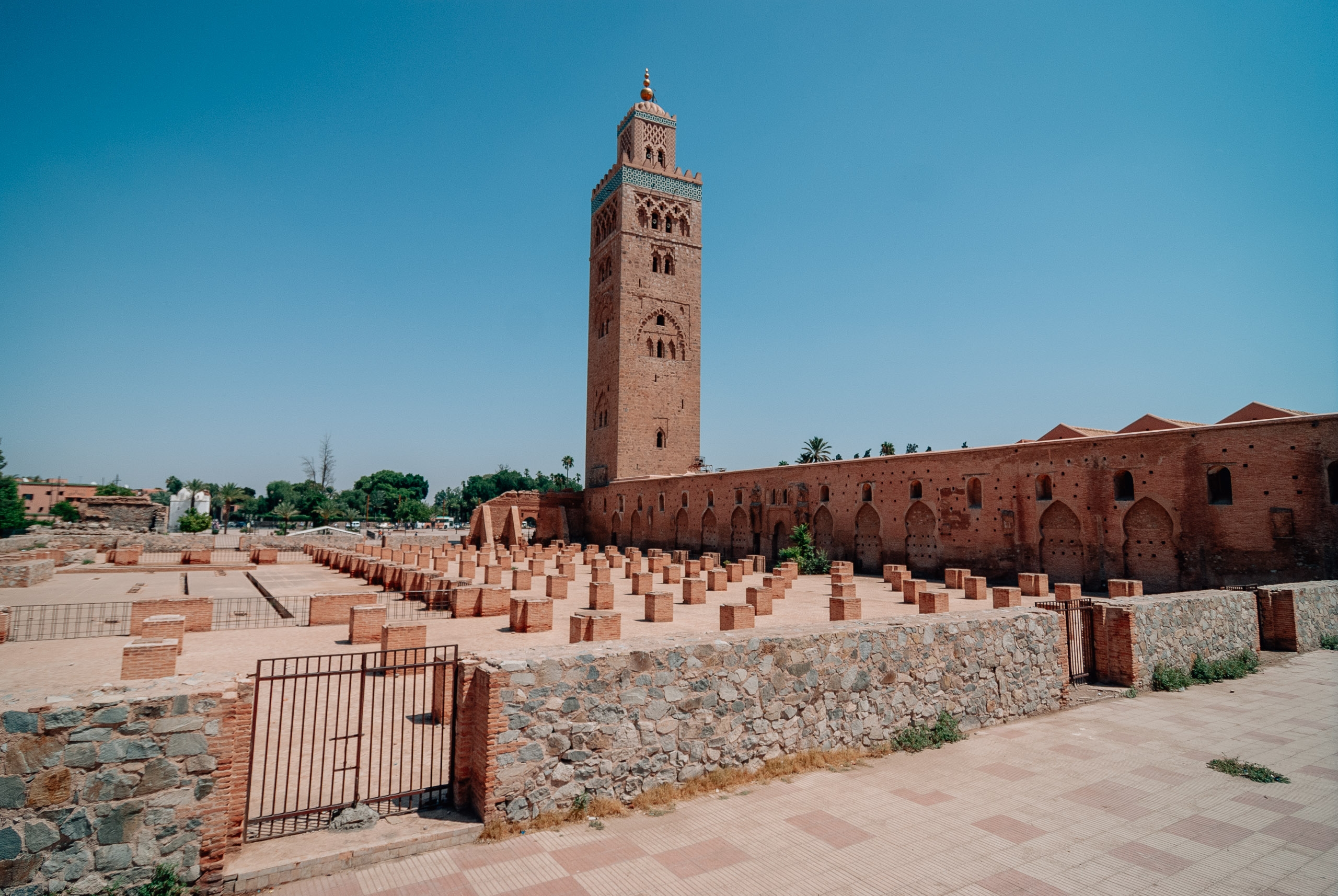 The Koutoubia Mosque
Marrakech is not the biggest city in Morocco, but it is the most cosmopolitan and a top destination for tourists.  The capital city of Rabat and the gritty seaside port Casablanca are both larger, but far less interesting, at least that's the consensus of our research and was largely confirmed by all of those we spoke with.  The King of Morocco has made tourism a priority, and has taken steps such as deregulating the airline industry and creating enormous tax incentives to spur the tourist trade. As a result, tourism is its fastest growing industry and brings millions of Europeans and Americans to Morocco each year.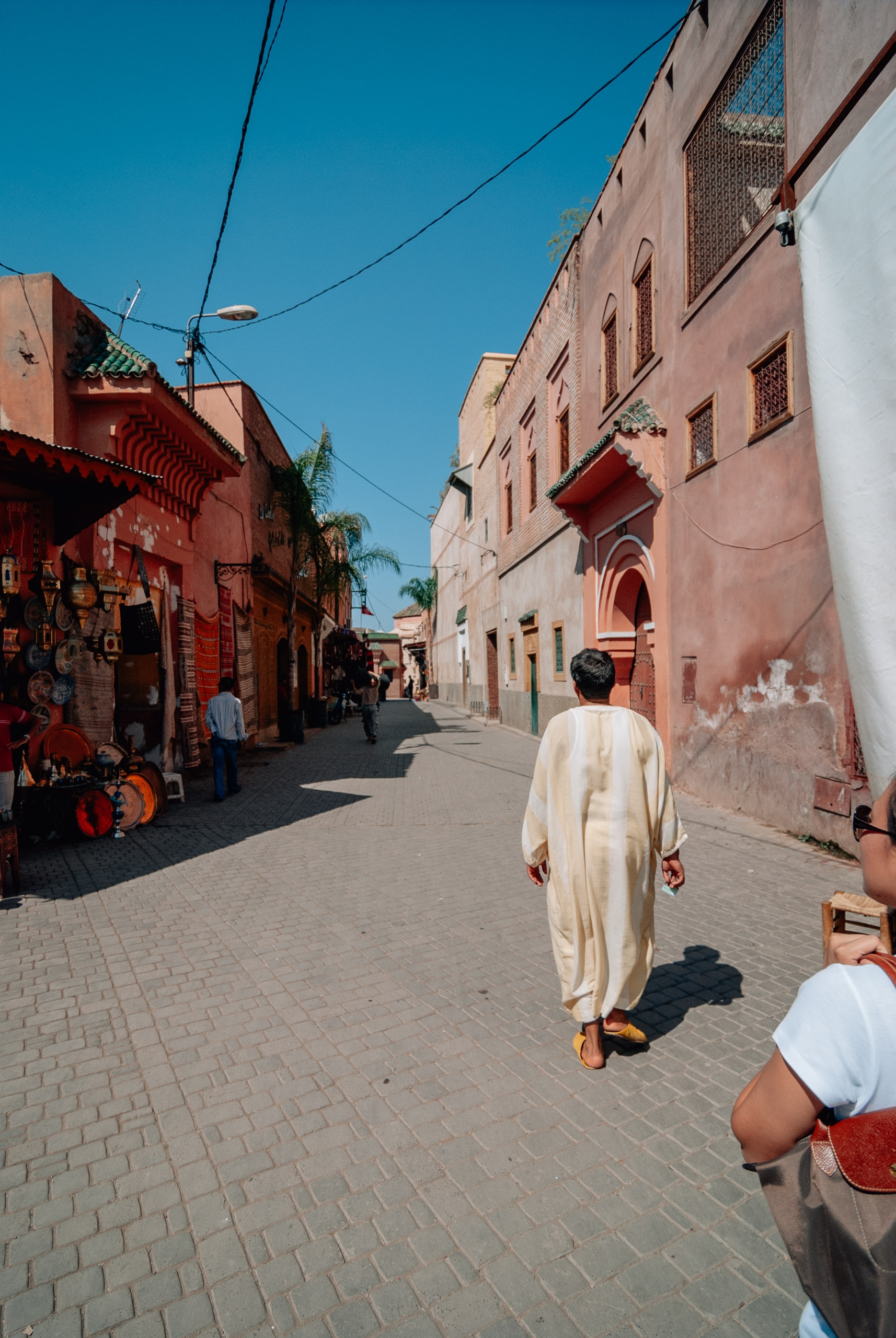 Walking (behind our guide) in the Medina
The official language of Morocco is Arabic, and we had prepared for this by buying a Lonely Planet Moroccan Arabic phrase book.  However, since Morocco gained its independence from France in 1956, French is still the most prominently spoken language among the Intelligentsia, and throughout the tourist trade.  The hotels, airlines, taxis, restaurants and service firms all speak French.  In hindsight, our French phrase book would have been far more useful than the Arabic one.  Aside from simple greetings and thanks, most of our transactions were conducted in English or French.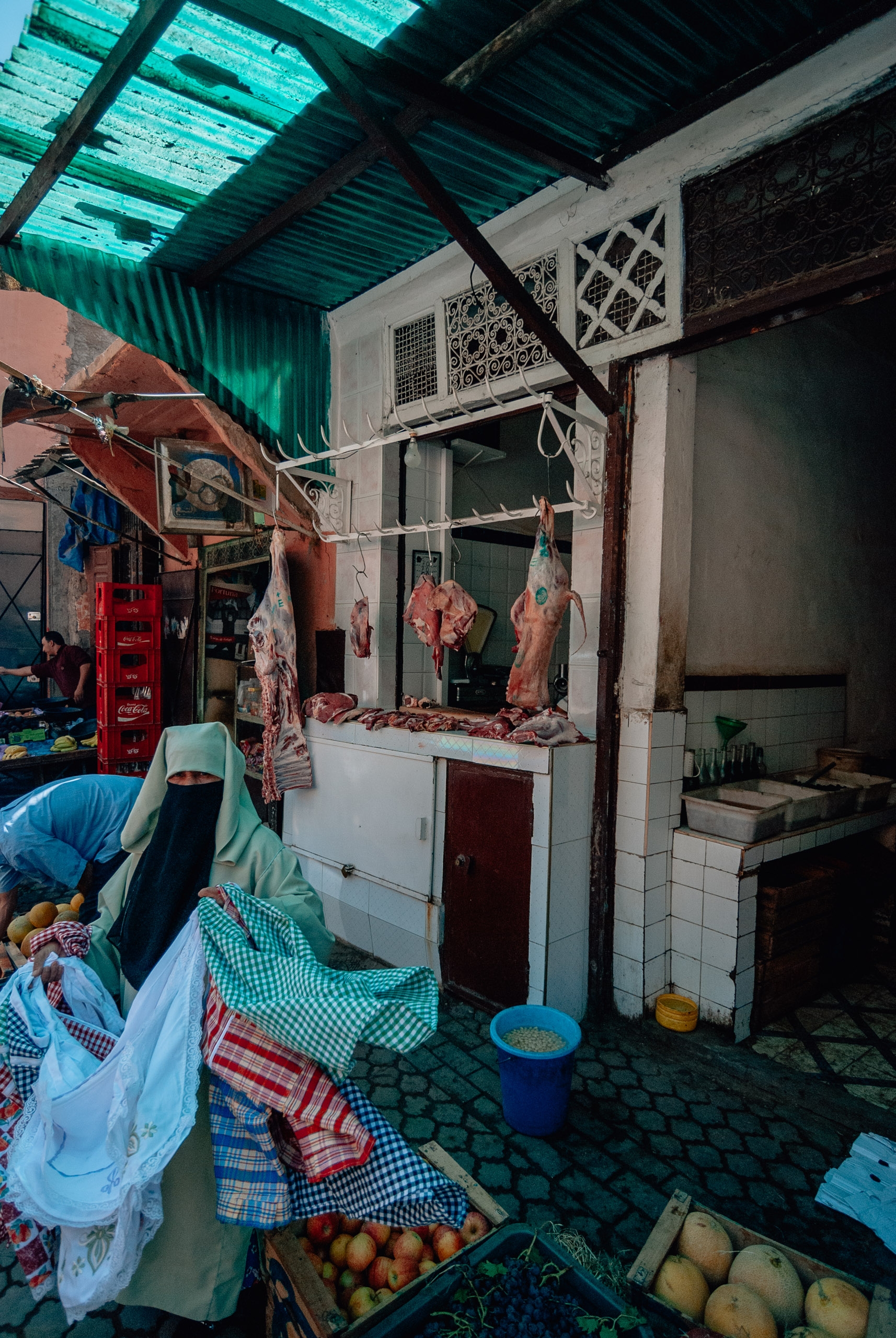 Food stalls in Marrakech. This woman yelled at me for taking her picture. Sorry!
Marrakech is not a city of sights, but more of an experiential visit.  We stayed inside the walled Medina, or old city that was first built in the 1100's by tradesmen crossing Sahara to Timbuktu.  Gold, spices and salt were the primary commercial pursuits in those days, and Marrakech was an important stop on the way to the coast and further to Europe just a mere 50 kilometers across the Mediterranean. The architecture of Marrakech is Moorish, with heavy Arabian influence.  The name literally translates into "The Red City" as the clay and earth buildings are all pink and reddish in color.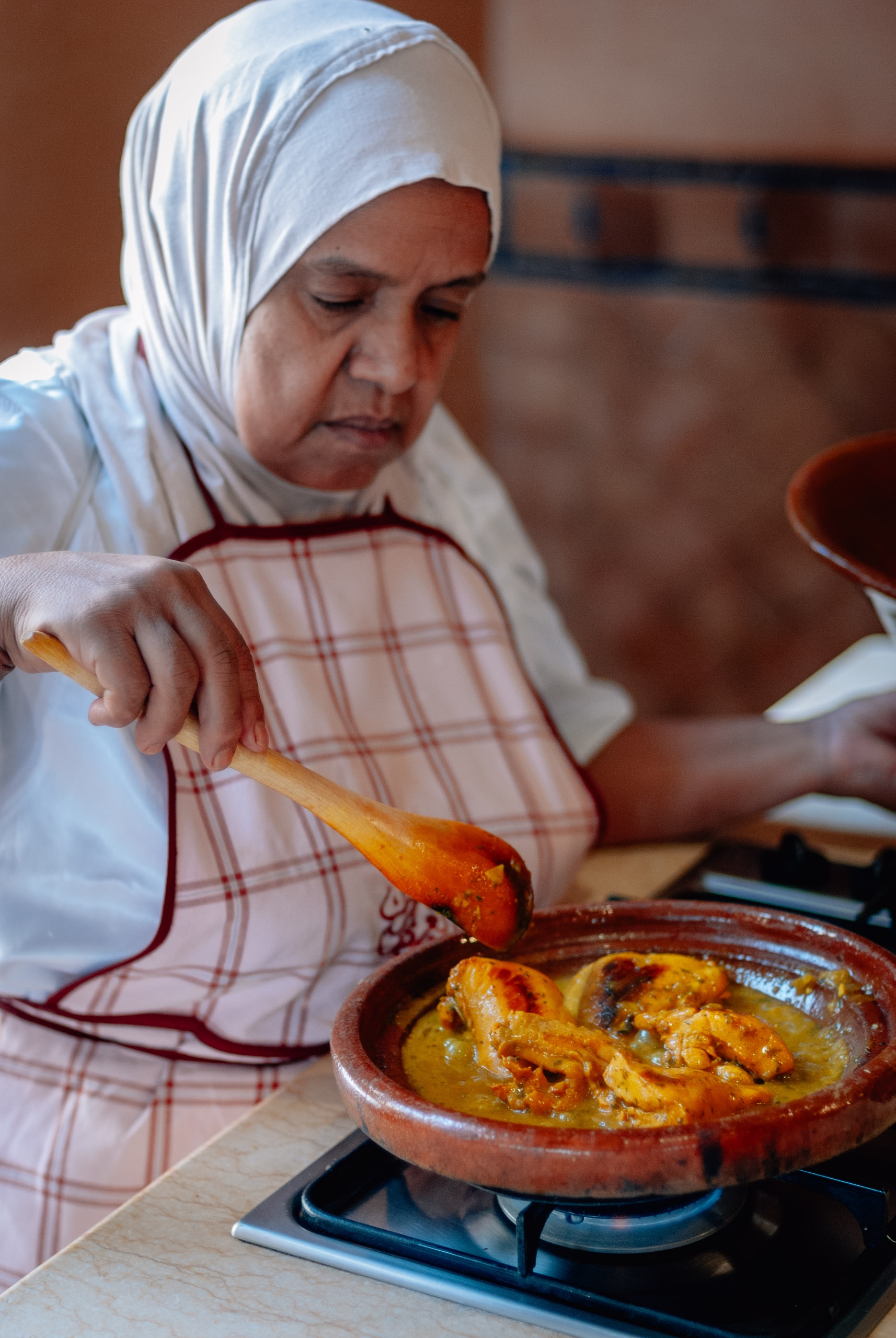 The Moroccan chef.
Our first day we took a Moroccan cooking class at the Maison Arabe.  We learned about the history of Moroccan cuisine and the important spices, which number in the dozens.  The dish we prepared was chicken tagine with preserved lemon.  A tagine is  round earthen pot with a cone-shaped top that is heated slowly over charcoal or gas. Because it cooks the food slowly and retains is moisture, flavors are rich and the chicken was tender and moist.  The class consisted of the two of us, an instructor and an experienced chef.  We made a Moroccan salad of tomatoes, roasted green peppers and onion, chicken tagine with lemon and a dessert of sliced oranges with sugar and cinnamon.  This was easily the best meal we had in Morocco (compliments to the chefs).  We would later eat chicken tagine about 6 more times, and if I don't see another tagine for 6 months I would be fine with that.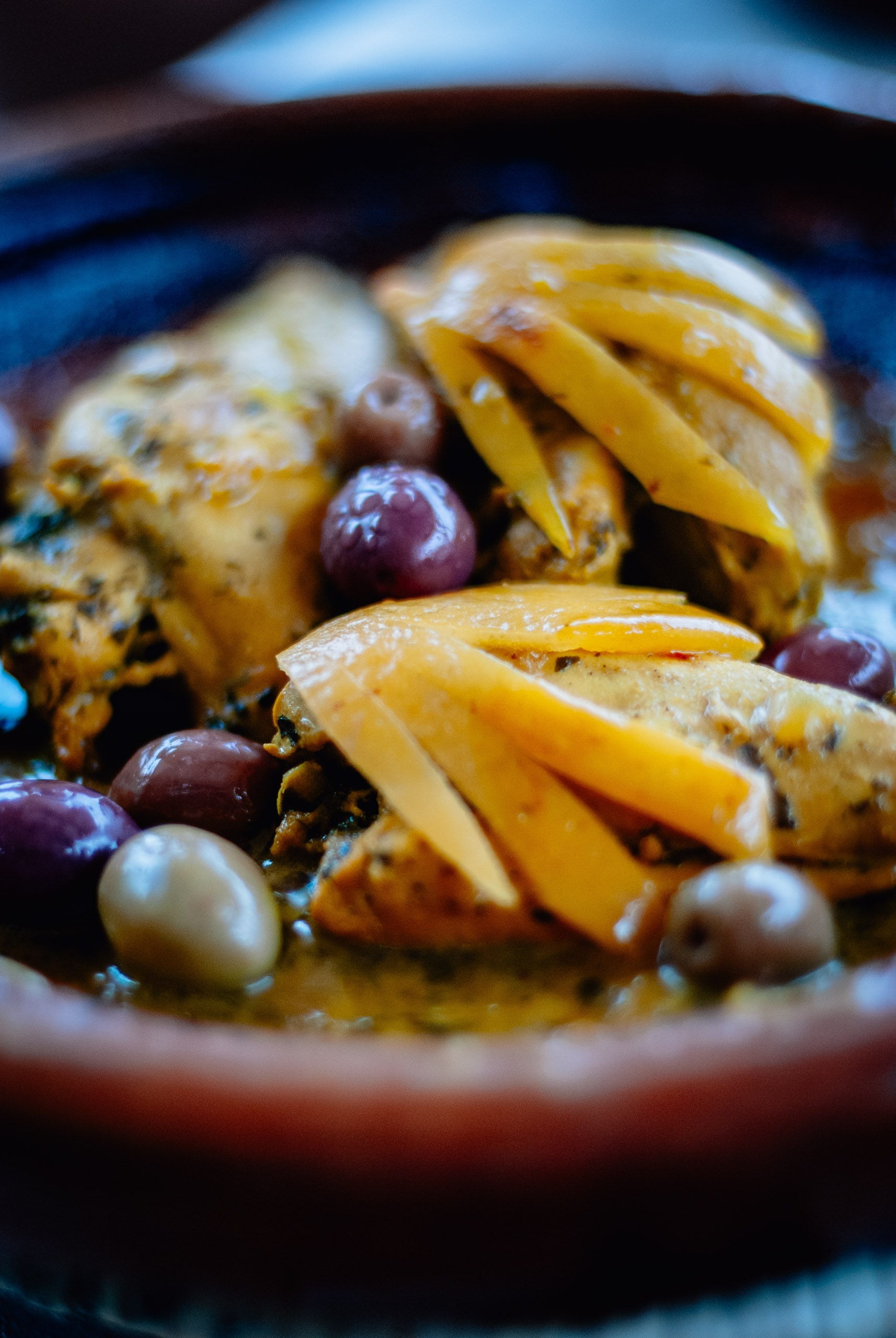 Mmm...tagine of chicken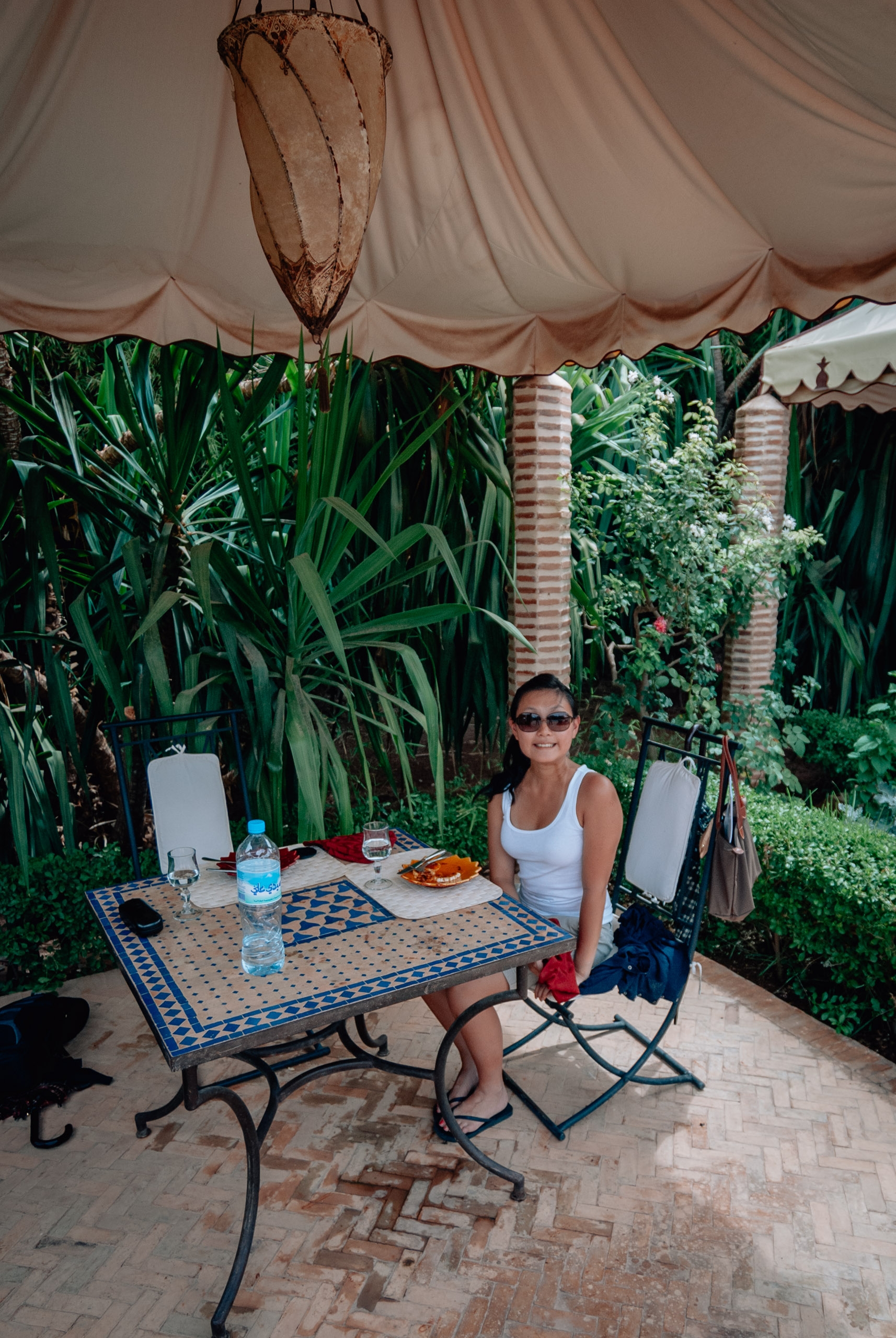 Enjoying our lunch.
Later that day we visited the Djemaa el Fna, one of the largest squares and outdoor bazaars in Africa.  A UN World Heritage site, the square is full of street performers, tattooists, snake charmers, food stalls and lots of touristy stuff.  We didn't stay long as the vendors can be oppressive, but it was fascinating to see.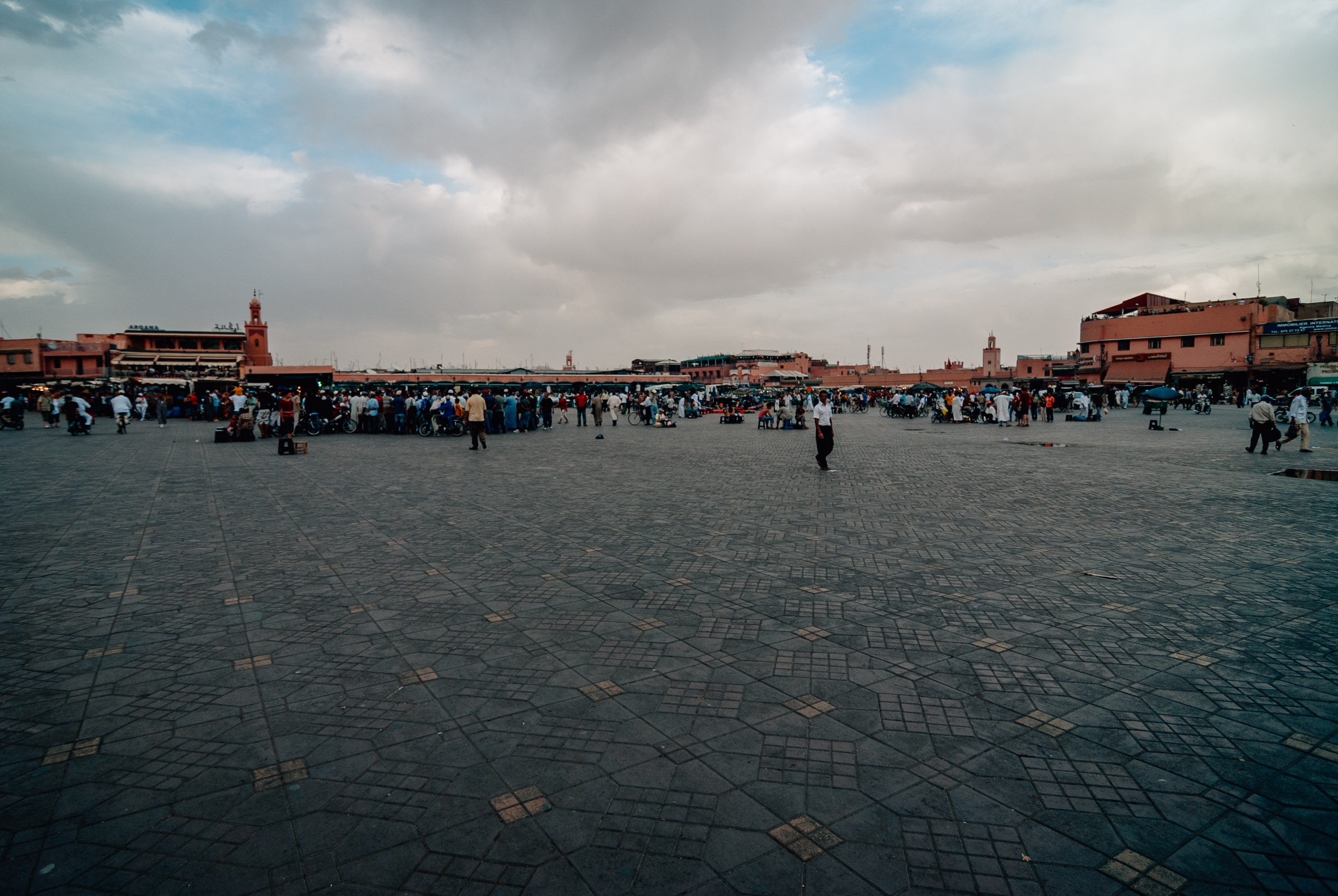 At the Djemaa el Fna Square
The next day we hired a guide for the day and went on a walking tour of Marrakech to see its most important sites.  We started in the Majorelle Gardens, built by a French botanist in the 19th century and home to one of the largest collections of cacti in the world.  The gardens were later purchases and maintained by French designer Yves san Laurent until his death earlier this year.  As crazy and hectic as Marrakech can be, the gardens were quiet, peaceful and quite remarkable.
Jessica and I in the gardens.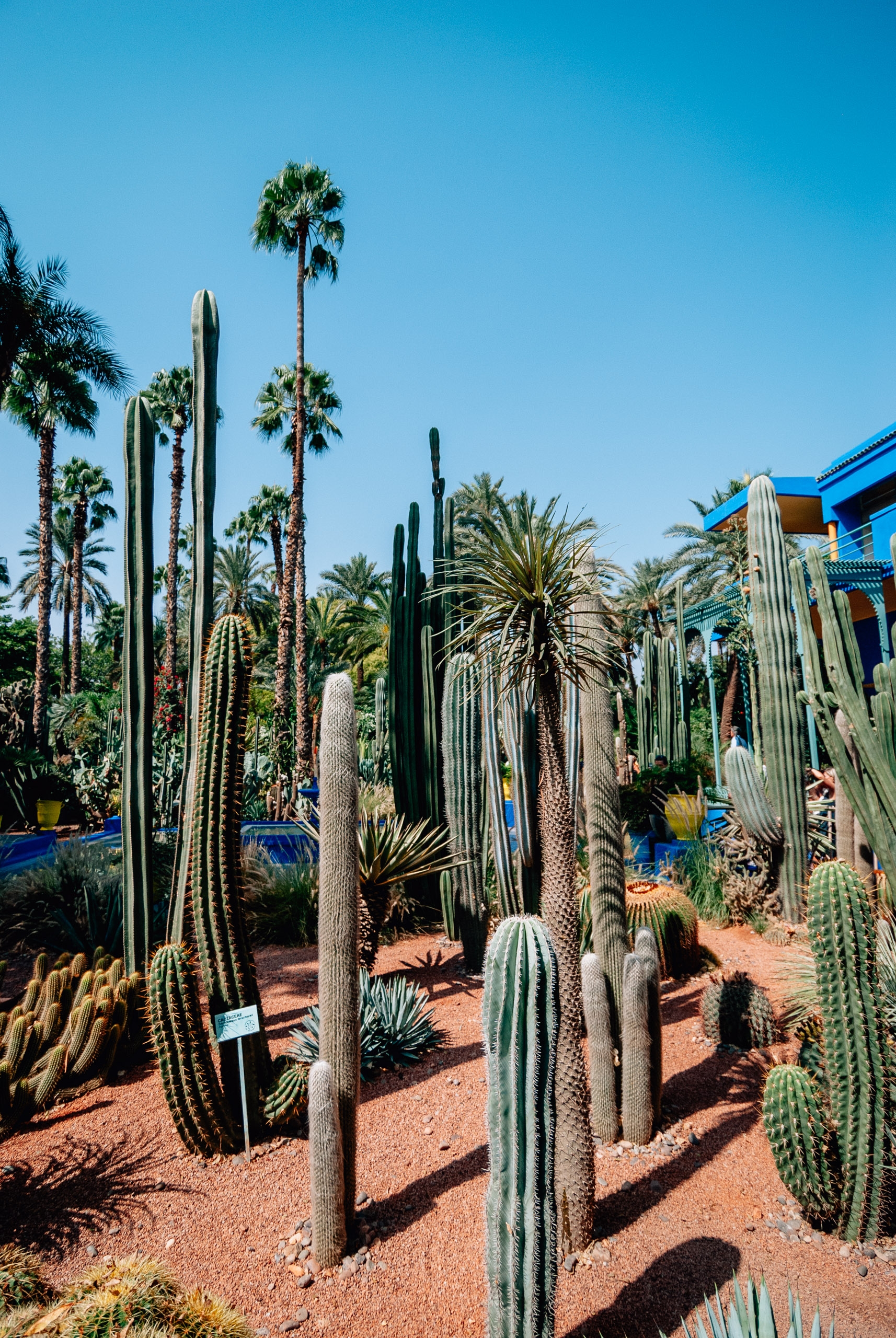 Collection of cacti from around the world.
We later left for a walking tour of the Medina, and stopped by the Koutoubia Mosque, the most famous site in the city.  Today law requires all buildings be constructed to a height not to exceed that of the Mosque's towering minaret.  Mosques by design are low, large buildings of worship but contain one or more large minarettes, or towers, from which the Imam would announce the call to prayer 5 times per day.  Today's minarets contain loudspeakers that summon Muslims to prayer, and announce the beginning and end of the daily fast during Ramadan, which started September 2 this year.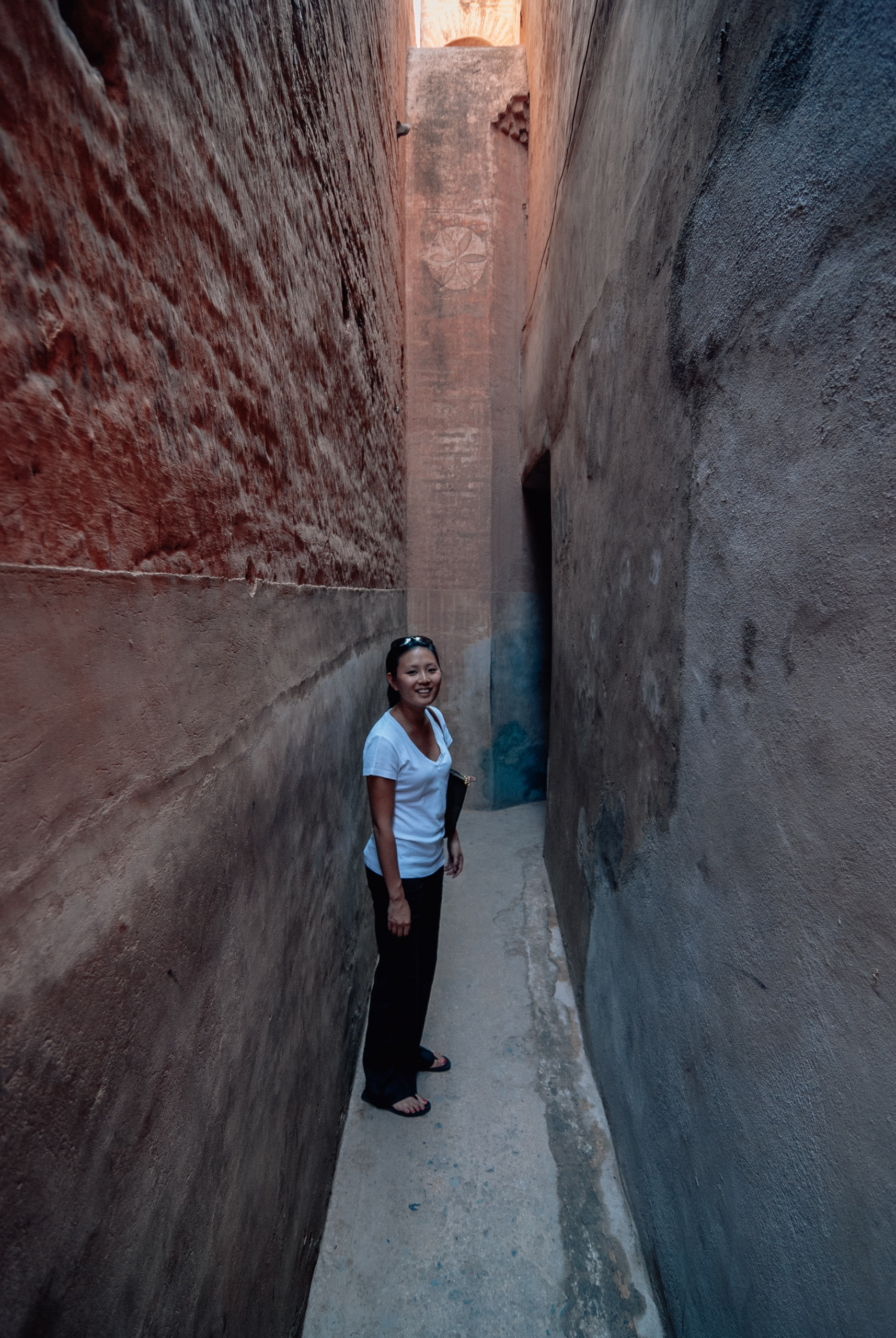 The narrow streets of the Medina.
The Koutoubia Mosque is an impressive example of Moorish architecture, and there are 3 copies of this building in the world.  The first is in the capital city of Rabat, the second is the Giralda in Seville, Spain, built during the Moorish conquest of southern Europe, and the third is, ironically, in Kansas City, Missouri.  The Country Club Plaza's Spanish-influenced architecture includes a replica of the Giralda in Spain, which is in fact a copy of the Koutoubia Mosque in Marrakech. Who knew that one of Kansas City's most notable landmarks is in fact a Mosque (its actually a shopping center, but based on a mosque).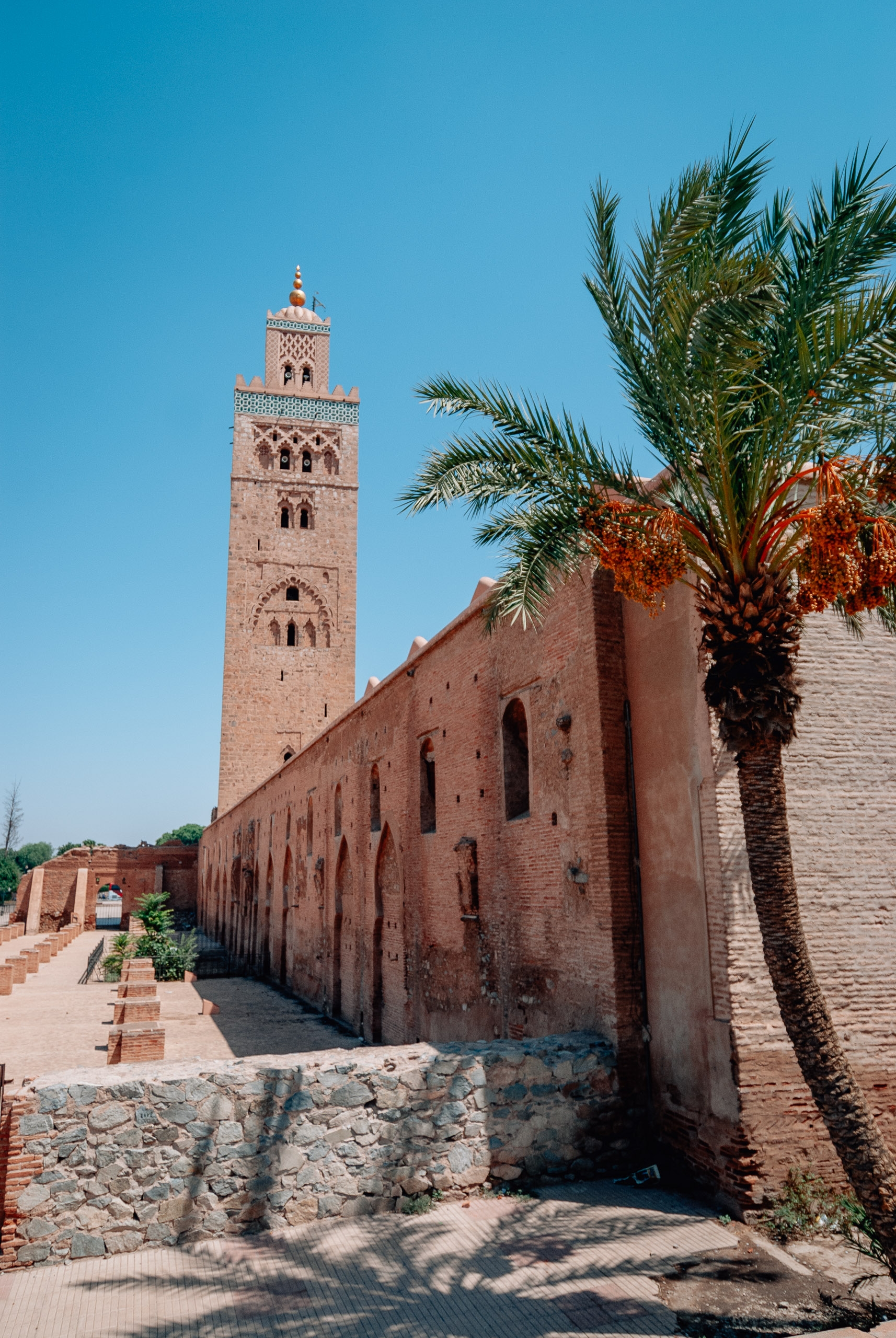 The Koutoubia Mosque
We also visited the Madersa Ben Yousseff, a famous Koranic University that closed in 1957, the Marrakech museum, the Saadian Tombs (an ancient Moroccan burial site), and a few of the outdoor "souks" or markets in the Old City. 
Our guide was instructive and helpful in understanding the important sites, though he did try to hustle us out of more money than we agreed, and tried in vain to earn a commission by taking us to a couple of uninteresting carpet emporiums, a Berber pharmacy and a trinket shop.  Guides make their living this way so I wasn't surprised, just annoyed as we were pretty insistent that we weren't interested in shopping.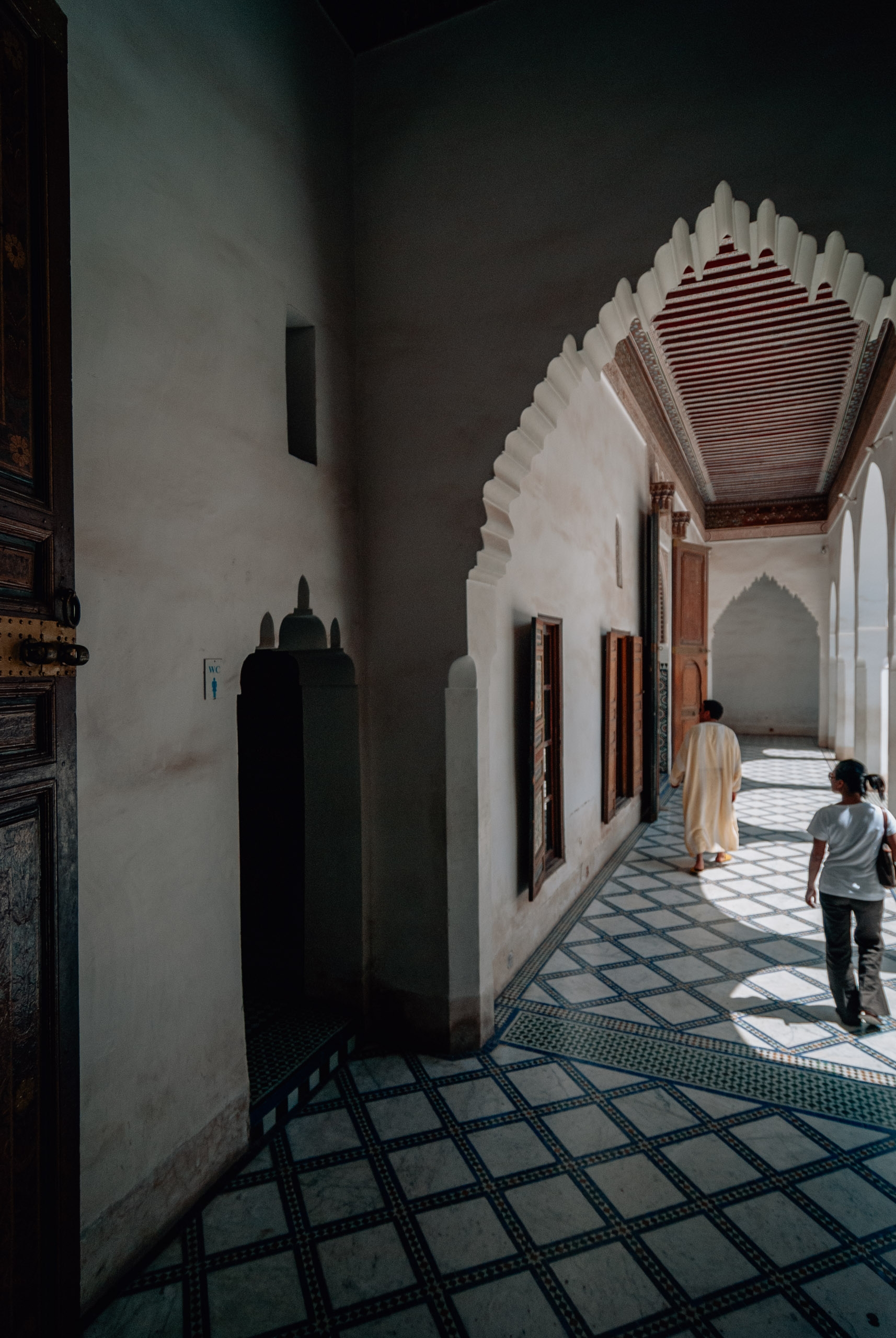 Touring the Madersa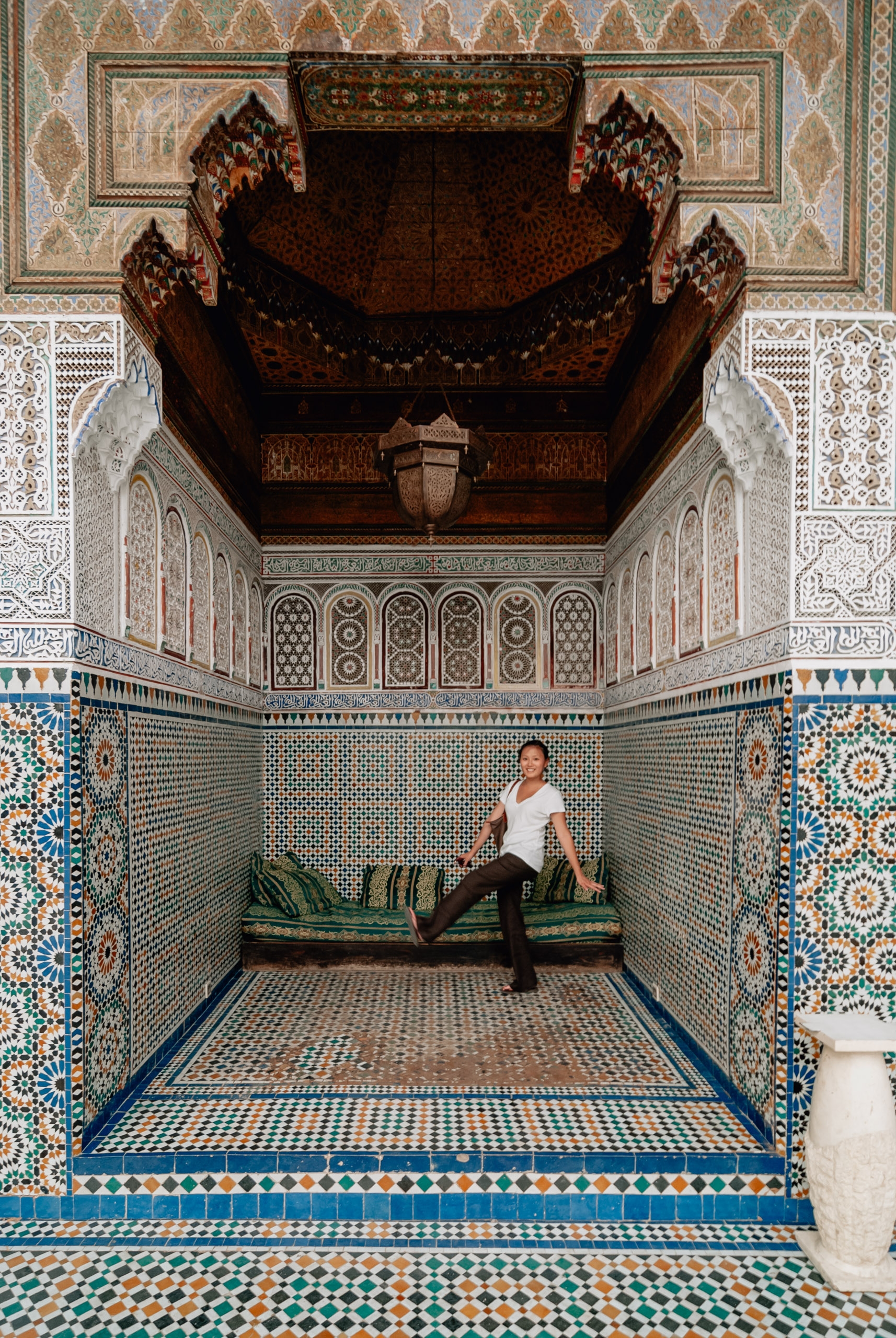 The large open Riad of the Museum
That evening we had afternoon mint tea at the hotel, a Moroccan tradition (and quite tasty).  We dined at a Thai Moroccan fusion restaurant called Narwama, which was impossibly located at the end of a dark and somewhat foreboding alley, but housed inside an amazing outdoor Riad which is also listed on the UN registry of World Heritage sites.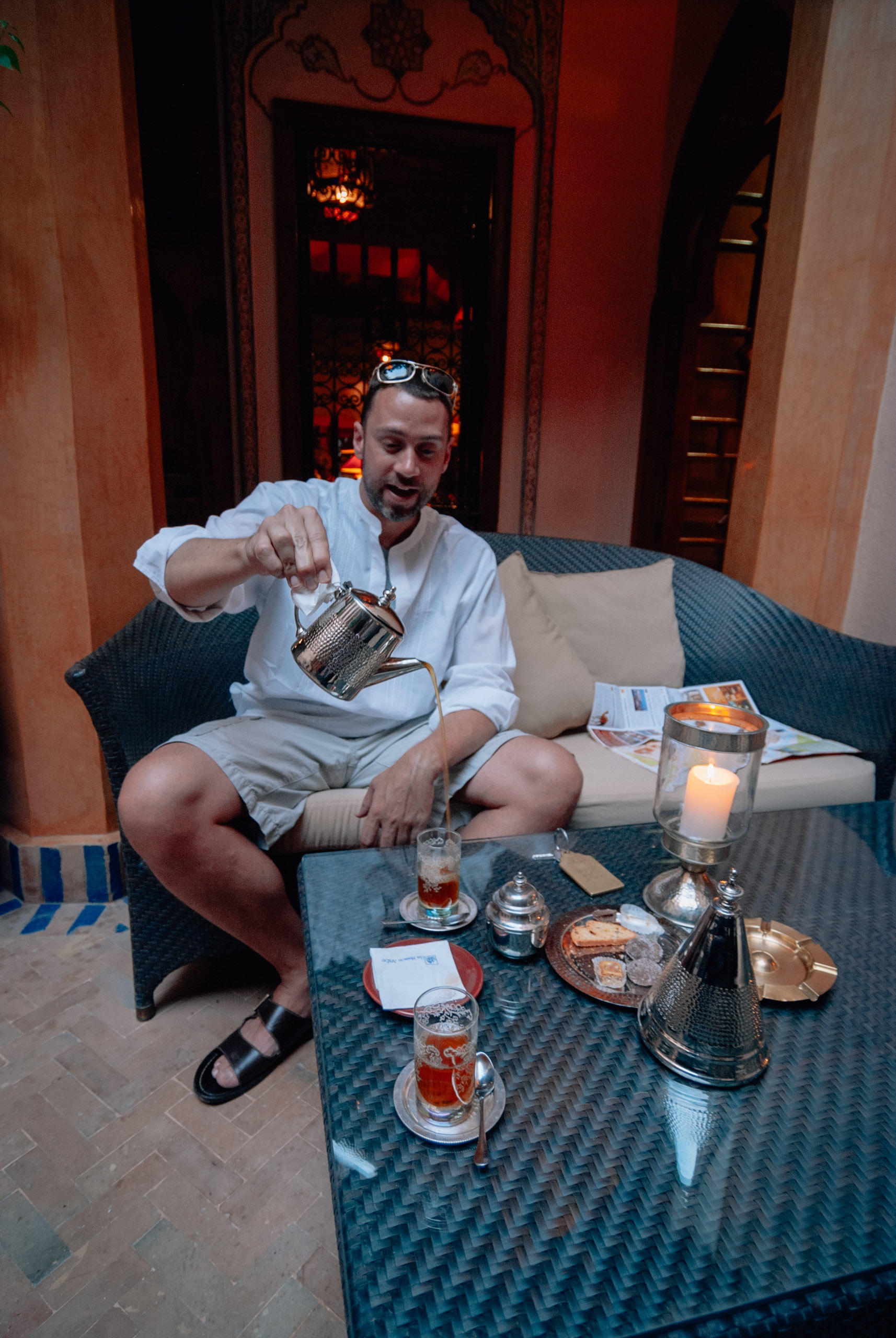 Pouring some afternoon mint tea.
Marrakech is definitely an "inside out" city, where the buildings are very plain and even dilapitated looking on the outside, but brilliantly beautiful on the interior. A riad today is somewhat analagous to a small inn or hotel, but architecturally is an open-air courtyard with a central fountain or water feature surrounded by columns.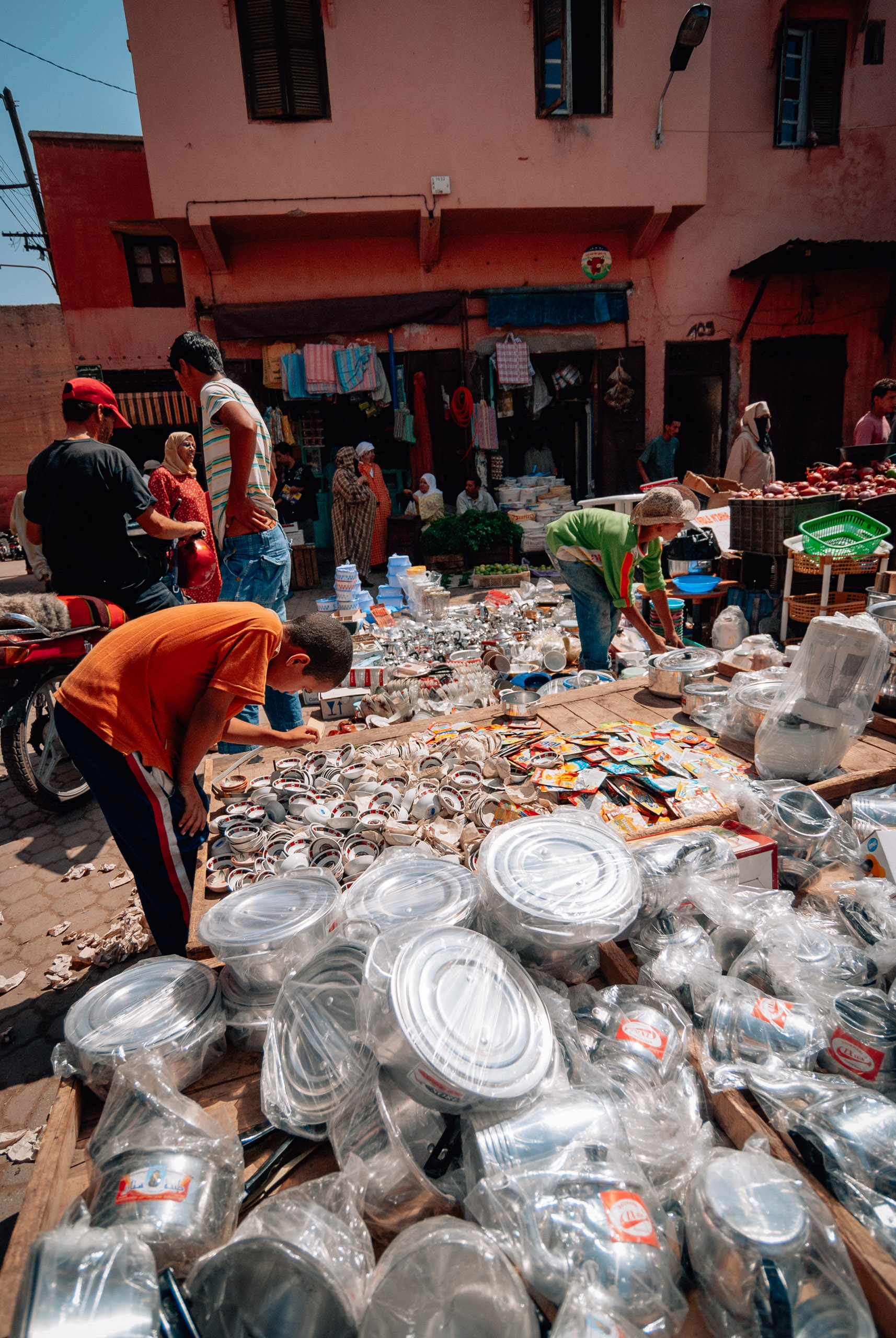 The crowded souks.
Despite losing a day at the Madrid airport, we had enough time to get a feel for Marrakech.  The city is undergoing what many locals call the second wave of French colonization, with thousands of French businessmen opening hotels, riads, restaurants and tour companies.  There are over 500 riads in Marrakech today, and with tax incentives they pay no taxes their first 5 years in business, and there are no taxes levied against foreign nationals operating businesses.  With its great weather, interesting sites and proximity to Europe, Marrakech is quickly becoming a top, inexpensive destination for European travelers.  It would be interesting to return in a few years as I'm sure the change would be dramatic.  If you're interested in seeing Marrakech, do so soon while it still retains much of its old world, rustic charm.