Touring Morocco - The Atlas Mountains, the Sahara & Falling Off a Camel
September 12, 2008
After our three days in Marrakech, we set out for a taste of authentic Morocco. To do so, we hired a tour from a tour group called, "Authentic Morocco." This consisted of the two of us, a Toyota Landcruiser and a Berber guide and driver, Idriss. Idriss was a small, cheerful Berber fellow who spoke excellent English, French, Arabic and Berber. He was well-suited for the job; a natural people person, well-informed and well-connected and a genuine passion for showing off and explaining Morocco. Unlike many Moroccans, he has traveled fairly extensively through Europe which I think gave him good perspective to explain what we were seeing from a Western point of view. This being Ramadan, he didn't eat with us and often left during meals as I can imagine the sight of food and drink during an all-day fast would be tortuous.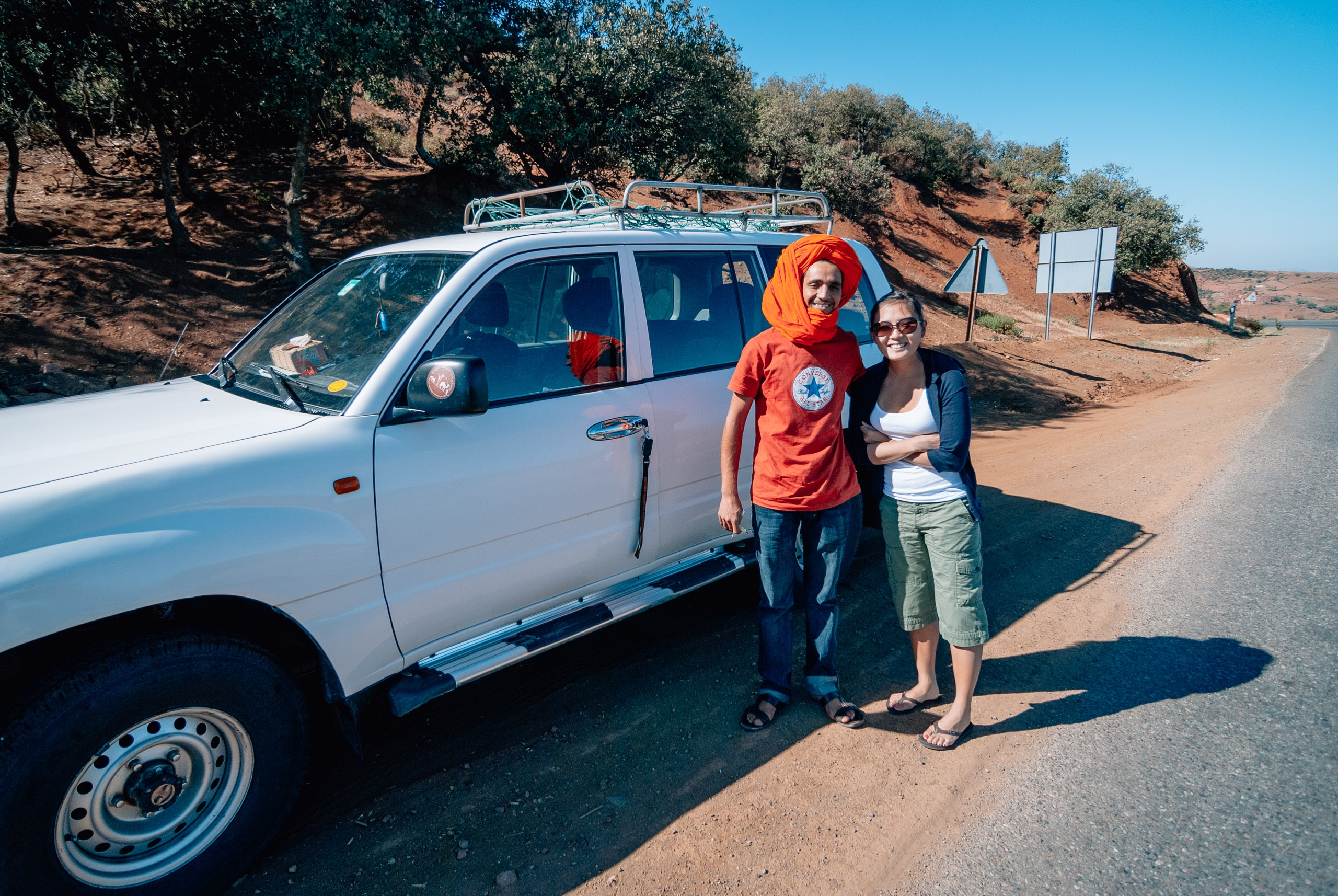 Idriss and Jessica on the road
We would spend the next three days driving over the Atlas Mountains (nearly 7,000 feet), through the Draa Valley to the pre-Sarahan sands of Zagora. I had three goals for this part of the trip:
1. Set foot on Saharan sand
2. Ride a camel
3. Come back alive.
All three goals were technically met.
We picked our tour company from extensive research online and from Frommer's. They were a smaller operator based in the UK, and had good reviews in Frommers and on TripAdvisor. The total cost was about $1,000US for the three days; not bad considering that included lodging, meals, transportation, an informed and instructive guide and lots and lots of sightseeing. I should clarify that lodging wasn't quite the Maison Arabe, the hotel we had in Marrakech, but included a Berber nomad tent and a rustic inn. Meals mostly consisted of one dish, repeated: tagine with chicken. In fact, we had this four more times during our excursion. During Ramadan, meal choices are few as most restaurants and cafes are closed during the daily fast.
We left Marrakech around 8:30AM on Friday morning and headed straight out of town toward the high Atlas Mountains. These mountains surround the city, but aren't often visible due to Marrakech's constant dust and pollution. Once leaving the city, the sky was remarkably clear, likely due to the recent and unseasonably rains.
Along the way we stopped to see a number of Berber villages clinging to the mountainsides. A village will typically contain a mosque, the tallest and seemingly best maintained building, a market or souk and some source of water. A typical Berber dwelling is a multi-story earthen building that houses livestock on the first floor (they can't stay outside in this heat), with the family living above. Sometimes I think Suki smells. I can imagine what having a few donkeys and goats living downstairs in an un-air conditioned house in the 115 heat might be like.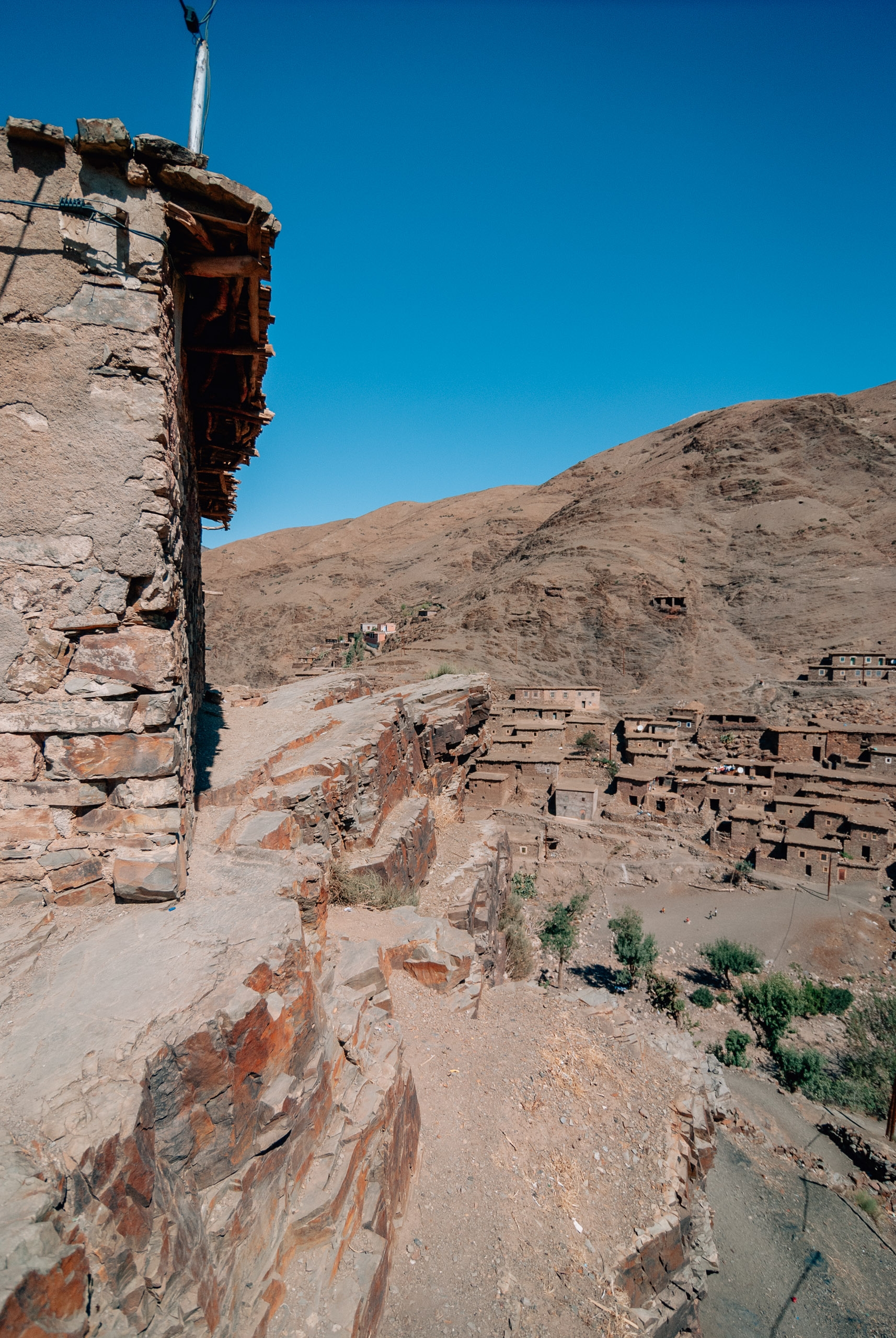 Typical mountainside Berber village
The Berber people are the original inhabitants of Morocco, and were traditionally herders, farmers, and spice and salt traders along the Saharan corridor between Marrakech and points beyond. Today they make up about 75% of the population, with the remaining of largely Arab descent from the Arabian invasion of the 7th century, spreading Islam and various aspects of Arabian culture. Morocco has historically had a small but important Jewish minority, and at one time had the largest Jewish population of any Muslim country. However, since the establishment of Israel in 1948 and Independence from France in 1956, the population has essentially disappeared.
Outside of the cities, you'll hear some rough and polite French spoken, but mostly Arabic, or a the more specific Moroccan Arabic, and some Berber. Children will great you with, "Bounjour...Dirham?" (the DIrham is the Moroccan currency). On our travels, we were dependent on our guide to translate.
We crossed over the Atlas Mountains and headed south into the Draa river valley. The valley's river is but a trickle in most spots, fed by snow runoff in the mountains, very occasional rains and some underground springs. The landscapes were dry and arid but amazingly green where water was present. You might see bleak mountains for miles, come around a turn and see a lush forest of palm trees huddled around a single water source. The contrast was pretty amazing.
Palm Trees spring from the desert
Driving on the Moroccan highways was surprisingly free of anxieties. The roads were new, well-maintained and signed, and the traffic was sensible and orderly. In all my travels, all traffic is relative to the horrors of Vietnamese streets. But even by Western standards, its about analogous to what we experienced in Spain. I was told this wasn't always the case, and that the roads we drove on were fairly recently improved. In years past, this was not an adventure to be taken lightly. Even today, there are a few harrowing turns that mere inches mean the difference between staying on the road and careening down a 1,000 foot canyon. Fortunately, our driver was experienced with this route and conservative in his approach. We met others who had a fairly white-knuckled experience the entire journey.
The destination on our first day was Zagora, the literal end of the road before the desert. Our route followed the Draa River until its terminus, where the waters literally empty into the Sahran sand. There is a famous sign in Zagora that reads, "Zagora - Timbuktu: 52 days be camel." That evening we boarded camels for the 2 hour ride into the desert where we would bunk in a traditional Berber nomad tent, and sit on the sands under the stars.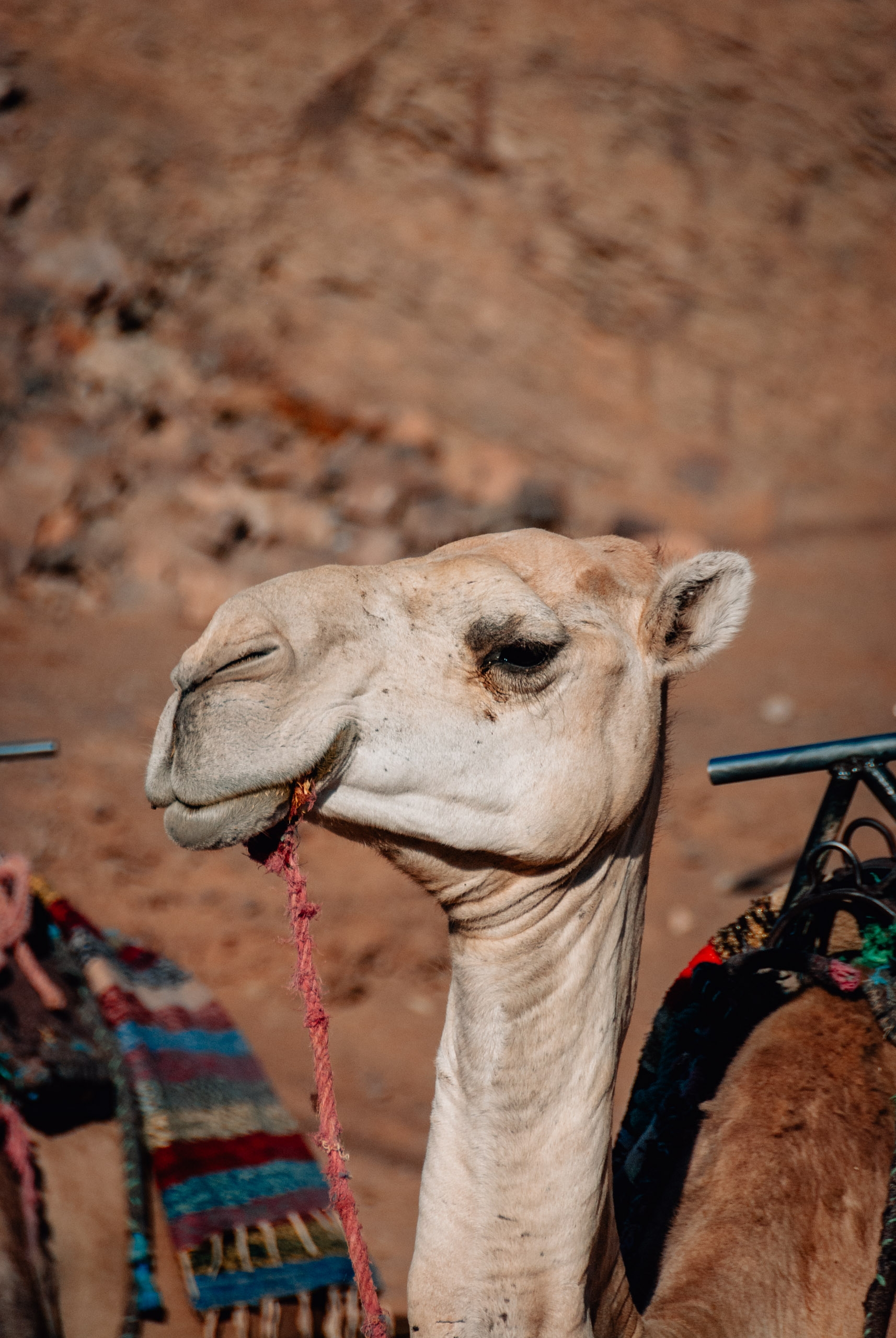 My camel who appears to be plotting something
We met up with our caravan company and loaded up on the camels and headed out to the desert. Fortunately, we would be met at our camp by our driver and luggage so the ride and night would be as comfortable as one could expect.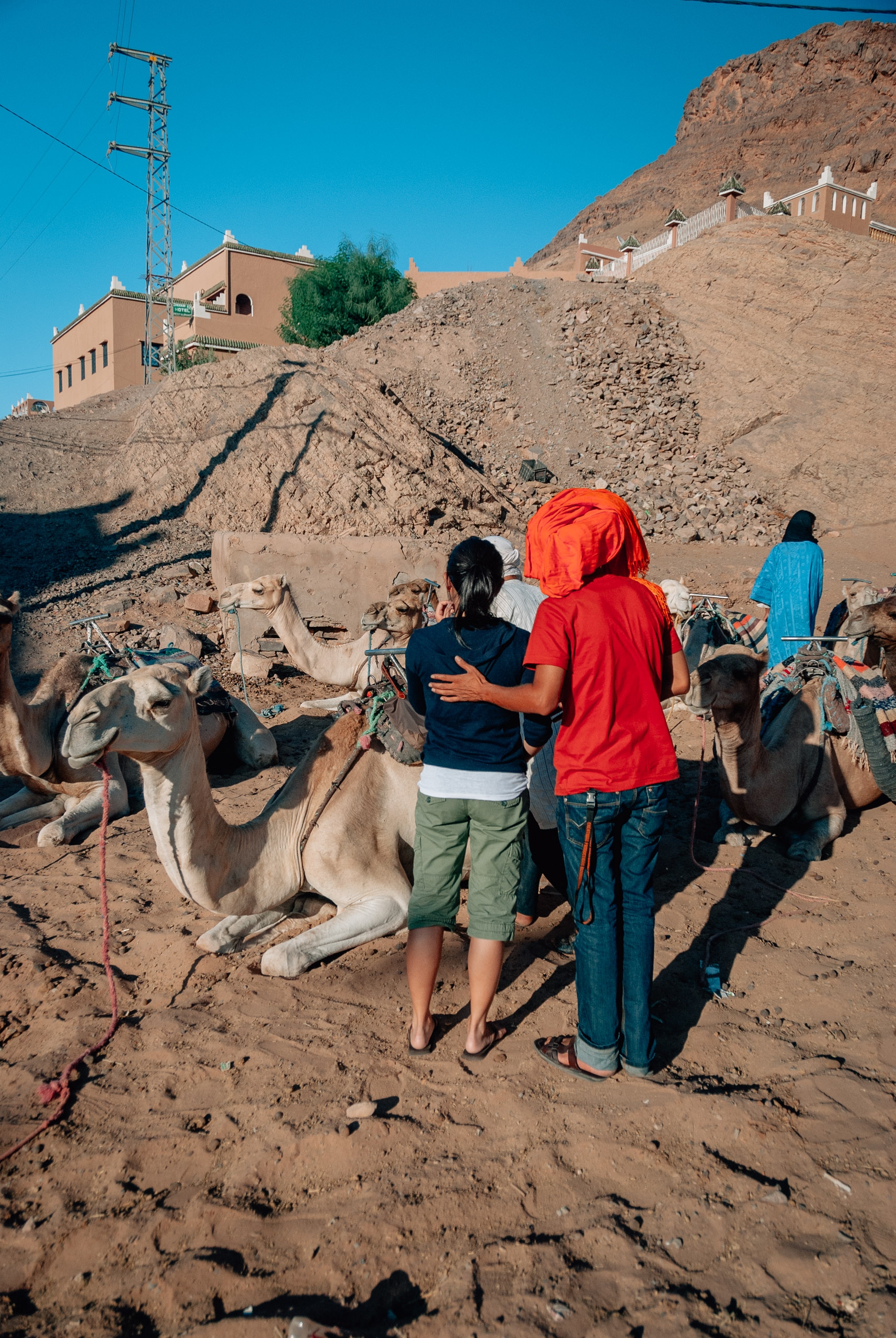 Idriss coaxing Jessica onto her camel
I'm certain I've accomplished a number of firsts for anyone in my family:
First to set foot on the African continent
First to set foot on the Sahara desert
First to ride a camel
First to fall off a camel
Riding a camel is unique experience. Riding a horse is reasonably comfortable experience as the saddle is made of leather, and a horse moves with a gentle and predictable gait. A camel's saddle is made from steel frame fitted to sit over the animal's hump, then covered with a wool blanket. Depending on your butt, or lack thereof, you might find the padding a bit lacking. Camels are tall and gangly creatures that move smoothly over sand, but not so much over pavement or gravel. The first part of our trek was along paved road, then a gravel road and finally sand.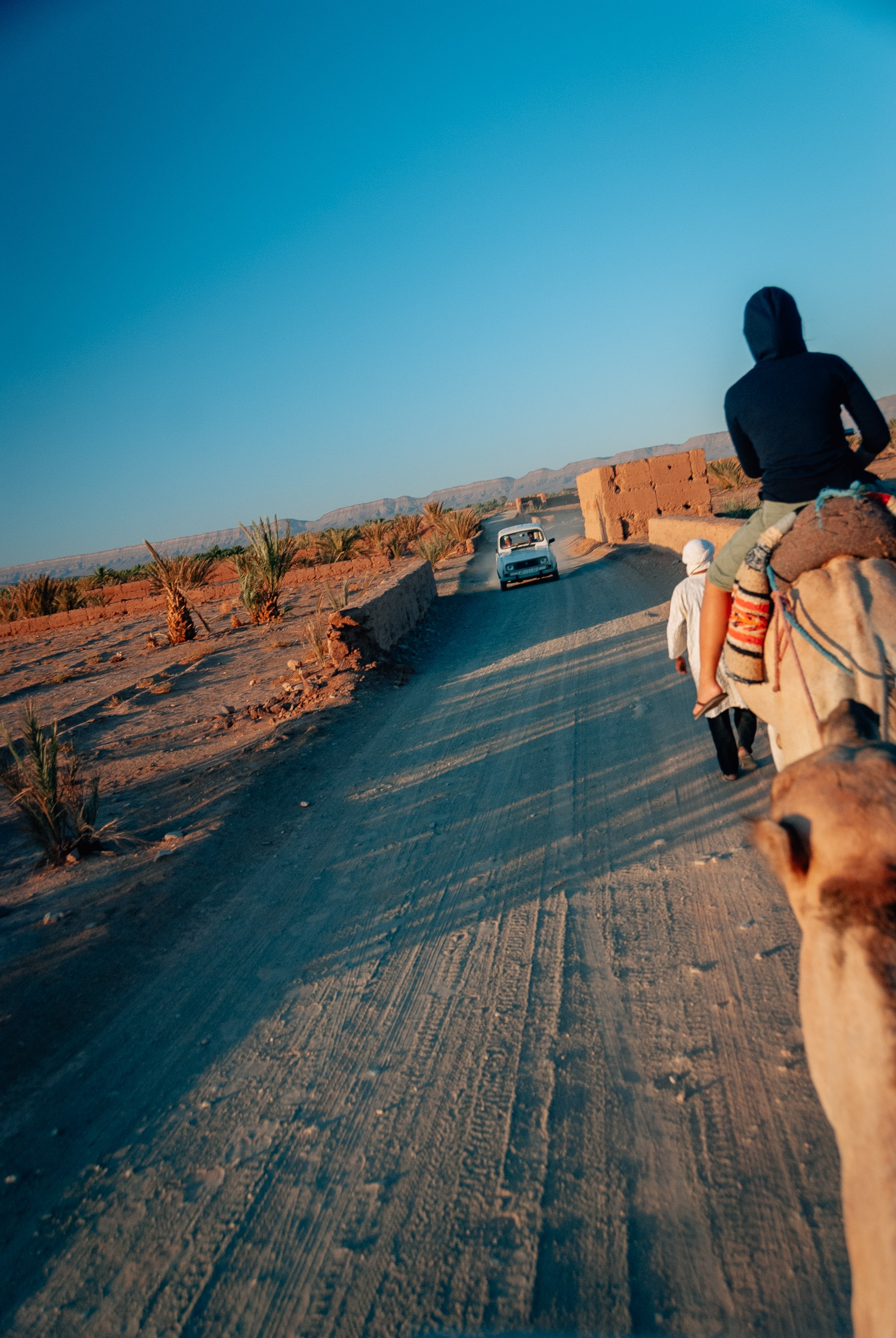 Sharing the road with camels and cars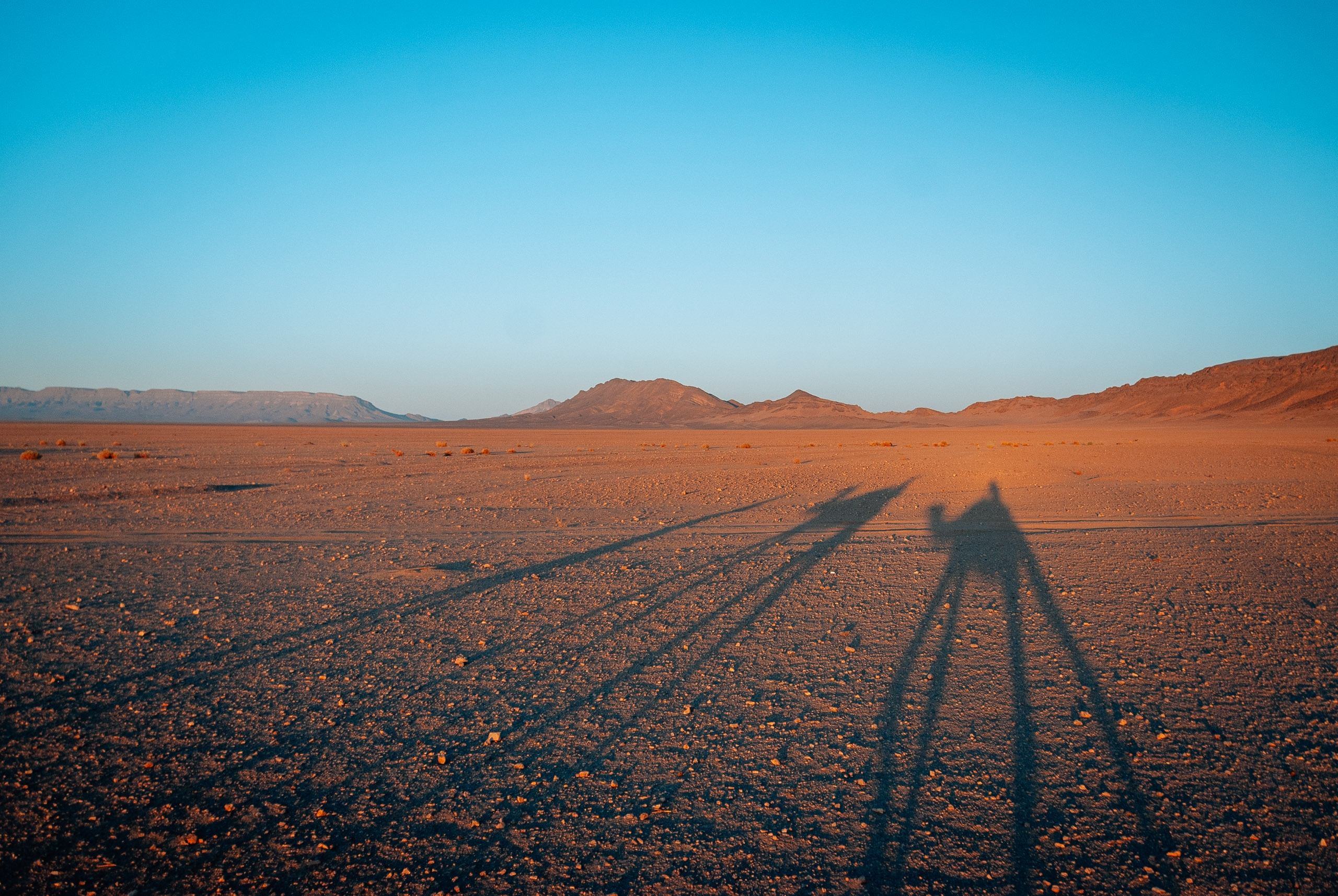 Leaving the road for the pre-Sahara at sunset
About an hour into the ride my ass was really starting to hurt, but no worries. I did notice the ropes from the saddle were swinging about the animal's front legs in a way not like the others, nor did I recall it being that way earlier. A few minutes later I went to shift from one side to the other and noticed I was moving in the opposite direction of the camel. Before I knew it, the saddle, with me on top, was sliding off the back of the camel. In one hand I had my camera, the other was gripping the saddle. I landed on the road on my back, with my camera bag underneath me and the saddle landed on top of me.
Apparently, one of the front saddle ties, a rope, had broken during the ride and the saddle was only staying in place from gravity. It wasn't until I started squirming around did I wiggle it loose. As I mentioned, the saddle is made of steel and pretty heavy. As the saddle came down, the stirrup wrapped around my foot and fractured the second toe on my right foot. When I got up, I suspected the toe might be broken as it really hurt, but I could move it reasonably ok and I was otherwise fine, if only a bit rattled. I was also lucky that none of my camera gear was damaged. My camera hit the ground, but it hit the inexpensive filter and not the lens (that's why you put a $20 filter on a $600 lens).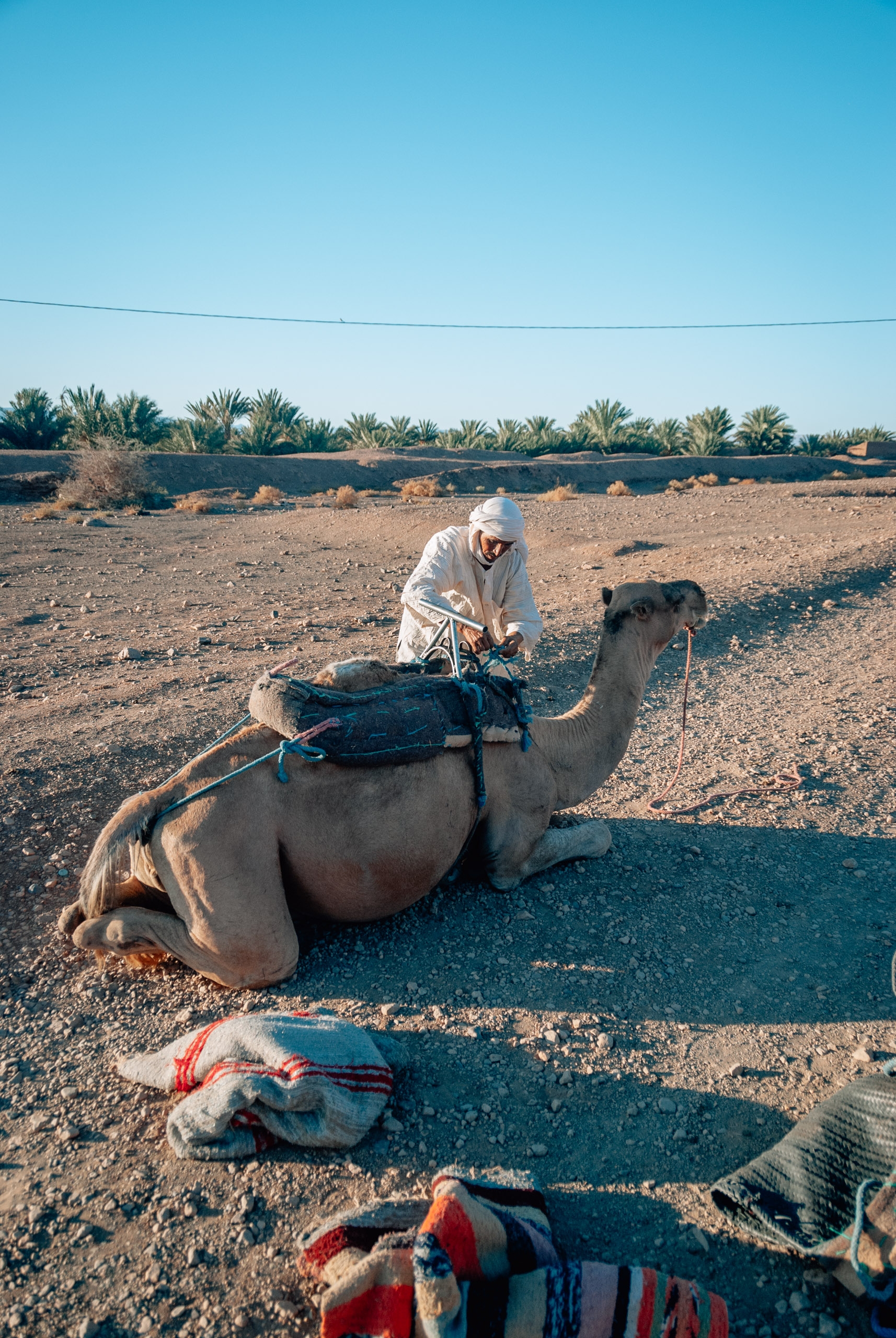 FAIL - the caravan leader attempts to fix my saddle
I was able to walk, so after a few minutes, we were back on our camels and continued our journey to camp. I didn't relax much the rest of the way, and I wasn't looking forward to the return trip the next morning. That night I took some Advil watched my toe swell. I declined to see a doctor as we were about 200 miles from the nearest city, and they probably would have just cut it off anyway. When I got back to the US, I did see a doctor and confirmed that it is broken, but there's not much to do about it other than let it heal. My first broken bone, and a great story.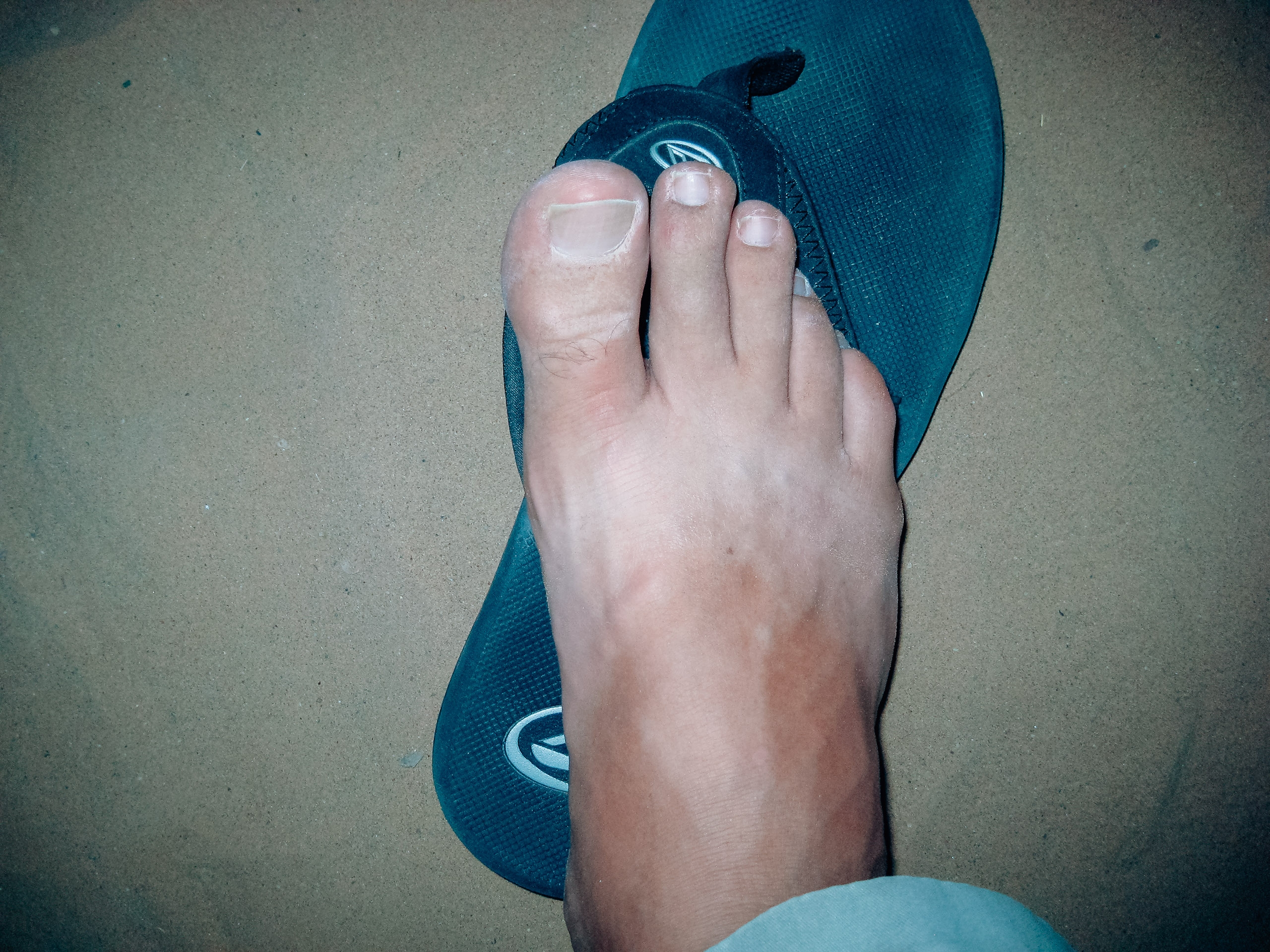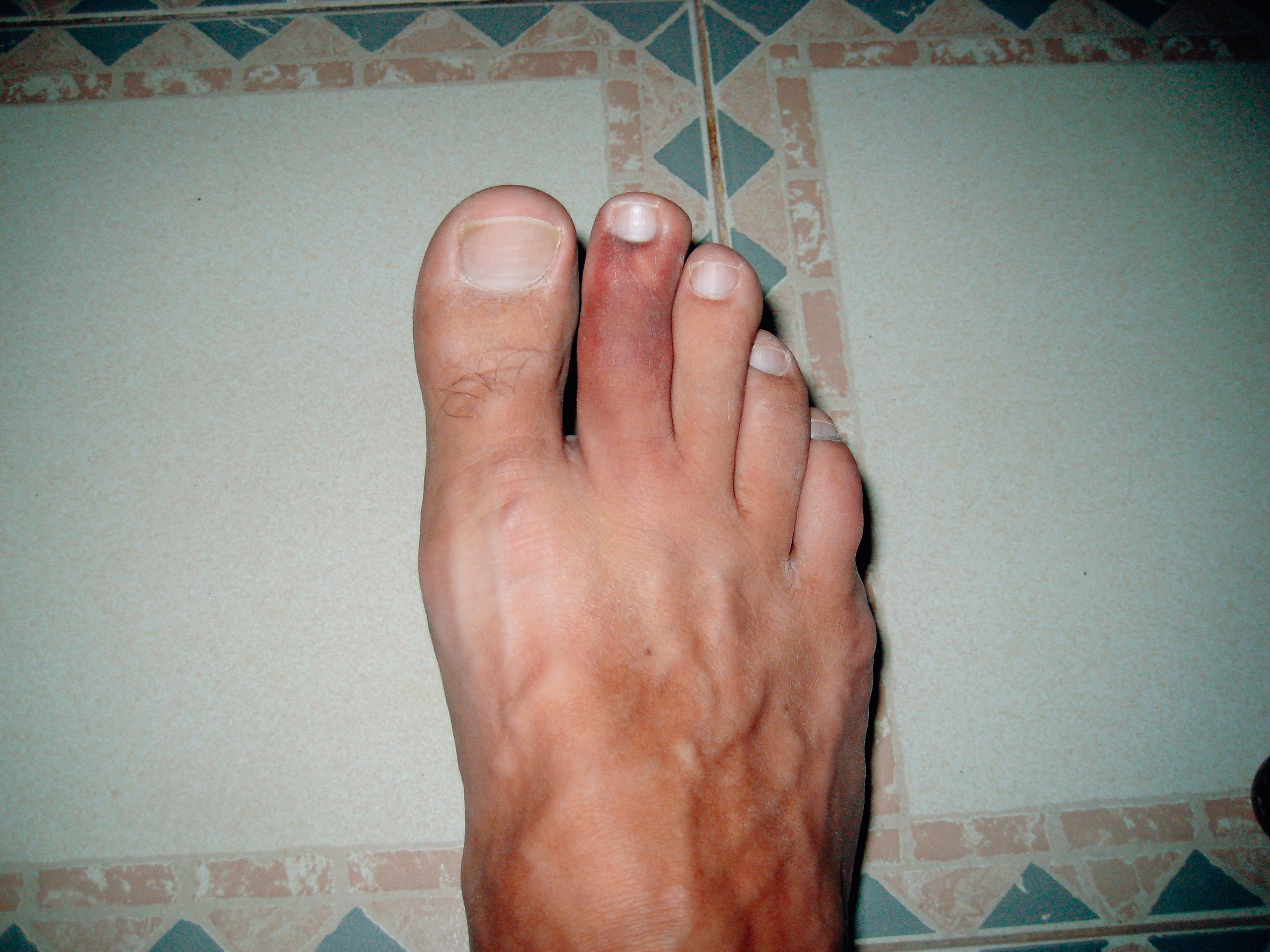 An hour after the fall, and the same toe 24 hours later
That night we ate dinner in a communal tent with a group from the UK, a group of kids traveling from Europe and our guides. We had tagine with chicken. Sigh. Later we went out and sat under the stars. The sky was amazing, unlike anything you can see in the States except for maybe Yosemite or Hawaii. We saw a number of shooting stars, and listen to music played by our guides, caravan leaders and cooks. Nights in the desert are cool and pleasant, though in our tent it was still about 90 degrees. Berber tents are designed to keep out sand and wind, and are lined with goat fur. They are also remarkably well insulated, fine for the colder winter nights but man it was hot.
Sunrise over the desert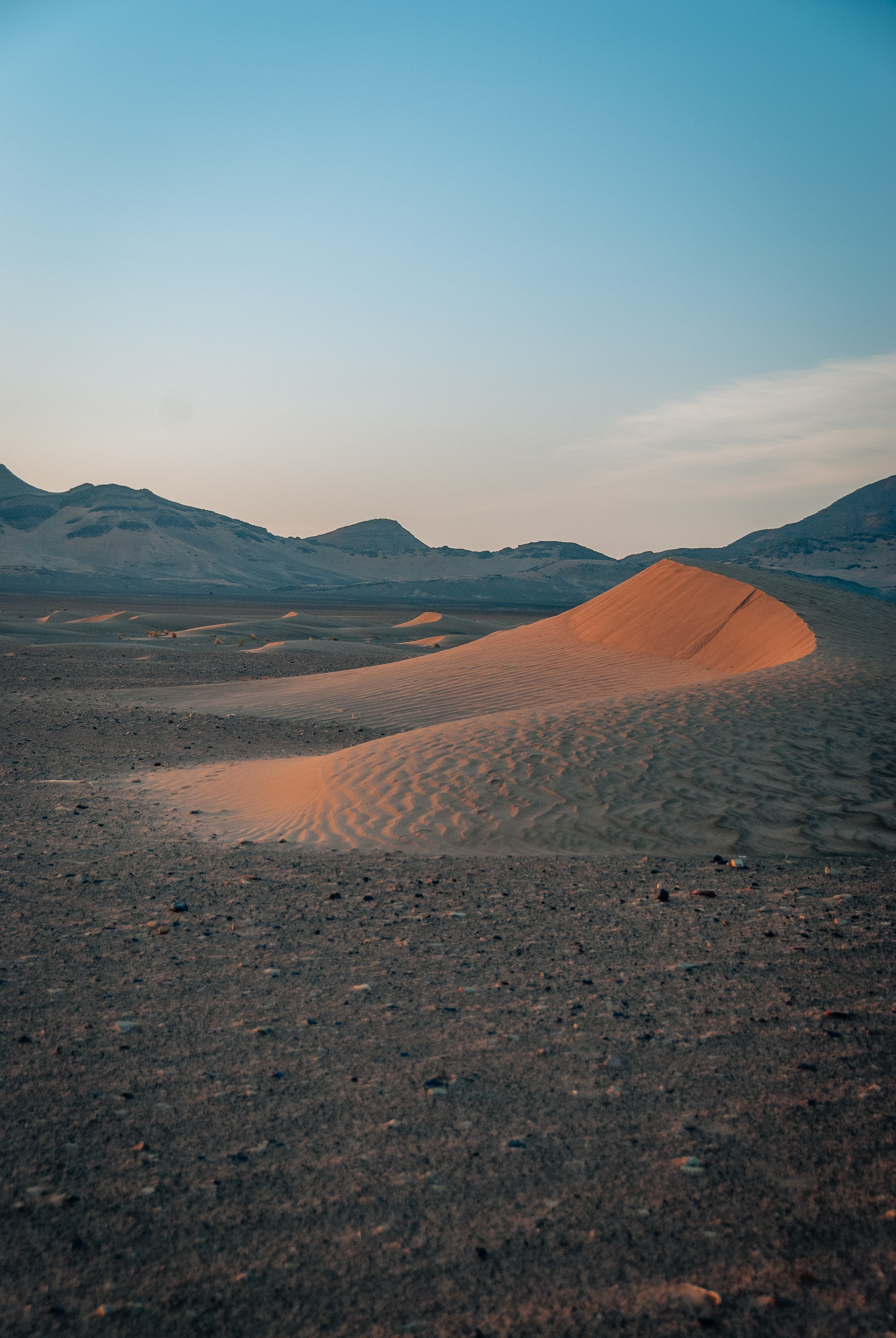 Sunrise over the desert
Packing up for the trip back
The next morning we awoke around 6:30 to watch the sunrise. If you haven't done so yet, put, "Watch the sunrise over the desert" on your list of things to do. Breakfast consisted of really strong coffee and leftover bread from the night before (with sand in it). We reluctantly remounted the camels and headed back to the car. This ride, while far from carefree and relaxed, was without incident.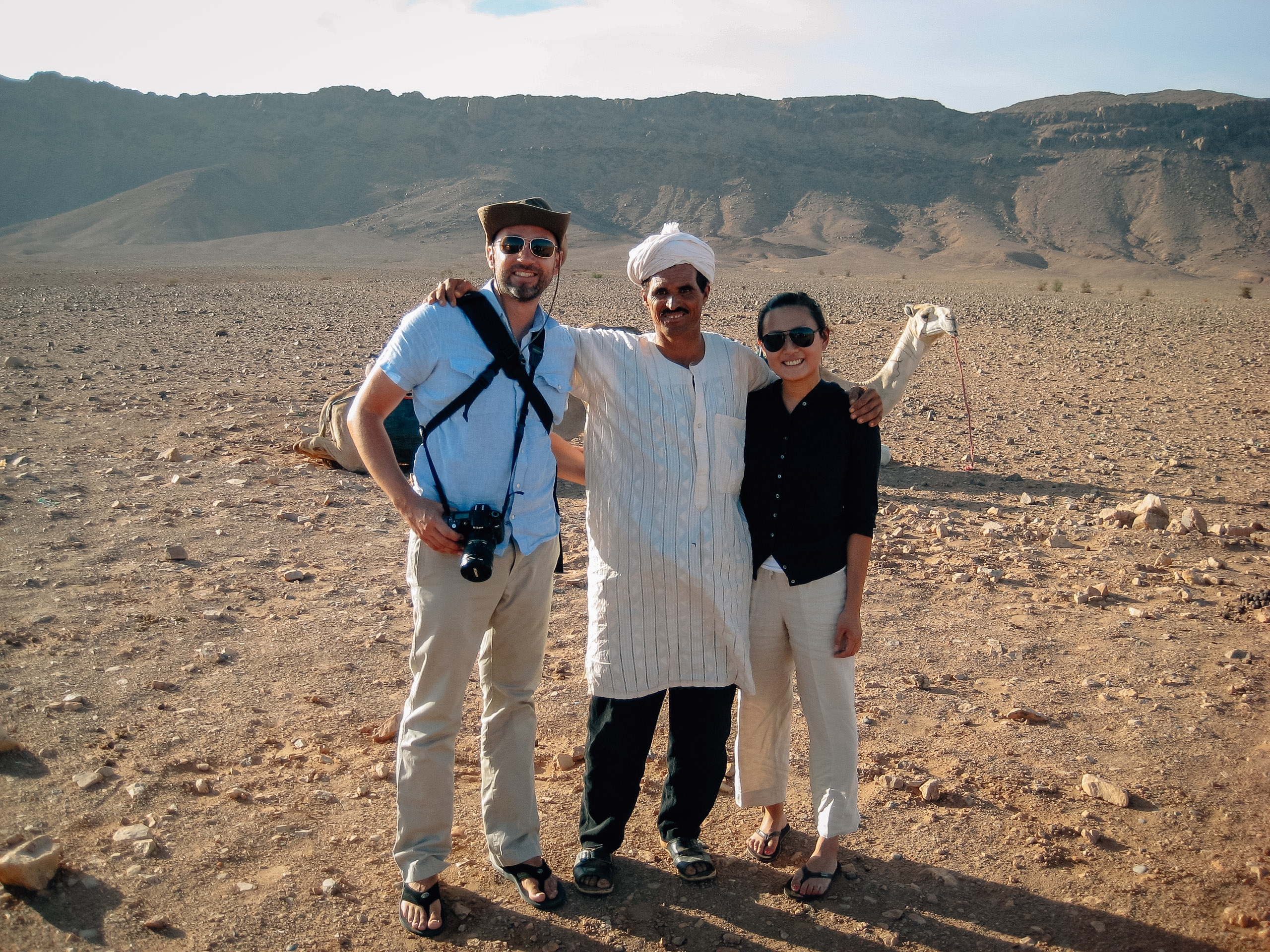 Me, our guide, Jessica and one of our camels
On day 2 we had two stops. The first was the Atlas Film Studios in Ouarzazate, the center of Morocco's film industry. Dozens of big Hollywood features were filmed here. Any movie needing a desert or middle eastern look and feel is filmed here. Gladiator, Passion of the Christ, Kingdom of Heaven, the Mummy films and others were all shot here. This location's surroundings and consistently reliably weather make it an ideal location. Its amazing how shoddy and inexpensive movie sets look in person. The faux City of Jerusalem for Kingdom of Heaven took over a year to build and appears in about 40 minutes of film. We saw the sets for a remake of The 10 Commandments. I wanted to stand on the steps of the temple of Ramses II and shout, "Let my people go!", but the steps were made of plywood and looked like they might collapse.
The set of Passion of the Christ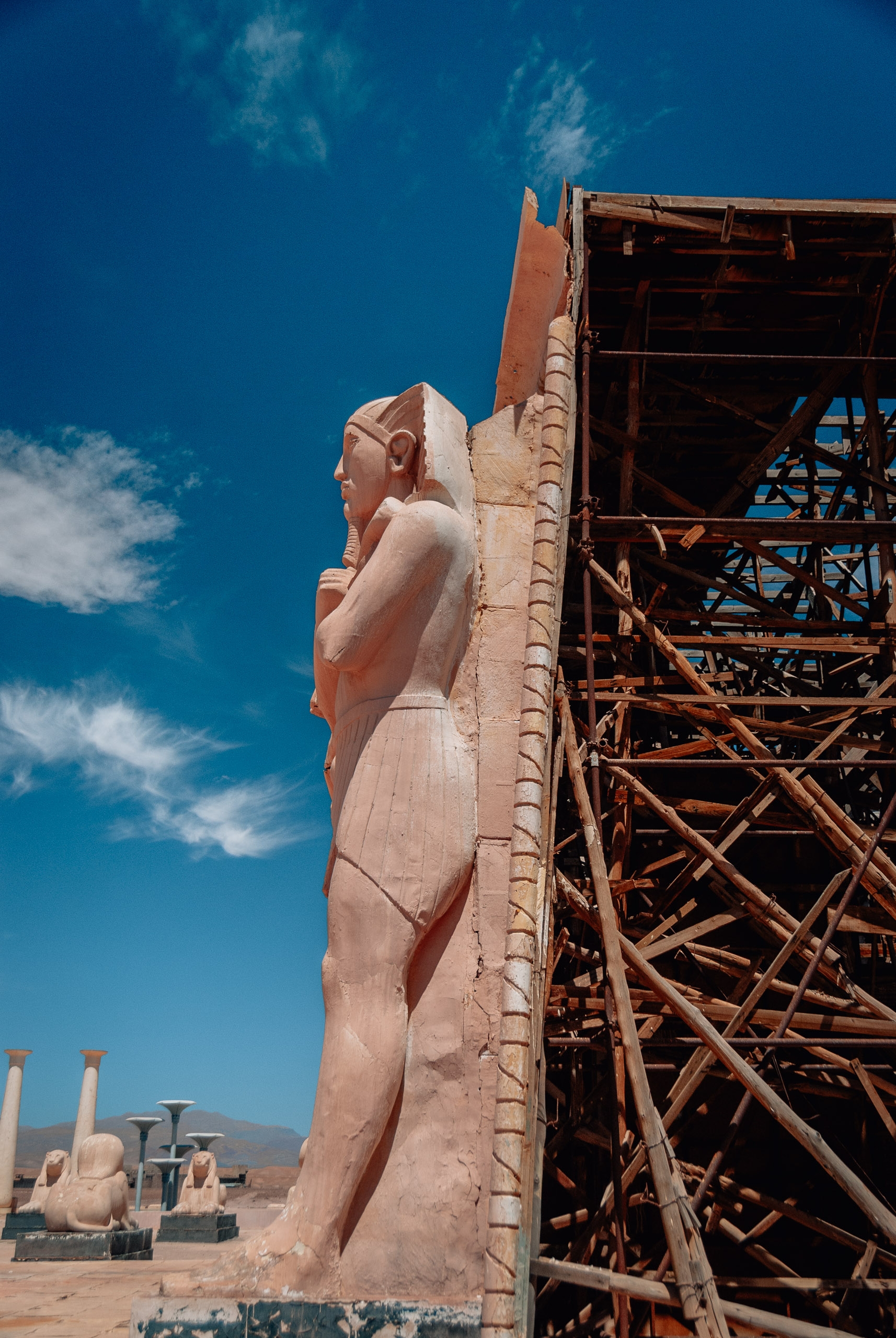 The set pieces of The 10 Commandments
Our second stop was the UN World Heritage site of Kasbah Ait Benhaddou, one of the most well-preserved and impressive ksour dwellings still inhabited today. As we walked into the main square, there were animal skins drying in the wind, carts of fruit and soaps for sale, pottery and handcrafts for sale and stacks of freshly-baked bread. I raised my camera to take some pictures and was nearly assaulted by a British security guard. Turns out this was a fully-dressed movie set for the upcoming King of Persia film starring gay cowboy Jake Gyllenhaal. I guess they're pretty sensitive about leaks, as there was lots of security (and signs) enforcing the no photo policy.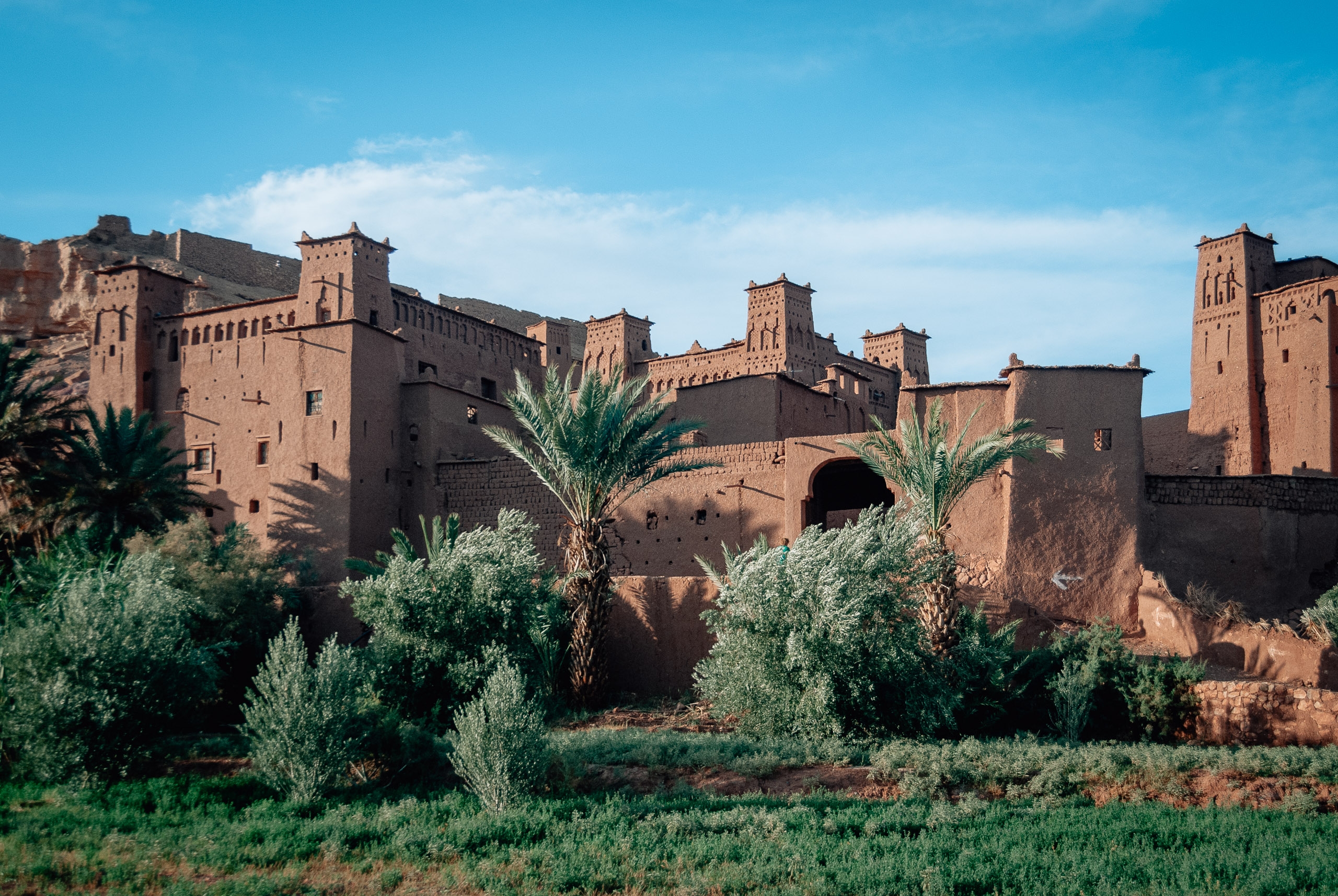 The Kasbah
We walked through the village to the mountain top to watch the sunset, but the winds were fierce and we only stayed a few minutes. That night we stayed at a local inn and dined on...tagine with chicken.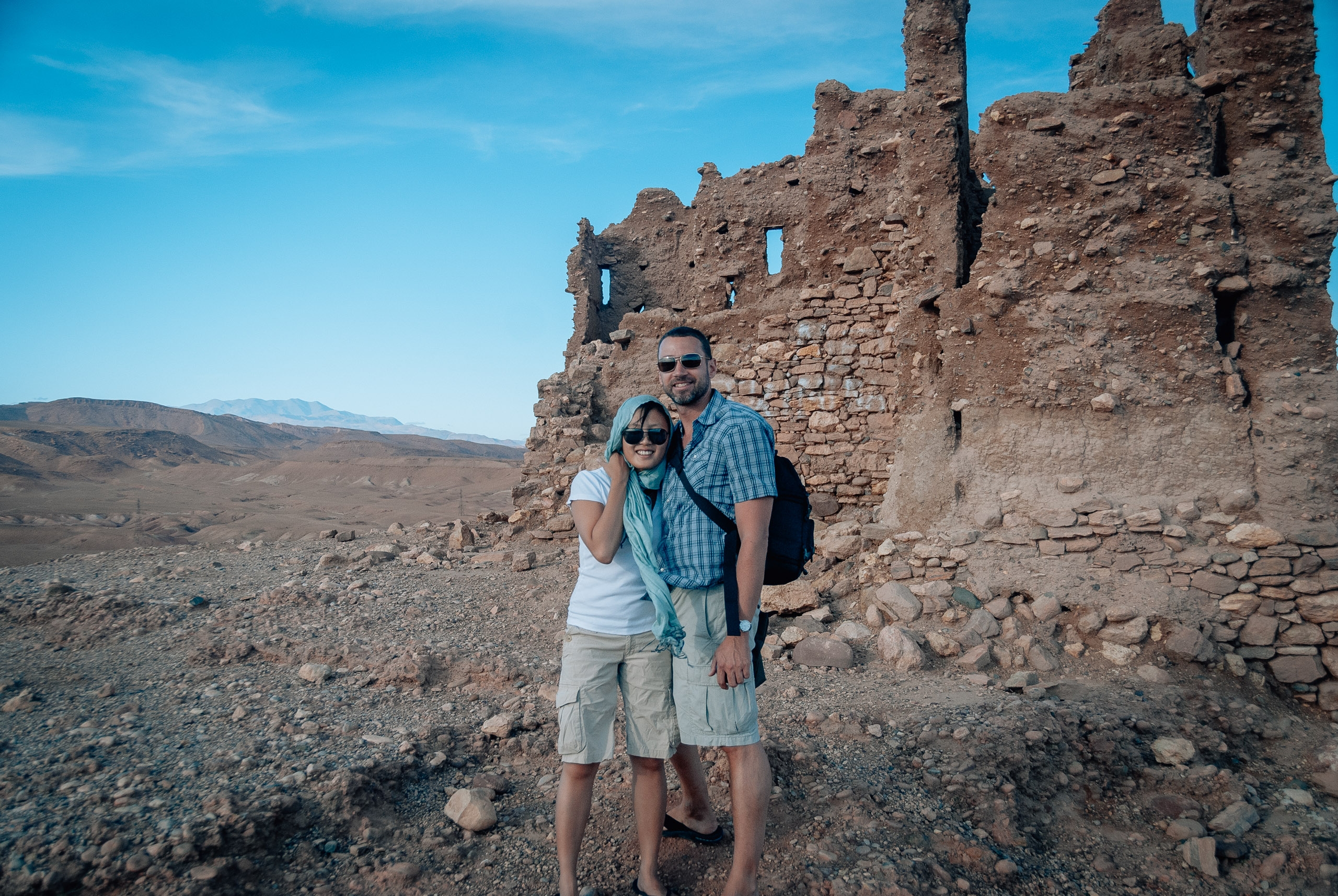 Jessica and I braving the winds at the mountain top
Our last day we left Ouarzazate for Berber village of Telouet, site of the Kasbah of el Glaoui. This Kasbah was the home to the Pasha of Marrakech, also referred to as the King of Southern Morocco. After independence, Morocco was united under the current monarchy and the Pasha and his family quit the country and moved to France. His home, the Kasbah el Glaoui, is a remarkable Berber castle full of astonishingly ornate detail. Unfortunately, the kasbah is an increasing state of disrepair. A feud between the current king and Pasha's descendants has prevented the necessary repairs from taking place. UNESCO has tried to get permission from the King to shore up the building, but has been repeatedly denied. I'm glad we got to see it, but I'm afraid there aren't many years left for this site.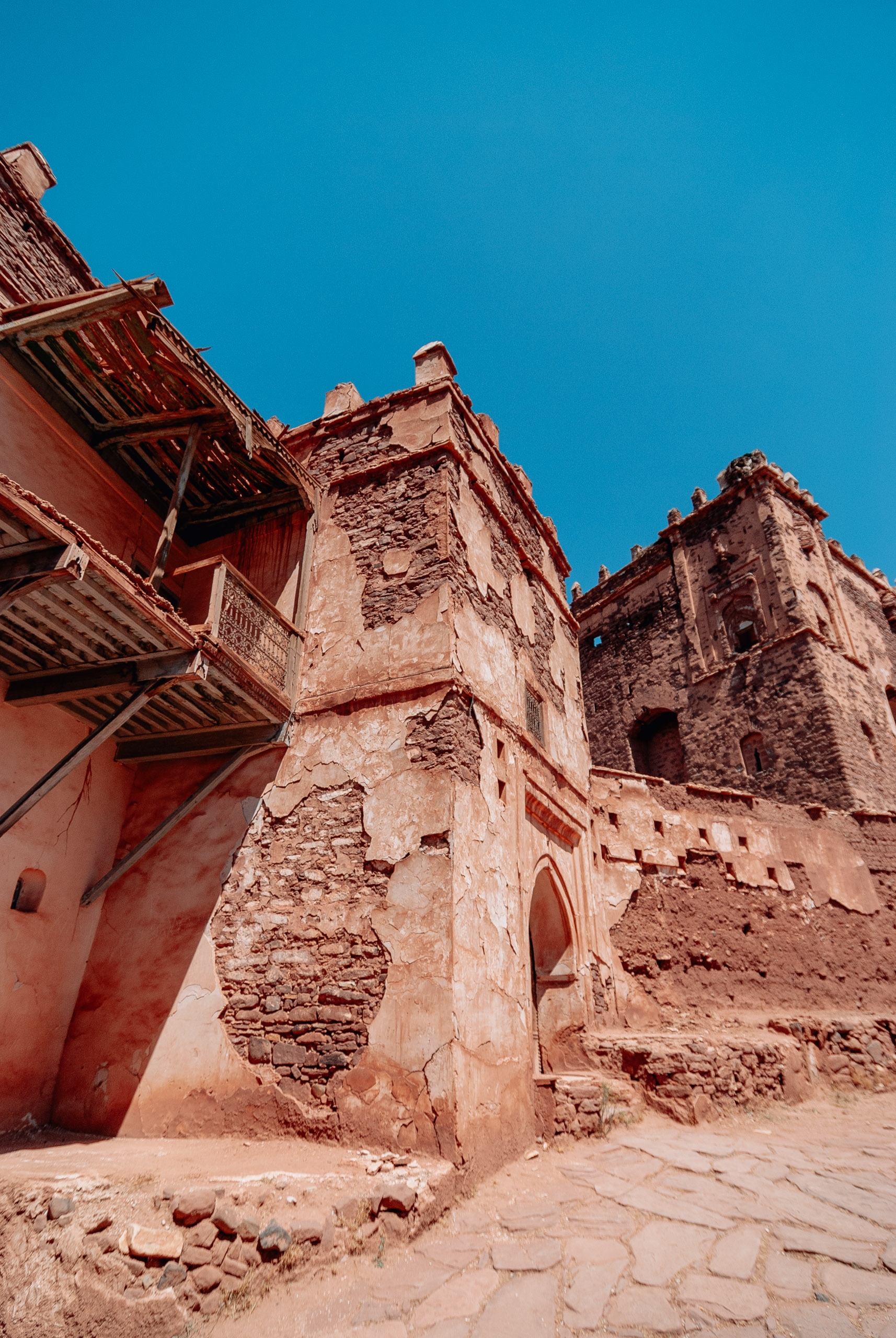 The decaying facade of El Glaoui
Our guide on this tour has lived his entire life in this little town, learning English largely from talking to tourists and giving tours. He had a good sense of humor and took us to many of the more interesting sites in the castle, careful to stay ahead of the large group of French tourists behind.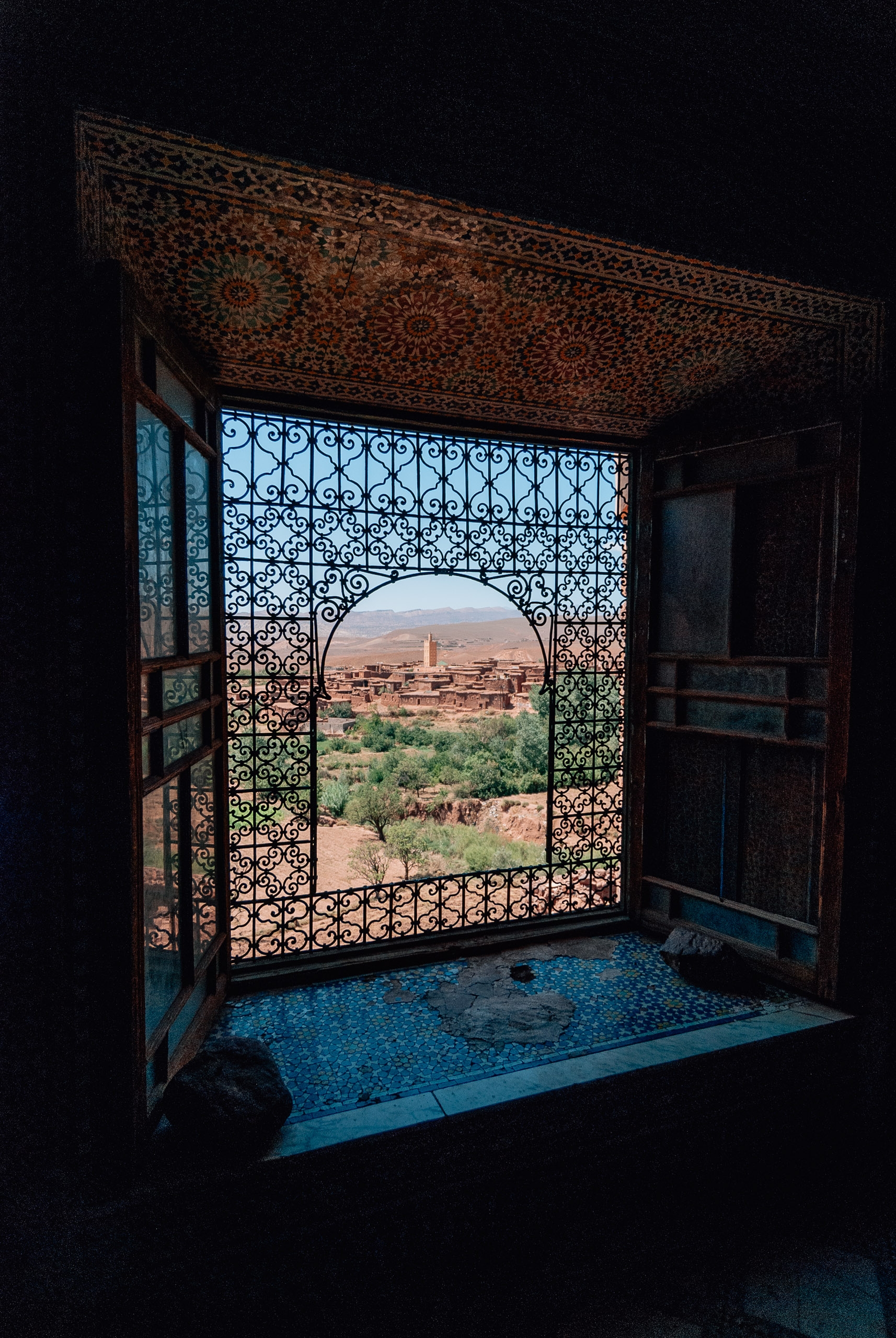 The village and mosque below the Kasbah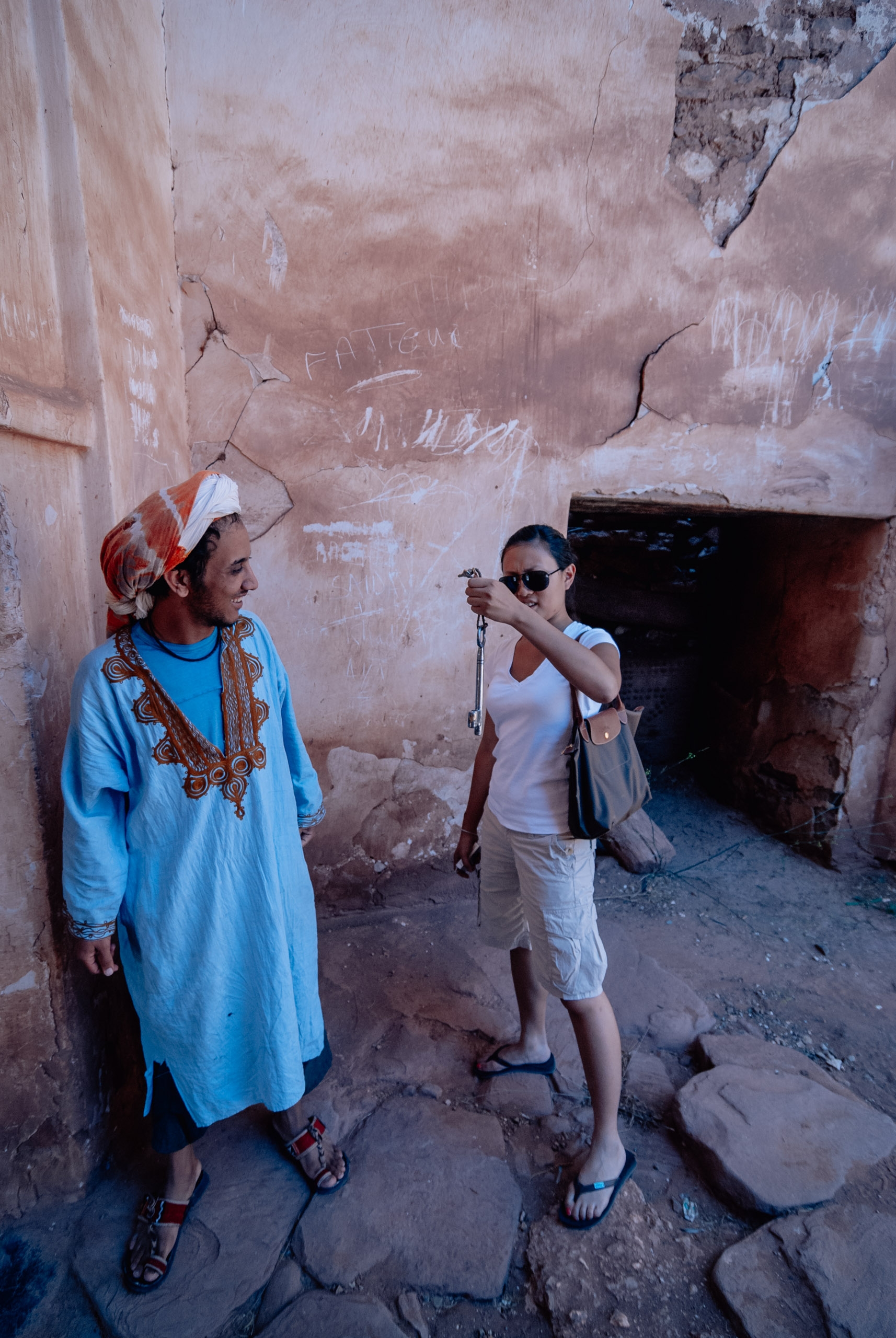 Our guide gives us a go with one of the official keys
Our last stop that day were the pink salt mines up the road from Telouet. In ancient times, salt was more valuable than gold; prized for its ability to preserve and enhance the flavors of food. This region produced a unique pink salt that was produced enormous wealth for the Pasha presiding over this region. Today the salt is still mined by hand, but doesn't have nearly the value it once had. It was in fact, just another day in the salt mines.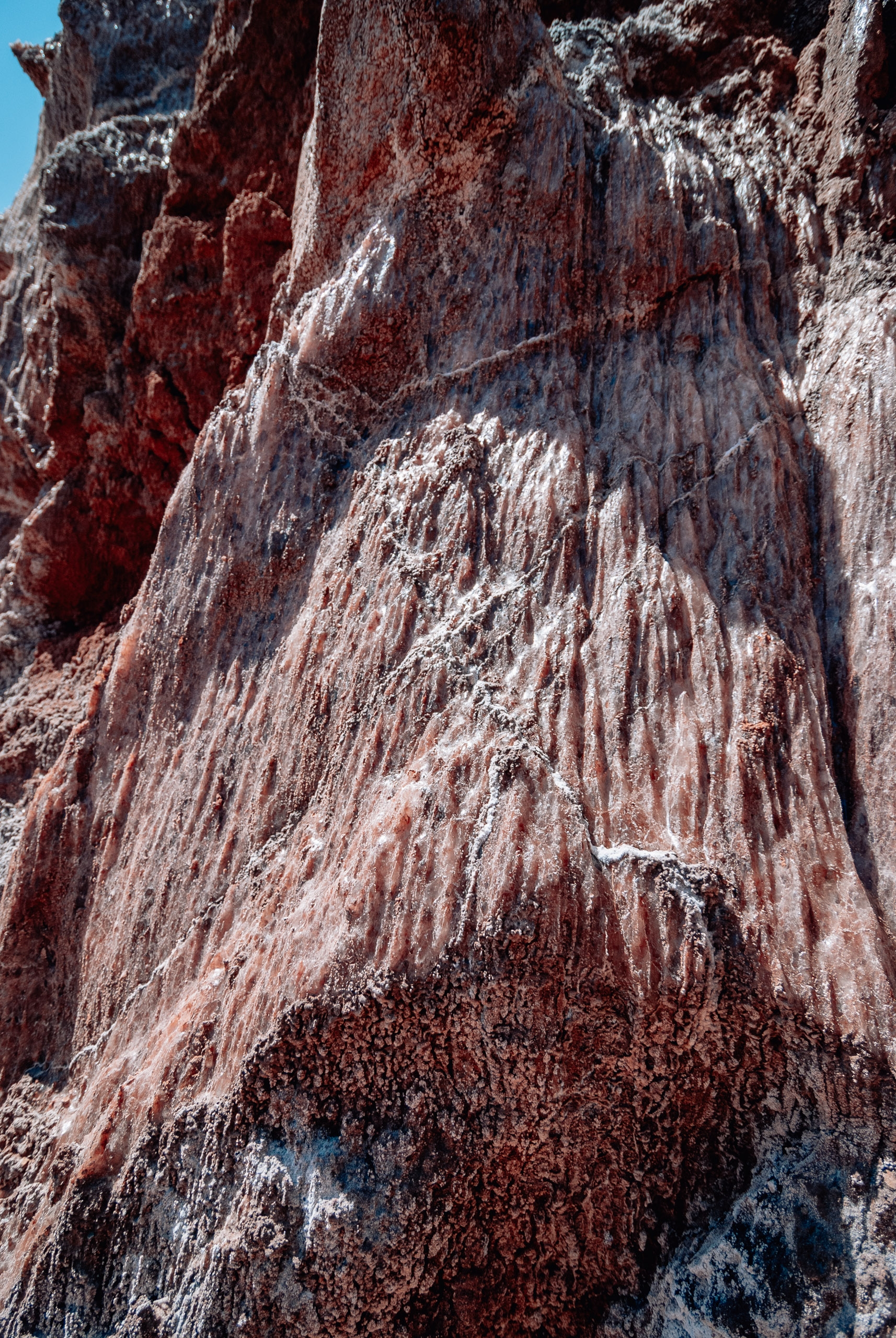 The entire hillside was pure salt, all pink
That afternoon we got back to Marrakech around 3:30 in the afternoon. We stayed at the small riad, Dar Warda; very stylish but impossible to find on one's own. After a much-needed shower, we hopped a taxi and headed straight to McDonald's. In previous blogs, I've mentioned Jessica's desire to eat chicken McNuggets in every country of the world. We did so here, plus I had the McArabia, a curious Arabian-spiced burger served in a pita pocket. After 3 days straight of tagine with chicken, we ate everything on our tray, plus went back for more fries.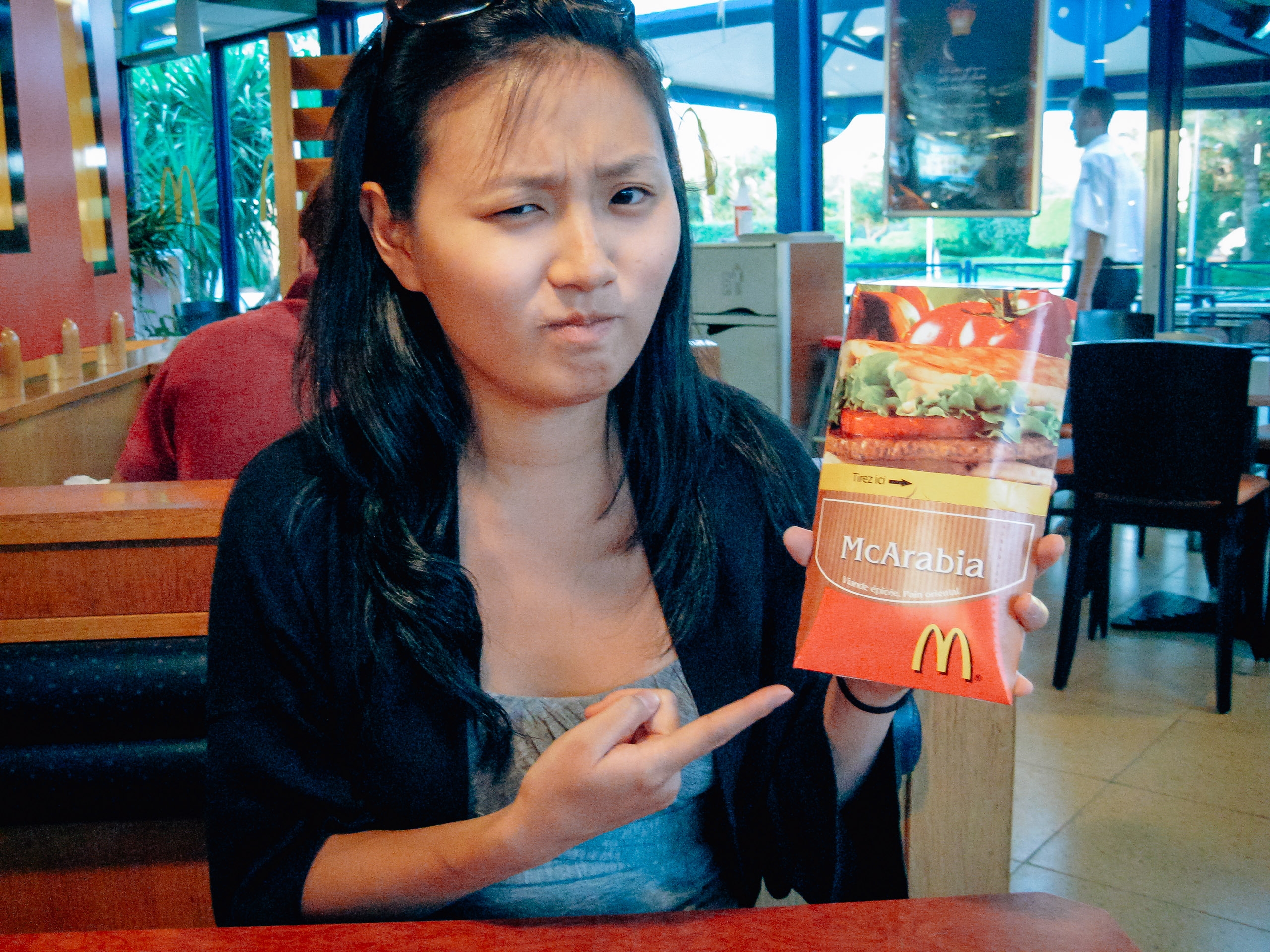 Jessica has her doubts about the McArabia
Broken toe not withstanding, we had a terrific tour of the countryside. It was great to get out of the relative comforts of Marrakech and see much of the rest of Morocco. Morocco is not a rich country, but has a rich history and is full or warm and engaging people. The history of some of these places is humbling, when you consider a 100 year old building in the US is "old". If you visit, hire a guide and set out for an adventure outside the cities. You'll be glad you did.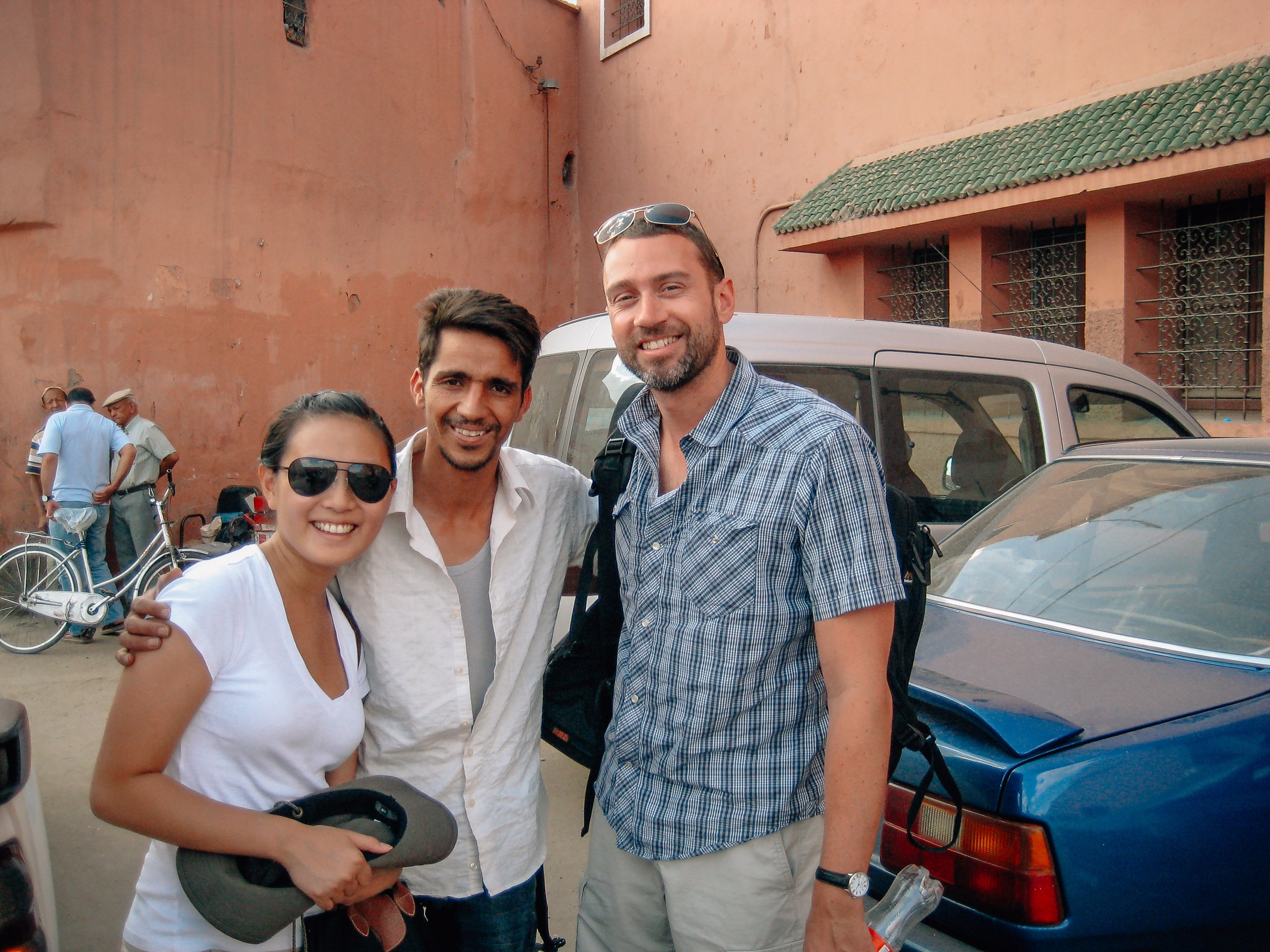 Jessica, Idriss and I outside Dar Warda back in Marrakech
The next morning we boarded our RyanAir flight for London. Leaving Marrakech it was about 105, arriving in London it was about 65. That afternoon we had bangers and mash, and that night we ate Nobu Sushi in the Metropolitan hotel. Ah, civilization...not a tagine in sight.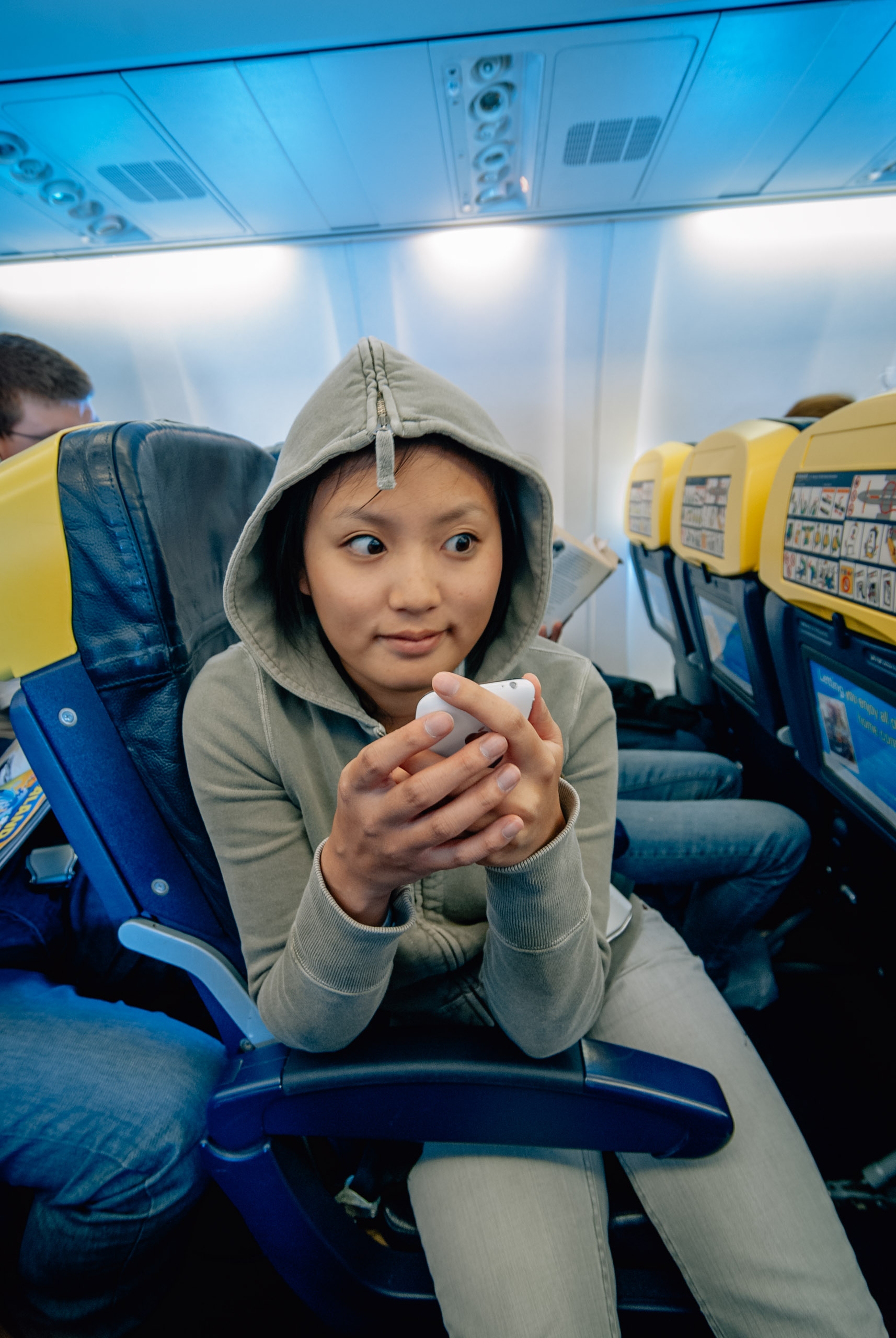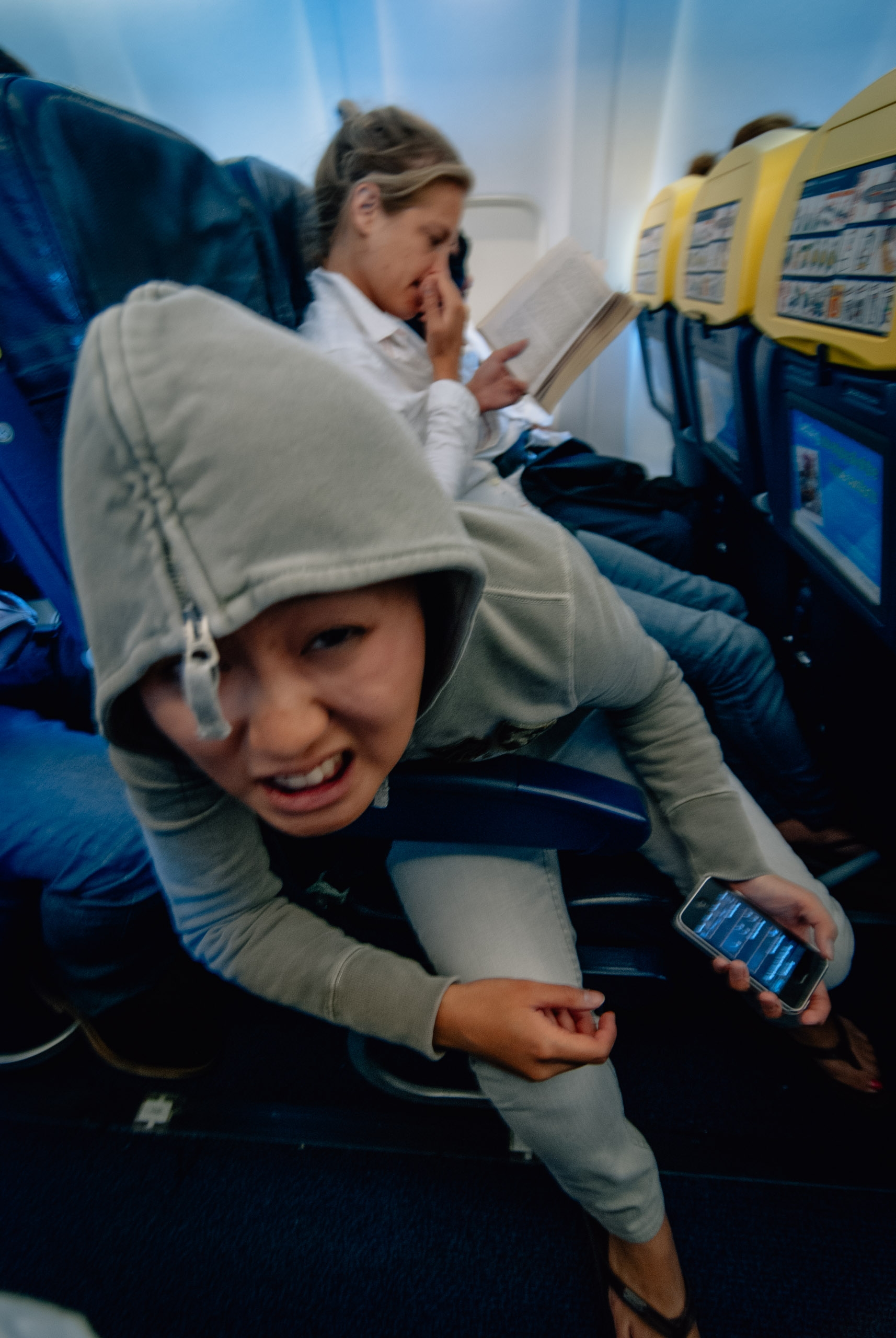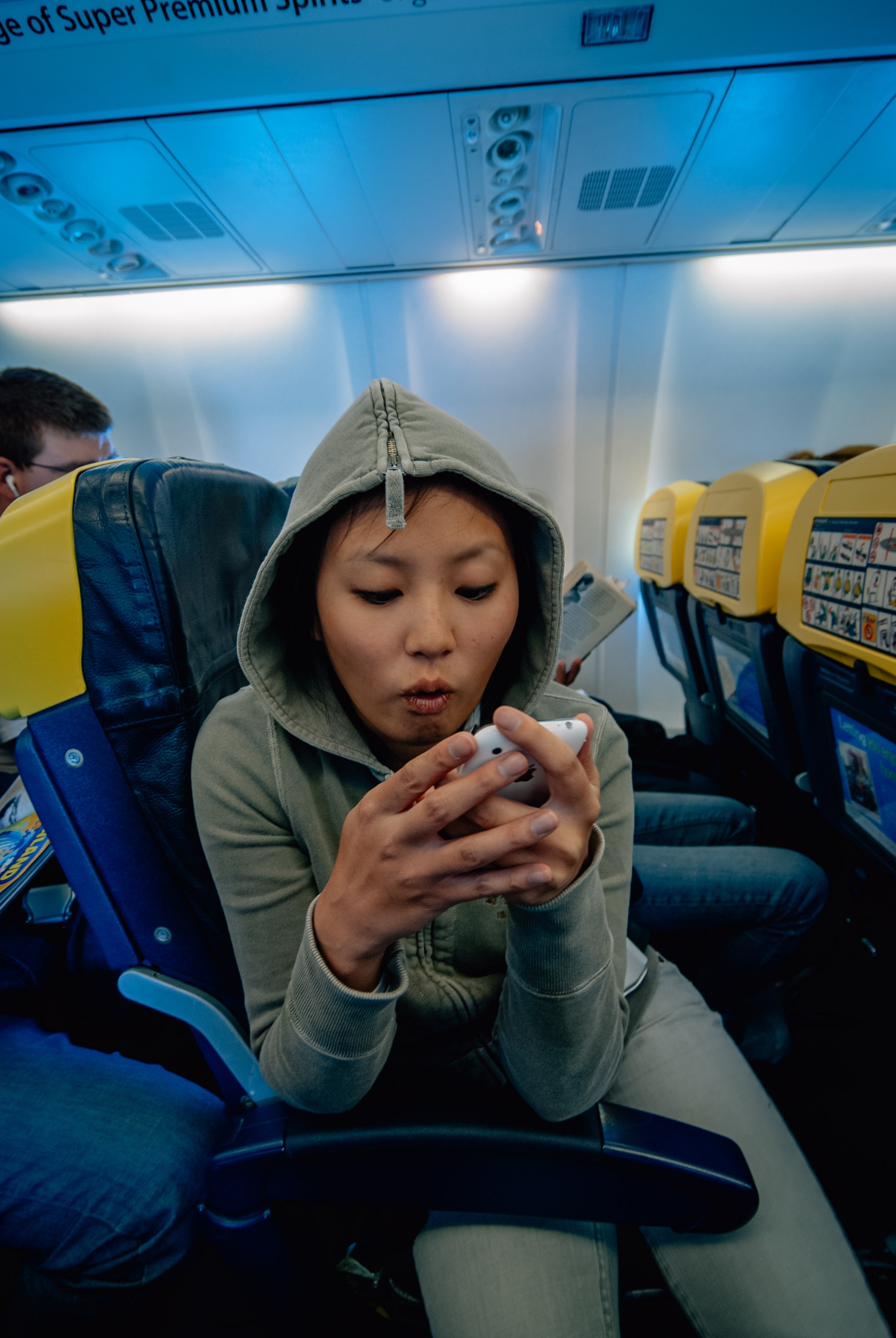 RyanAir is not quite a taste of civilization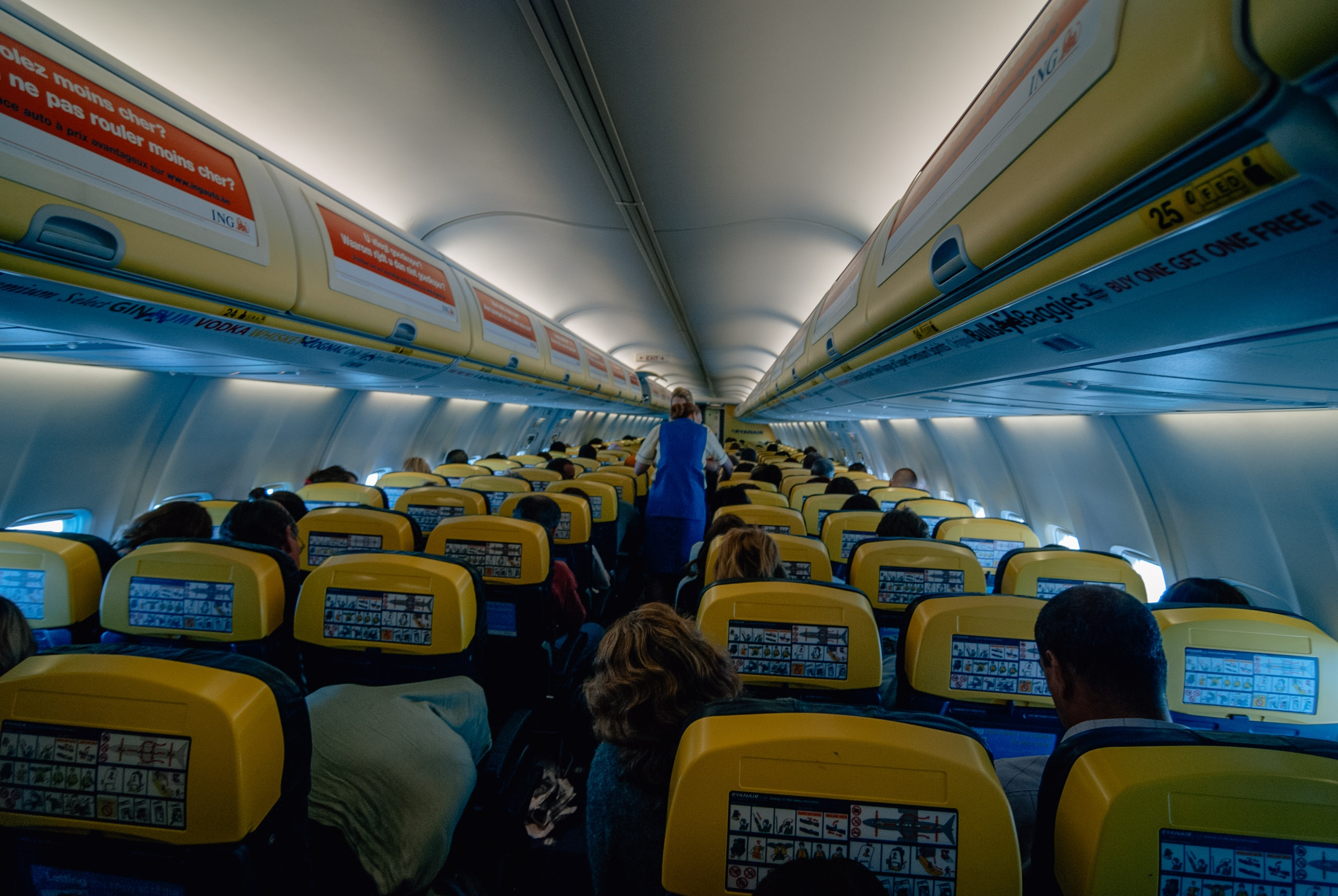 Aboard our ad-sponsored RyanAir flight from Marrakech to London